Begin typing your search...
In Rahul Bhatia's safe hands,Indigo flag keeps flying high
IndiGo has expanded its domestic network with many new routes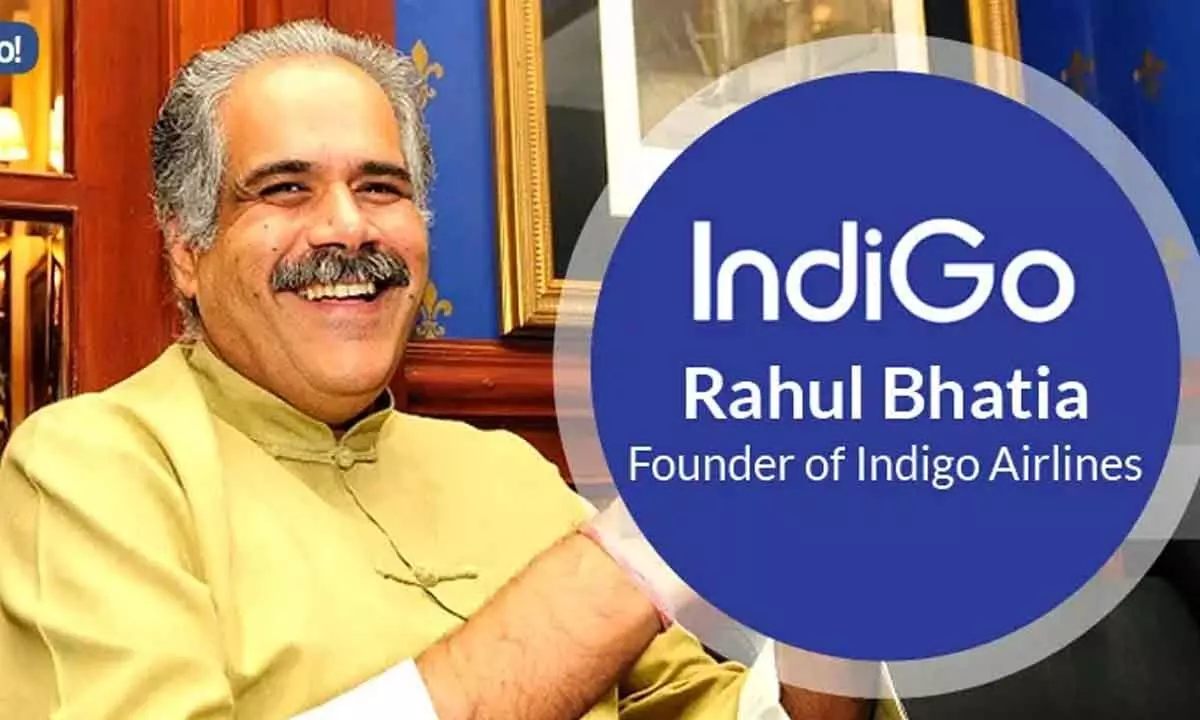 As recently as only a couple of weeks ago when India's leading airline IndiGo inked a deal to buy staggering 500 Airbus Planes, Rahul Bhatia, the promoter of Indigo, and his father, Kapil Bhati, were deluged with message of congratulations from their old friends from the Connaught Place days. Naturally, they were happy that their old pal and colleague is making big in the world of aviation. Kapil Bhatia used to run his first venture Delhi Express from M block of Connaught Place.
Rahul joined his father only in late 1980s after finishing his Management degree from Canada. He immediately started learning various facets of aviation sector.
Rahul was not happy with the growth of his family's venture Delhi Express. He wanted more on the platter and fast.
Meanwhile, Kapil Bhatia sold off Delhi Express to their partner after some tiff as people close to them claim and established InterGlobe Aviation Limited in late 1980. There has been no looking back for them.
Well, one can say that Indigo is part of InterGlobe Aviation Limited. It is the largest airline in India by passengers' carried and fleet size, with a 57.5% domestic market share as of April. It is also the largest individual Asian low-cost carrier in terms of jet fleet size and passengers carried, and the largest carrier in Asia. It has its primary hub at Indira Gandhi International Airport, Delhi. Of course, the numbers that are attached with Indigo are all mind-boggling.
Rajji Rai, who has known both Kapil and Rahul from their Delhi Express and Connaught Place days, says that Indigo was founded by Rahul as part of InterGlobe Enterprises in 2006. Rakesh Gangwal was his partner. Rahul and Rakesh were friends and both had a hunger to create a big airline in India."
Indigo took delivery of its first aircraft in July 2006 and commenced operations a month later. The airline became the largest Indian carrier by passenger market share in 2012. The company went public in November 2015. IndiGo has been ranked as the 4th most punctual airline globally in 2018, sixth most punctual airline globally in 2019 and the third most punctual airline globally in 2021 by OAG Punctuality League. Harsh Vardhan, former CEO of Vayudoot Airline, says that the hallmark of Rahul is that he is a very quick learner and also learns from the mistakes of others. "Rahul Bhatia always sticks to basics. He gives lot of attention to customers' issues. That is why he is growing fast," he acknowledges. IndiGo commenced operations on 4 August 2006 with a service from New Delhi to Imphal via Guwahati. By the end of 2006, the airline had six aircraft, and nine more were acquired in 2007. In December 2010, IndiGo replaced state-run carrier Air India as the third largest airline in India, behind Kingfisher Airlines and Jet Airways with a passenger market share of 17.3%.
In 2011, IndiGo placed an order for 180 Airbus A320 aircraft in a deal worth $15 billion. In January 2011, after completing five years of operations, the airline was permitted to launch international flights. In December 2011, the DGCA expressed reservations that the rapid expansion could impact passenger safety.
In February 2012, IndiGo took delivery of its 50th aircraft, less than six years after it began operations. For the quarter ending March 2012, IndiGo was the most profitable airline in India and became the second largest airline in terms of passenger market share. On 17 August 2012, IndiGo became the largest airline in India in terms of market share surpassing Jet Airways, six years after commencing operations.
This February 2013, following the announcement of the Civil Aviation Ministry that it would allow IndiGo to take delivery of only five aircraft that year, the airline planned to introduce low-cost regional flights by setting up a subsidiary. Later, IndiGo announced that it planned to seek permission from the ministry to acquire four more aircraft, therefore taking delivery of nine aircraft in 2013.
In December 2019, the airline became the first Indian airline to operate 1,500 daily flights. On 31 December 2019, it became India's first airline to have a fleet size of more than 250 aircraft.
On February 1 this year, the airline inducted Boeing 777 to their fleet after acquiring one aircraft on a wet lease agreement from Turkish Airlines, which will initially last for a year. A second aircraft in full Indigo livery will be put into service in the coming months. This is the first wide-body aircraft to be operated by the airline, while also offering its first business class seats.
According to the OAG Frequency and Capacity Statistics, IndiGo is the sixth-largest airline by passenger volume having carried more than 2.02 million passengers in March 2022. IndiGo was also named the world's fastest-growing airline by OAG, with a 41.3% growth in frequency in the month.
The OAG Frequency and Capacity Statistics data includes statistics on airport and route capacity and a list of the 20 largest worldwide airlines by flights based on monthly data. IndiGo is the only airline from India to appear on this list. IndiGo recently announced the re-introduction of scheduled operations of more than 150 foreign flights from various airports in India. IndiGo has also expanded its domestic network with many new routes.
So, what next for Indi Go? It has to fly high. As Allama Iqbal says 'Other worlds exist beyond the stars— More tests of love are still to come.'
(The author is Delhi-based senior journalist and writer. He is author of Gandhi's Delhi which has brought to the forth many hidden facts about Mahatma Gandhi)