Begin typing your search...
Digital India on display at Bharat Mandapam
Aadhaar, e-Sanjeevani, Bhashini showcased in hall number 4 and 14 at G20 venue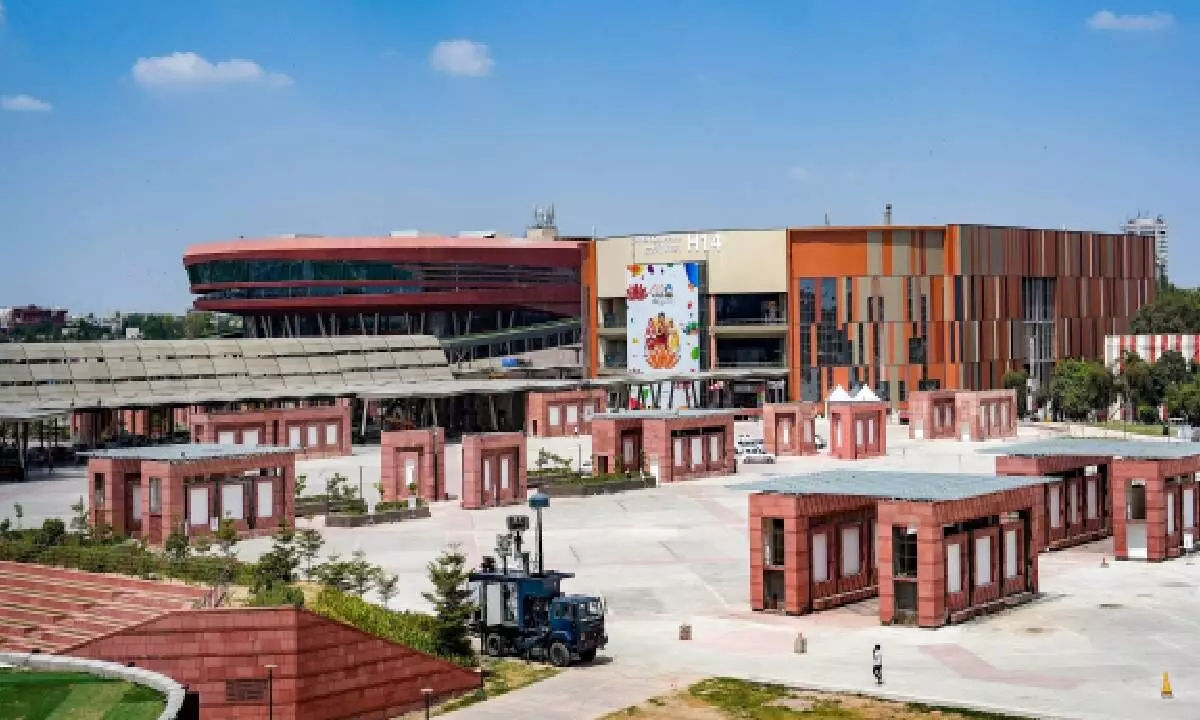 New Delhi From UPI to national telemedicine service e-Sanjeevani, some of India's key digital public infrastructure projects have been showcased in a thematic zone at the venue of the G20 summit that begins here on Saturday. Delegates and other guests visiting the Digital India Experience Zone, set up at the Bharat Mandapam, will also be able to experience the journey of Digital India initiatives via virtual reality. The zone, which the government said is a "key attraction" at the summit venue, has been set up in halls number 4 and 14. AI-based language platform Bhashini, Aadhaar, DigiLocker and Diksha portal for aiding learning of teachers have also been showcased. G20 delegates will be able to get the first-hand experience of the progress made by India in the digital public infrastructure domain, especially through the e-Sanjeevani kiosk. In a post on X late on Thursday night, G20 India shared glimpses of the 'RBI Innovation Hub Pavillion', 'Digital India Experience Zone' and other facilities set up for delegates at the Bharat Mandapam in a video.
In the short video, G20 Chief Coordinator Harsh Vardhan Shringla also gives a sneak peek into the dedicated office spaces built for delegates of all G20 members nations and invited countries, besides a common spacious lounge area. The Digital India Experience Zone showcases India's digital public infrastructures and the use of cutting-edge technology by the country in its growth story, Shringla said in the video. "This Digital India Experience Zone is a very special one, it will enable us to showcase India's cutting-edge technology to the world that will come from September 9-10," he said.
An interesting one showcased in the zone is e-Sanjeevani, a portal from which any delegate who may be "suffering any sickness or malady can come here, digitally consult a doctor, get immediate medication and an immediate prescription, and have the advantage of the best medical treatment digitally", he said. According to the website of e-Sanjeevani, the national telemedicine service was launched in November 2019 in alignment with Prime Minister Narendra Modi's vision of Digital India where quality healthcare percolates right up to the remotest regions powered by e-healthcare. Several world leaders, including US President Joe Biden, UK Prime Minister Rishi Sunak and French President Emmanuel Macron, will be attending the G20 summit from September 9 to 10.
The city has been spruced up ahead of the summit taking place under India's presidency of the G20. Other attractions at the Bharat Mandapam are the 'Culture Corridor' -- G20 Digital Museum' that has come up in the hallway skirting the Summit Room, 'Mother of Democracy' exhibition and a 27-ft-tall 'ashtadhatu' statue of Nataraja. "'Digital India Experience Zone' to be a key attraction in the G20 Summit! Delegates and dignitaries will get to experience Digital India Journey Exhibit with the Digital India Experience Zone which showcases multiple DigitalIndia initiatives. Hall 4 and Hall 14, Bharat Mandapam, New Delhi," the Ministry of Electronics and Information Technology (MeitY) posted on X on Thursday.
The zone also showcases AI-based language platform Bhashini, steered by the MeitY under the Mission Digital India Bhashini (BHASHaINterface for India) -- the National Language Translation Mission (NLTM) -- and Aadhaar.