Begin typing your search...
Country has 'no confidence' in Cong: Modi
Says will break records to score grand win in 2024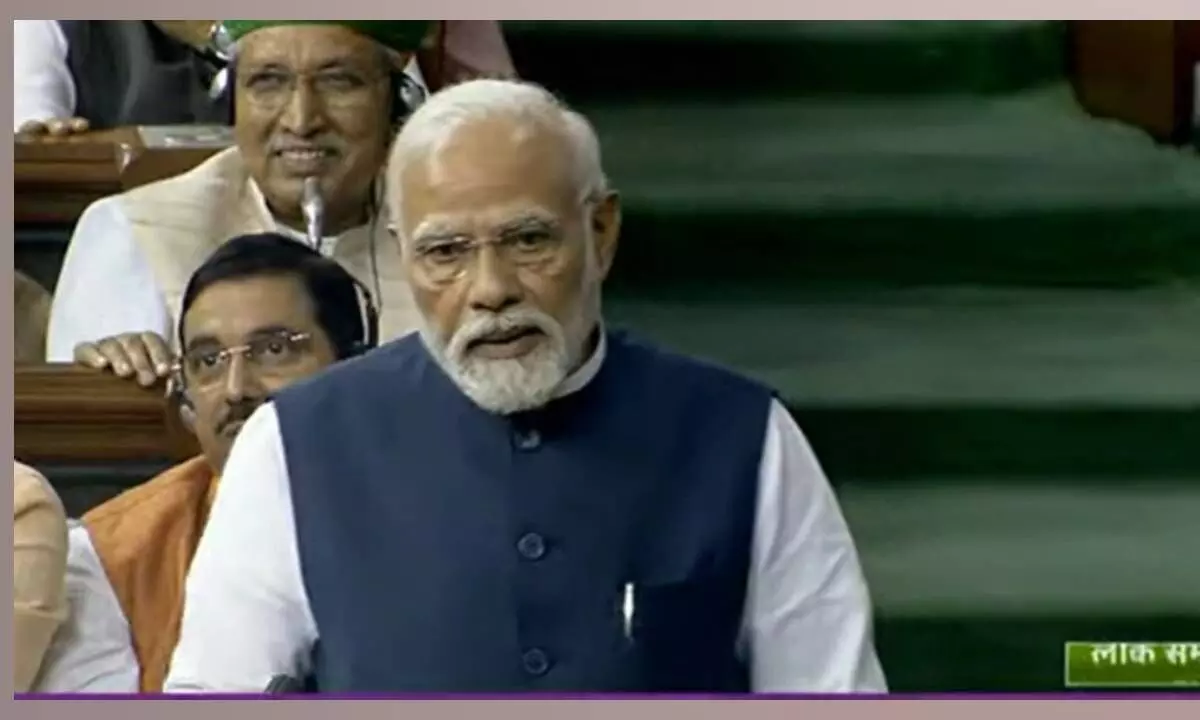 New Delhi: Prime Minister Narendra Modi exuded confidence on Thursday that the BJP and its allies will break records to score a grand win in the 2024 Lok Sabha polls and took a swipe at the Opposition, saying its no-confidence motion will prove auspicious for the ruling alliance as it did in 2018.
In a sharp attack on opposition parties while replying to the no-confidence motion in Lok Sabha, he said they did not allow discussion take place in Parliament on a number of bills related to the country's development. They have shown that 'dal' (party) is bigger than 'desh' (country) for them. "You have betrayed people," he said.
Modi said when the Opposition had brought a similar motion in 2018, his government came to power for a second term with a bigger mandate in 2019. The Opposition's motion has proven auspicious for his government, he added. Noting that people of the country have repeatedly shown their faith in his government, Modi expressed his thanks to them.
"It is the country's confidence that when you bring another no-confidence motion in 2028, India will be the third largest economy in the world," he said, asserting that his dispensation has given a scam-free governance. Targeting the Congress, he said its government at the Centre would trust the word of Pakistan over terror attacks and its misadventures on borders but not the valour of Indian armed forces. In Kashmir, it would not trust the common man in the region but separatists and others carrying Pakistan's flag. That is why people's feelings of "no confidence" in the Congress is very deep, he said, accusing the party of seizing on any negative thing about India coming from foreign soil. Opposition parties are marked by arrogance and no-confidence, Modi said, accusing them of suffering from "ostrich-like" mindset at a time when a new confidence, energy and resolve has filled people of the country whose global credibility has been taken to "new heights".
Taking a swipe at them, he said they seem to have been blessed with a "secret boon" that anyone whom them wish ill will prosper. He was an example of this, Modi said, adding that he has been targeted for over 20 years but nothing happened. Opposition leaders targeted banking sector, the public-run Hindustan Aeronautics Limited and Life Insurance Corporation of India, the prime minister said, noting that government sector banks have made record profits. The HAL has notched up record revenue and the LIC has been also doing exceptionally well, he added. "Now they are cursing the country, the country to going to get stronger," he said, asserting that the government will also grow in strength. Under the third term of our government, Indian will become the third largest world economy, he said. Modi said India is gong through a very important and critical phase of time and its impact will be felt for the next 1,000 years. The strength and hard work of people will lay a strong foundation for the next 1,000 years, he added.
Hitting out at the Congress for the claim of some of its leaders that the size of Indian economy will grow "on its own", he said it shows that the party has no vision and policy. Nor has it any understanding of global economy of the strength of Indian economy, he added.