Begin typing your search...
Centre to transform all 12 major ports into blue ports
Sustainable ports with green technologies and practices will be a focus of the Global Maritime India Summit (GMIS) in Delhi on October 17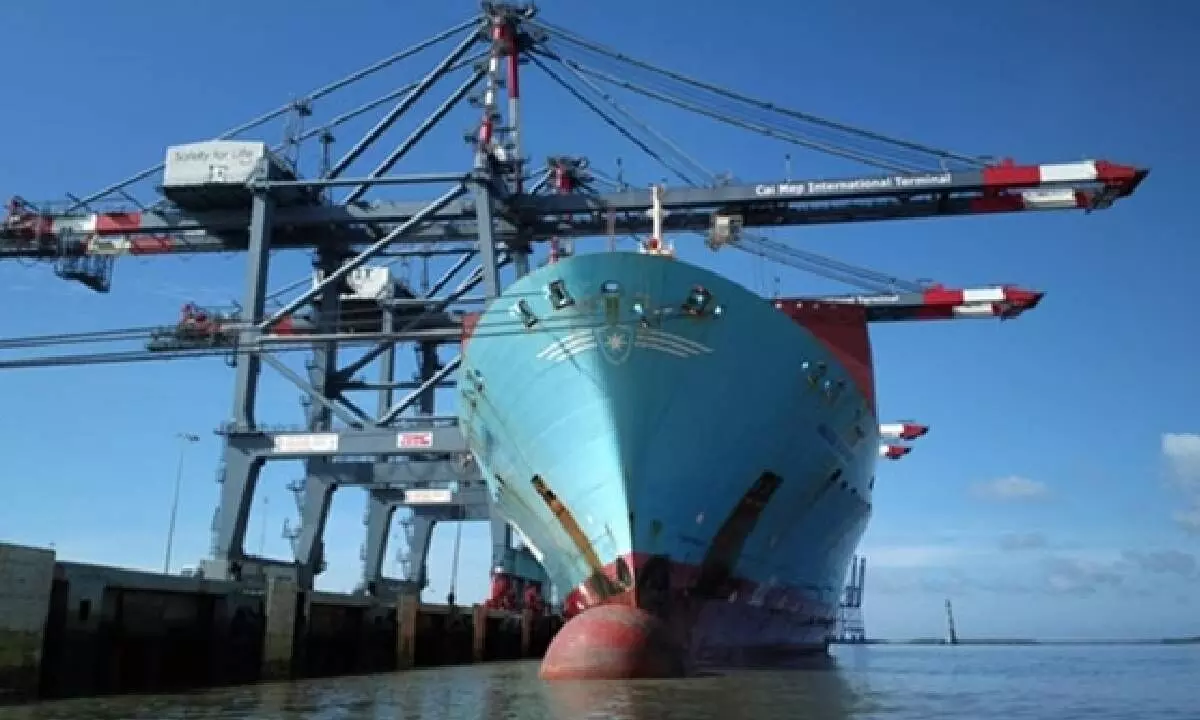 Buoyed by the impressive performance of the 12 major ports in India, the Ministry of Shipping, Ports and Waterways has laid emphasis on transforming all of them into blue ports making them key components of the mission to achieve a blue economy.

Creating sustainable ports with green technologies and practices will also form a vital part of deliberations at the three-day Global Maritime India Summit (GMIS) beginning in Delhi on October 17 for which Visakhapatnam Port Authority (VPA) Chairman M Angamuthu recently requested Chief Minister YS Jagan Mohan Reddy to chair a special session on opportunities in Andhra Pradesh.
"Gone are the days when major ports used to handle dusty cargo. Now our thrust is on mechanisation and restriction on handling of polluted cargoes. VPA, one the premier ports in India, is also on the way to make Visakhapatnam pollution-free after contributing immensely for the growth of the city into a mega metropolis," Sarbananda Sonowal, Union Minister for Shipping, Ports and Waterways, said during his two-day visit to the city.
Sonowal, who interacted with the employees as well as the stakeholders including cargo handling agents and stevedores, told the media that their emphasis is on involving all the residents for increasing the volumes and sharing their success with the improvement of livelihood conditions in the neighbourhood. Predicting a bright future for the port sector, he said the 12 major ports and around 200 non-major ports (those developed by the State Governments) are giving a big push to port-led development. He said their priority in the major ports which are in Central Government sector to improve their performance through massive mechanisation through PPP operators under the landlord port model. The ministry is also encouraging monetisation to improve the revenues.
The major ports recorded 10.4 per cent growth in FY23 by handling a cargo of 795 million tonnes. The non-major ports accounted for almost 45 per cent of market share. "Handling cargo in mechanised environment always puts pollution at bare minimum and ensures faster evacuation cargo thereby avoiding demurrages and other extra expenses to the users," a senior official of VPA told Bizz Buzz.
The Government of India envisages an investment of Rs 5.89 lakh crore under the Prime Minister Gati Shakti by implementing 100 mega projects to drastically reduce the logistics cost. The government under the umbrella mission of Sagarmala, has announced to take up around 400 projects in over 20 years with an investment of Rs 8 lakh crore. Andhra Pradesh has been sanctioned over 100 projects under Sagarmala at a cost of over Rs 1 lakh crore.
Sonowal in his address while inaugurating the Vizag International Cruise Terminal stated that cargo handling capacity of the major ports after the NDA formed government led by Prime Minister Narendra Modi has been increased from 821 million tonnes to 1671 million tonnes. He stated that infrastructure development at the ports is a continuous process.
Under the PM Gati Shakti, the Department for Promotion of Industry and Internal Trade (DPIIT) has already prepared a Comprehensive Port Connectivity Plan (CPCP) in consultation with Ministry of Ports, Shipping and Waterways, Ministry of Railways, Ministry of Road Transport and Highways and State Maritime Boards. The CPCP incorporates 298 connectivity projects of which 191 projects (101 road and 90 rail). The projects envisaged under the plan are aimed at enhancing last mile and hinterland connectivity of ports, which in turn are aimed at enhancing the port efficiency, enabling the ports to handle more cargo.