Begin typing your search...
Re registers highest single-day gain in 2 mths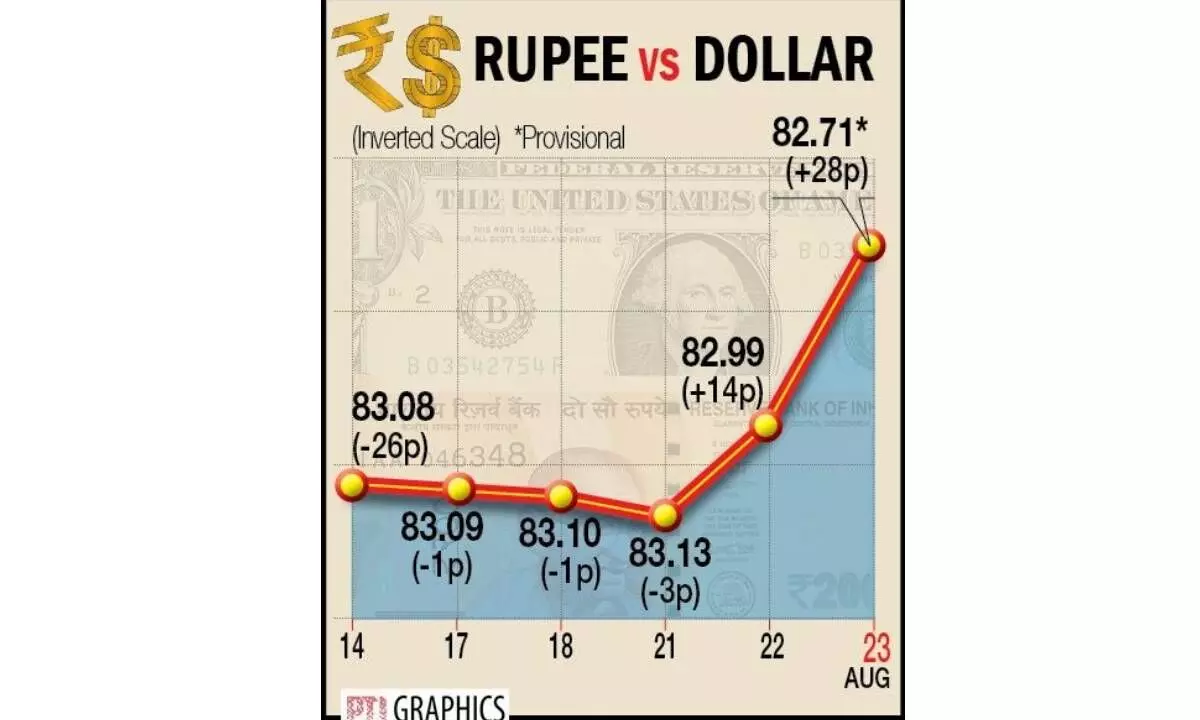 New Delhi The rupee strengthened for the second consecutive session and appreciated by 28 paise, registering the highest single-day gain in nearly two months, to close at 82.71 against the US dollar on Wednesday.

Forex traders said IPO-driven inflows and positive tone in the domestic markets supported the upward move. Softening of crude oil prices also supported the domestic unit. However, FII outflows and a strong US dollar capped sharp gains. At the interbank foreign exchange market, the local unit opened at 83.02 against the US dollar and moved in a range of 82.68 to 83.02 in the day trade. The rupee finally settled 28 paise higher at 82.71 against the previous close. Earlier, the Indian currency had witnessed the highest single-day gain of 35 paise on June 16 this year. On Tuesday, the rupee had recovered from its all-time low levels and settled higher by 14 paise at 82.99 against the US dollar. "We do not see any sharp appreciation in the rupee as dismal economic data from Europe may lead to a risk averse market which may weigh on riskier currencies," said Anuj Choudhary - Research Analyst at Sharekhan by BNP Paribas. In that case, the US dollar would gain. Any further inflows due to the upcoming IPOs may also support rupee. However, a strong dollar and hawkish comments from US Federal officials may support the greenback which may put downside pressure on rupee, Choudhary said. "Trades may watch out for PMI numbers from the US, while investors may remain cautious ahead of Fed Chair speech on Friday," Choudhary added.