Begin typing your search...
World stocks rise as bank fears ease, China GDP improves
Bourses across US, Europe and Asia in green while those in Japan declined; A resilient job mkt has been holding up US economy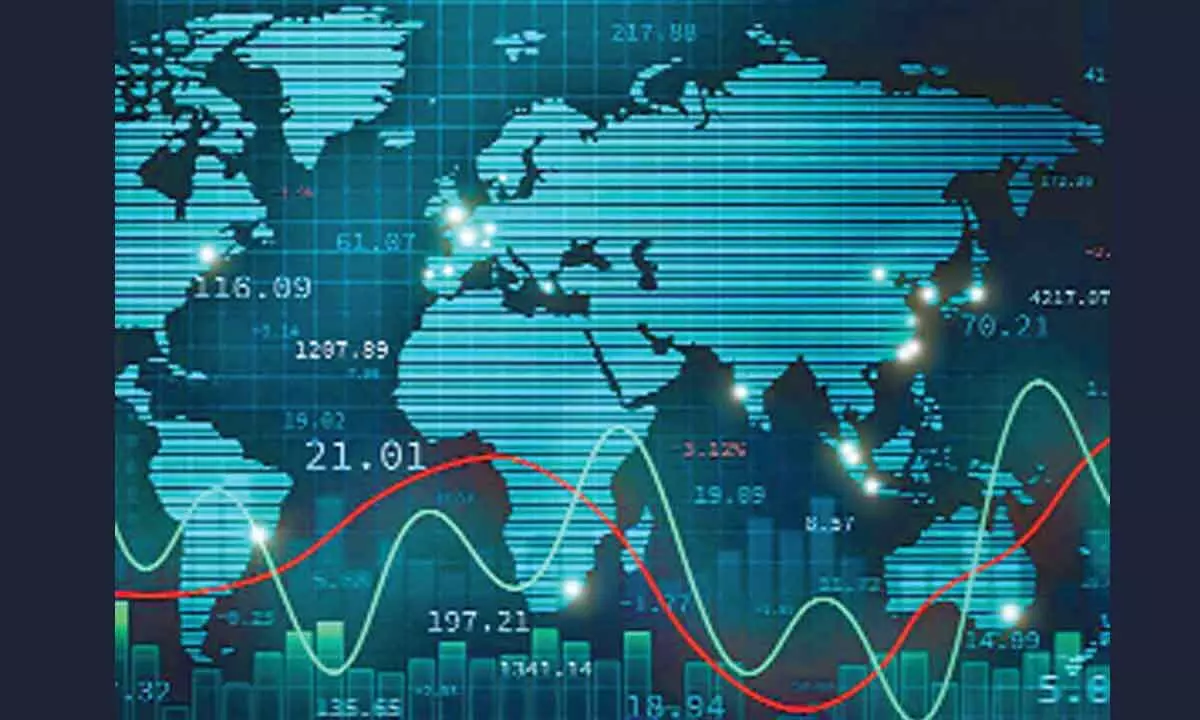 Global shares were mostly higher on Thursday as worries over turmoil in the banking industry eased and a top Chinese leader said the No. 2 economy was gaining momentum. France's CAC 40 rose nearly 0.9 per cent to 7,250.49. Germany's DAX jumped 1.0 per cent to 15,484.54. Britain's FTSE 100 edged up 0.4 per cent to 7,597.14. The future for the Dow Jones Industrial Average gained nearly 0.4 per cent and the contract for the S & P 500 was up 0.4 per cent. Oil prices rose.

In Asian trading, Japan's benchmark Nikkei 225 shed 0.4 per cent to finish at 27,782.93. Australia's S and P/ASX 200 added 1.0 per cent to 7,122.30. South Korea's Kospi rose 0.4 per cent to 2,453.16. Hong Kong's Hang Seng gained 0.6 per cent to 20,309.13, while the Shanghai Composite advanced 0.7 per cent to 3,261.25 after China's new No. 2 leader, Premier Li Qiang, said the recovery from a long slowdown picked up pace in March.
The economy showed "encouraging momentum of rebounding" in January and February, Li said at the Boao Forum for Asia, a gathering of businesspeople and politicians on the southern island of Hainan. "The situation in March is even better," he said.
Markets recently have been wracked by worries about banks and fears the industry may be cracking under the pressure of much higher interest rates. Forceful actions by regulators have helped to calm markets as investors have turned their focus to how central banks might adjust their interest rate policies to reflect persisting worries over how higher rates might affect lenders. But a measure of fear among stock investors on Wall Street has fallen to nearly where it was on March 8, the day before Silicon Valley Bank's customers suddenly yanked out $42 billion in a panicked dash. It became the second-largest US bank failure in history and sparked harsher scrutiny of banks around the world.
After regulators in Switzerland brokered a takeover of Credit Suisse by rival UBS, UBS said it's bringing back its former CEO, Sergio Ermotti, to help it absorb Credit Suisse. Ermotti led a turnaround at UBS following the 2008 financial crisis. The path ahead for the Federal Reserve and other central banks has become much more difficult because of the banking industry's struggles.
Typically, the still-high inflation seen around the world would call for even higher interest rates. But that would risk more pressure on banks, which could pull back on lending and squeeze the economy. For now, a resilient job market has been holding up the US economy, even as parts of it weaken under higher interest rates.
In energy trading, benchmark US crude rose 31 cents to $73.28 a barrel in electronic trading on the New York Mercantile Exchange. Brent crude, the international standard, edged up 33 cents to $78.61 a barrel. In currency trading, the US dollar slipped to 132.43 Japanese yen from 132.75 yen. The euro cost $1.0867, inching up from $1.0847.