Begin typing your search...
Volatile, choppy trading may continue amid global sell-off
Mid- & small-cap stocks under pressure hurting small investors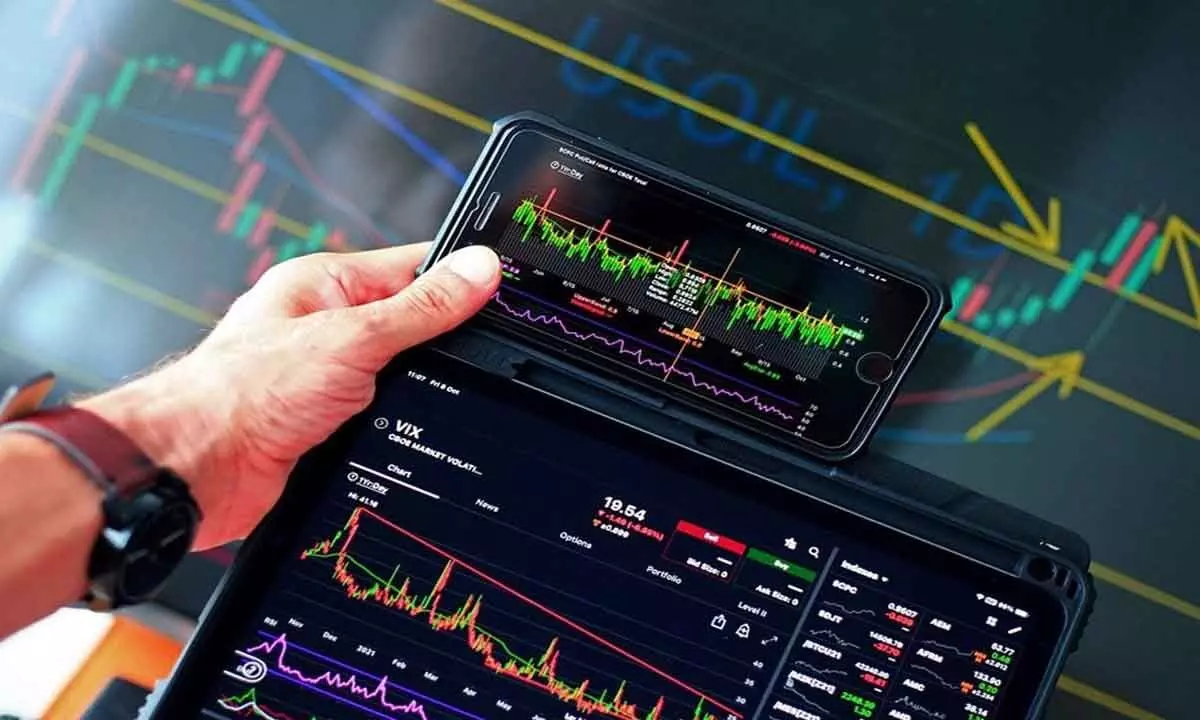 The stock markets have been quite choppy and under pressure over the last few weeks. In the May 4-11 period under review, we saw markets open marginally positive on Thursday and lose on the remaining four days. BSE Sensex was down 1,580.64 points or 2.92 per cent to close at 54,088.39 points, while Nifty lost 510.50 points or 3.16 per cent to close at 16,167.10 points. There has been tremendous volatility and it has seen continuous selling by FIIs. This is the eight consecutive month of net sales by them and in the current month they have already sold shares on a net basis of over Rs20,000 crore. In April the net sales were Rs40,650 crore.
Dow Jones has been under pressure as well. In the last five days it gained only on Wednesday when FED announced a rate hike of 50 basis points and has lost on the remaining 4 days. The gain on Wednesday was 932 points and the weekly net loss was 968.46 points or 2.92% to close at 32,160.74 points. Dow Jones is down 11.50 per cent for the year to date and people in the US get worried when an index loses more than 10 per cent on a year-to-date basis. The case of Nasdaq is even worse where the index on a year-to-date basis is now down 24.97 per cent at 11,737.67 points. Interestingly Amazon which had made huge gains post covid-19 has surrendered all of it. Yet another disturbing news is that one of the large global funds, Tiger Global, has lost 17 billion dollars in its tech portfolio. It is under pressure and is seen as selling quite a few shares which form part of its portfolio across countries and stocks.
The period under review saw a lot of action as far as the primary markets or IPOs were concerned. LIC of India saw the largest public issue ever, being subscribed 2.95 times. The QIB portion was subscribed 2.83 times, HNI portion was subscribed 2.91 times, Retail portion was subscribed 1.99 times, Employee portion 4.40 times and Policyholder portion 6.11 times. Retail portion received 73.37 lakh applications which is a record for subscription in any issue till date.
There were two issues which were listed on Monday and Tuesday respectively and they were a complete contrast to each other. The first was Campus Activewear Limited which listed on Monday and gained Rs86.60 or 29.65 per cent to close at Rs378.60. Shares were issued at Rs 292. At the end of day, the share had lost ground and closed at Rs348.40, a gain of 19.31 per cent.
The second issue which listed on Tuesday was from Rainbow Children's Hospital Limited which had issued shares at Rs542. Shares closed day one with losses of Rs91.90 or 16.95 per cent and closed at Rs450.10 At end of today's trading, the price had improved to Rs484.80, a loss of Rs 57.20 or 10.55 per cent.
Three issues are currently open. The first issue is from Prudent Corporate Advisory Services Limited which plans to raise Rs538 crore in a price band of Rs595-630. The issue is an offer for sale in totality. The issue closes on Thursday (May 12) and at the end of day two was subscribed 0.57 times.
The second issue is from Venus Pipes and Tubes Limited which plans to raise Rs165.41 crore in a price band of Rs310-326. The issue is a fresh issue. The issue opened on Wednesday and would close on Friday (May 13). At the end of day one, the issue was subscribed 2.35 times.
The third issue is from Delhivery Limited, which plans to raise Rs4,000 crore from a fresh issue and Rs1,235 crore from an offer for sale in a price band of Rs462-487. The issue opened on Wednesday and would close on Friday (May 13). The company is a blend of technology and bricks and mortar and is the largest player in the logistics space. At the end of day one, the issue was subscribed 0.22 times.
The May 12-18 period under review would be volatile and choppy like what we have seen. Markets are under pressure and global markets are also feeling the heat of selling. The tech or technology part of business is under severe pressure and is having its repercussions in India as well. The strategy going forward would be to continue to sell on strong rallies and await sharp falls for making any value purchases. With markets under pressure and bottoms not sure, it makes sense to look at trading opportunities only. In terms of technical levels, the next significant bottom was the one made when the Russia-Ukraine war erupted. The levels then were 52,300 on BSE Sensex and 15,700 on Nifty. The Small Cap indices have borne the brunt of selling and the NSE Smallcap index has broken the low of the Russia-Ukraine war. This is hurting the small investors who numerically are very large in numbers though their portfolio would be smaller. These levels look currently quite a distance away, but one more bad week and we could be there. Keep purchases limited and trade cautiously.