Selling pressure on Nifty pulls it down
Last hour trading on NSE made Nifty retract 250 points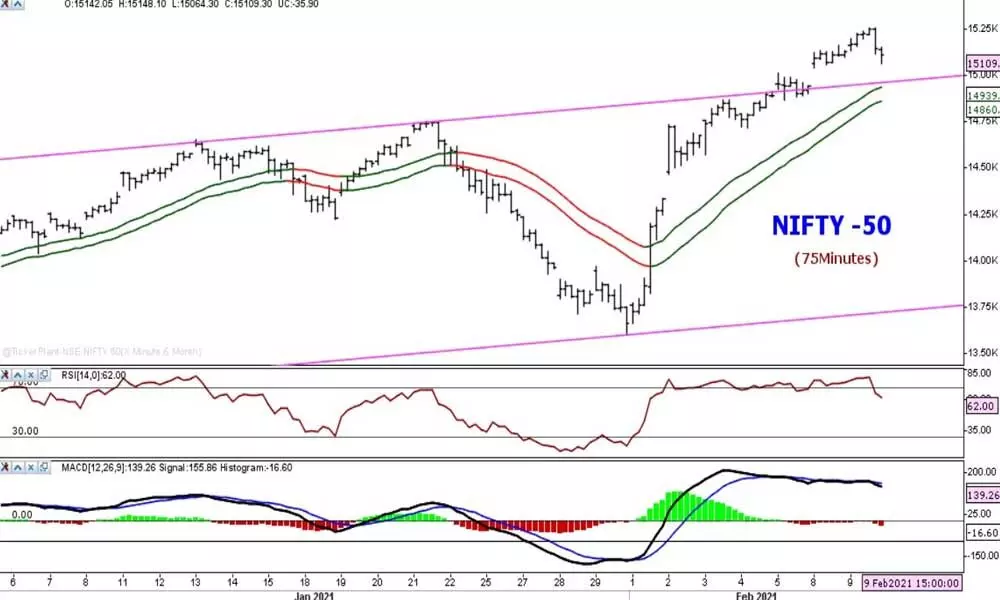 FINALLY, the Indian stock market looked fragile as the sudden selling pressure occurred during the last hour of trading. Though Nifty lost only 6.5 points, it fell sharply by 250 points from the day's high. It closed at 15,109.30. The Bank Nifty fell over 400 points from the day's high and finally closed with 73 points net gain. Auto, Media, Metal and Pharma sector indices fell over one per cent. For the second straight day, the PSU Bank index closed in the negative territory. The India VIX closed at 24.27, up by 1.30 per cent. The overall market breadth is negative as the market recorded 1,111 declines and 792 advances. As many as 328 stocks closed unchanged. Need to watch the institutional figures for selling pressure clues.
The Nifty collapsed in the final hour with massive selling pressure. It fell 200 points in the final leg trading. It formed a shooting star, a bearish candle. After opening with another gap up, by the end of the day, it filled. Still, the Nifty made a higher high and higher low.
However, it is giving weaker signs for the past five days. Failed to get the bearish confirmations. Interestingly, the daily ranges are shrinking. There were very few Intraday opportunities available after the budget day. As the negative divergences were further crystal clear and the bearish momentum gained the velocity, it is not a time to be on the long side. As mentioned in previous columns, the MACD histogram is below the zero line for the past three days. Almost for the past six days, the RSI, MACD line and the Directional movement indicators are moving in an absolute flattish manner.
With today's last hour fall, there was a sudden rise in -DMI and decline in +DMI. The RSI on a 75-minute chart declined to below 65 zone. As the price did not breach the previous day's low on a closing basis, we cannot go short at the current levels.
In case, the Nifty closes below the 15,064, the weakness confirmations will be available. The next level of support is at 14928 and 14790. On The upside, today's high 15257 is the resistance. Our target of 15,150 was met and suggesting to be in sidelines within the support and resistance zone. Either side breakout will give a fresh trading opportunity.
(The author is financial journalist, technical analyst, trainer, family fund manager)