Domestic Stock markets closed with modest gains; Sensex rose 282 pts & Nifty ends at 12,844
Key domestic indices on Friday, November 20, 2020, climbed in sync with gains in global stocks.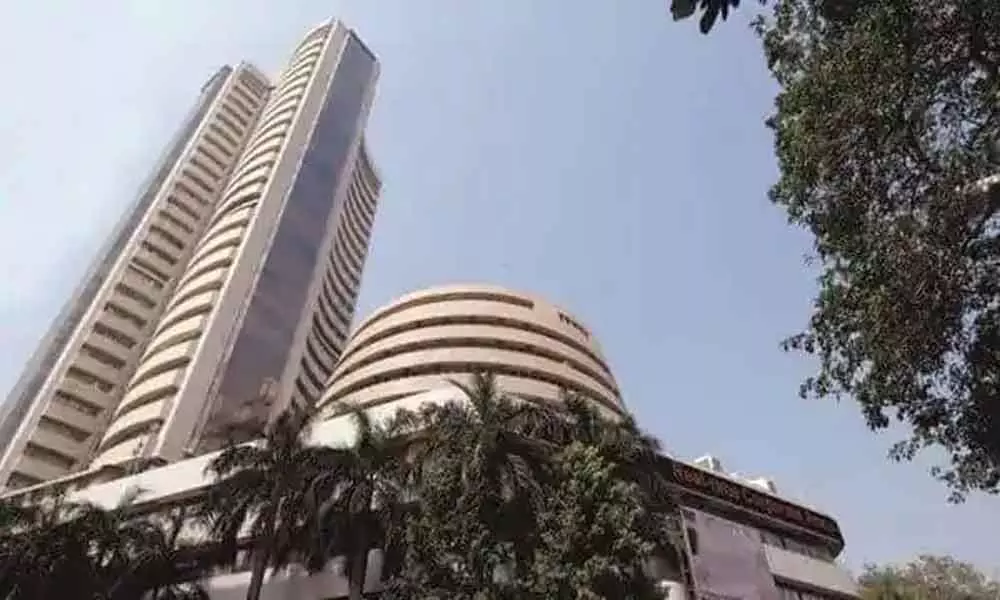 Key domestic indices on Friday, November 20, 2020, climbed in sync with gains in global stocks. The BSE 30-share index, Sensex, rose 282.29 points or 0.65 per cent to settle at 43,882.25. The NSE Nifty-50 index also added 87.35 points or 0.68 per cent to settle at 12,859.05. Similarly, Nifty Bank gained 332.95 points, or 1.15 per cent, and settled at 29,236.
The broader market at BSE outperformed the Sensex as the BSE Mid-Cap index surged 1.22 per cent while the BSE Small-Cap index appreciated 0.77 per cent.
Buyers outpaced sellers. On the BSE, 1551 shares rose and 1239 shares fell. On the similar lines, 33 stocks advanced on Nifty 50 block, while 16 declined and 1 remain unchanged. The top gainers on Nifty 50 were Bajaj Finserv (up 9.27 per cent), Titan (5.39 per cent), GAIL (up 4.22 per cent), Baja Finance (3.98 per cent) and Bharti Airtel (up 3.12 per cent). The major losers include Reliance Industries (down 3.66 per cent), Adani Ports (down 1.56 per cent), IndusInd Bank (down 1.47 per cent), Axis Bank (down 1.15 per cent) and Sun Pharma (down 0.97 per cent). Gland Pharma ended at Rs 1827 on the BSE, a premium of 7.41% over the initial public offer price of Rs 1500.
Suspension of Brexit Talks
Direct Brexit talks have been suspended after a member of the EU team tested positive for COVID-19 on Thursday but chief negotiators and their respective teams have continued discussions remotely in the hope of executing a deal within the next 10 days.
Japan's Core Consumer Prices
Japan's core consumer prices fell in October at their fastest pace annual in nearly a decade as the boost from last year's sales tax hike petered out. The au Jibun Bank Flash Japan Manufacturing Purchasing Managers' Index (PMI) fell to a seasonally adjusted 48.3 from a final 48.7 in October, staying below 50.0 for a 19th straight month.
US jobless data
US jobless claims climbed to 742,000 in the week ended November 14, an increase of 31,000 from the previous week's revised level of 711,000, the Labour Department reported on Thursday. US existing home sales jumped by 4.3 per cent to an annual rate of 6.85 million in October after soaring by 9.9 per cent to a revised rate of 6.57 million in September, a report showed on Thursday.
International Markets
Dow Futures and Nasdaq Futures were down by 0.3 per cent and 0.1 per cent respectively, FTSE were up by 0.6 per cent.