Begin typing your search...
Stay off mid-& small-cap stocks
The strategy for week ahead would be to look at large-cap stocks; Mkts to turn volatile, choppy on account of July F&O expiry today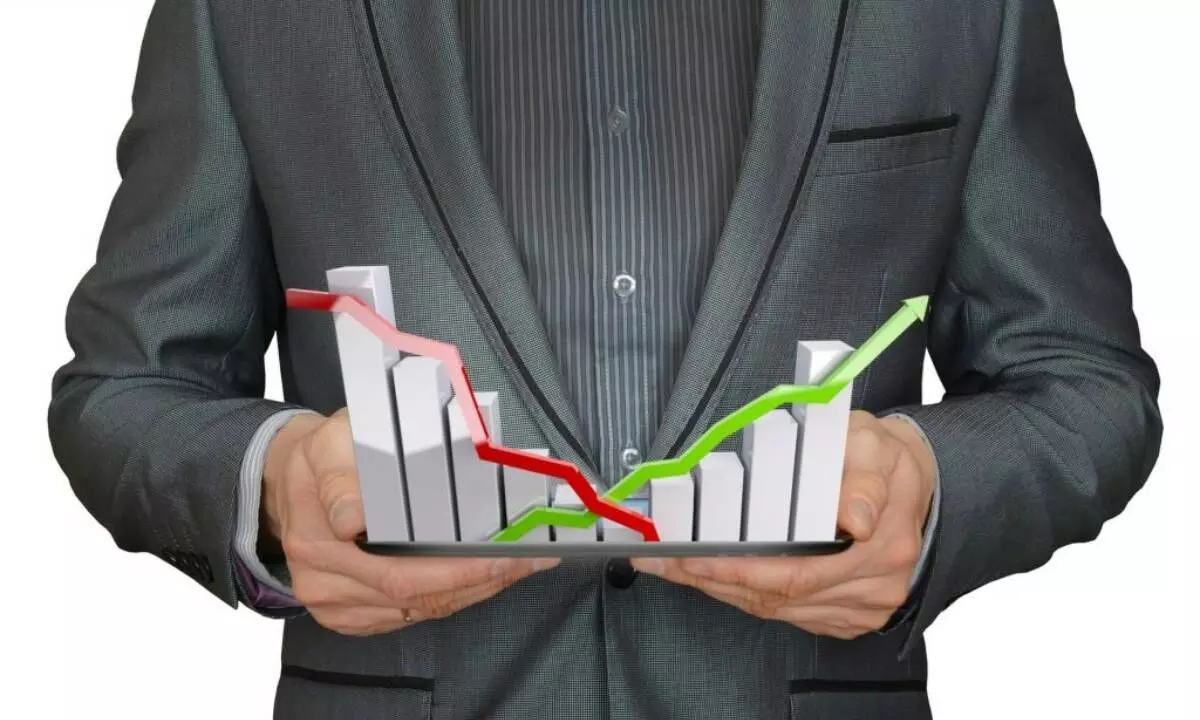 In the period July 20-26 under review, the domestic stock markets continued their upward move and NSE Nifty came tantalisingly close to the 20,000 mark, but faltered in the final step. It failed to cross or touch 20,000 achieving a level just short by 8.15 points. Nifty made an intraday high of 19,991.85 points, but 20,000 was elusive. The correction was sharp on Friday and it continued on Monday as well. Tuesday was a flattish day and the last day of the period under review saw markets continue their winning ways. BSE Sensex lost 390.24 points or 0.58 per cent to close at 66,707.20 points, while Nifty lost 54.85 points or 0.28 per cent to close at 19,778.30 points. Markets are very keen to mount or surmount 20,000 and then take on new targets in the current bull run, which is already four months old. Markets gained on two of the five trading sessions and lost on two, while the fifth could be termed as flat with Sensex losing a tad and Nifty gaining a tad.
Dow Jones had a decent outing and gained on four of the five trading sessions. The fifth session was flat when markets gained a tad at less than a couple of points. Dow Jones gained 486.34 points or 1.39 per cent to close at 35,438.07 points. The US Fed meeting on Tuesday and Wednesday for their policy review has begun and the larger expectation is that there would be a rate hike this time around. What could hurt the market is the commentary post the review meeting. This could make markets in the US volatile tonight. Any increase would bring the already thin differential between interest rates in India and the US that much lower.
Shares of Utkarsh Small Finance Bank Limited listed on the bourses on Friday and had a spectacular debut. The company had raised Rs500 crore through a fresh issue at Rs25 per share. The issue was very well received and was subscribed 110.44 times overall. The script closed at Rs47.94, a gain of Rs22.94 or 91.76 per cent. On NSE, the share closed a tad higher at Rs98. At the end of the period under review, the share gained further and closed at Rs50.10, a gain of Rs25.10 or just over 100 per cent.
The IPO from Yatharth Hospital & Trauma Care Services Limited opened on Wednesday and would close on Friday. Close to the end of day one bidding, the issue was fully subscribed with the issue having received bids for 1.08 times the issue size.
Tata Motors has announced its decision to extinguish the DVR or differential voting rights shares that were issued quite some time ago. In normal circumstances it would be deemed to be big news and very positive for stakeholders. On fine print analysis the news is actually not as good as thought to be. The reason being, the treatment as per income tax would be deemed dividend and taxable in the hands of individual shareholders. While mutual funds would benefit, individual shareholders would be badly affected. One hopes that the management reconsiders and tweaks the treatment so that all benefit.
In the week ahead, we have July futures expiring on Thursday July 27. The current value of Nifty at 19,778 points is higher by 805.90 points or 4.24 per cent compared to the series open of 18,972.10 points. Currently the bulls have the upper hand and with just one day to go, they would have the going easy and comfortable.
The period ahead from July 27th to August 2nd would begin with July futures expiry on the very first day. Markets would be volatile and choppy on this account. To add to the importance of the day, the US FED would have announced its policy post the two-day meet. Trade on Thursday would be extremely choppy and volatile. Friday would see the August series start off and that would give traders new opportunities to play with.
The strategy for the week would be to look at large-cap stocks and stay away from mid-cap and small-cap stocks. Trading action would be to buy on dips and sell on rallies. Result season is a mixed bag so far with some sectors performing particularly the BFSI space, while IT has been disappointing. Even FMCG company Hindustan Unilever's results were disappointing. In such a scenario it becomes difficult to time the market and select stocks for trading.
Brace oneself for volatile times at the market in the coming days. Trading would be difficult and the immediate target and objective on the upside would be to mount 20,000 points on Nifty and crossing Thursday's high of 67,619.17 points on BSE Sensex. It would be a tough task and the best possibility would be Friday when trading for the new futures series of August begins. Trade cautiously.
(The author is the founder of Kejriwal Research and Investment Services,
an advisory firm)