Begin typing your search...
Public and private sector collaborations can prop up Indian infrastructure
Centre and PSUs chip in with over 70% of finance for infra projects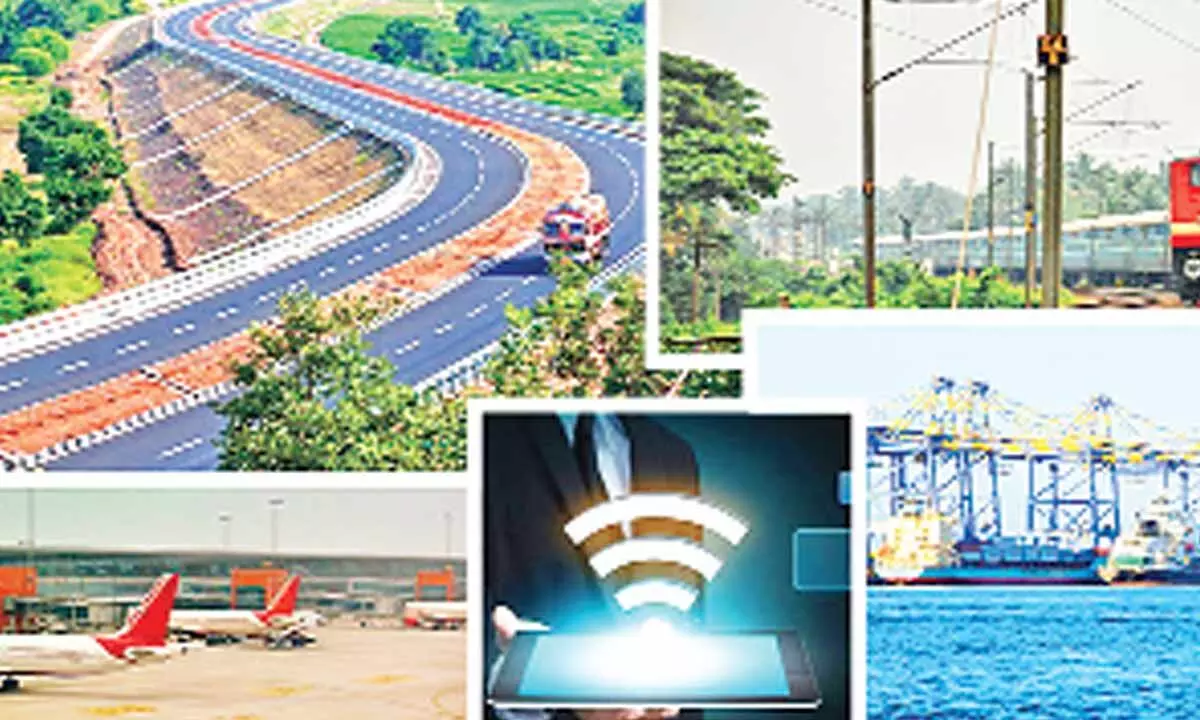 CareEdge Ratings estimates that India will require additional infrastructure investment of $18-20 trillion in the next 25 years to become a $ 25-30 trillion economy by 2047.

Union Road Transport Minister Nitin Gadkari, unveiled the report on 'Infrastructure - Key Driver of India's Amrit Kaal March'.
He made some significant remarks while addressing the gathering on the occasion.
"To support infrastructure-led growth, mere budgetary provisions will be insufficient and private participation is extremely crucial. There are four key pillars, which will be regarded as the biggest capital in this century-honesty, credibility, quality and goodwill. Credit rating plays an important role at every step of infrastructure development. Be it for achieving financial closure or at the time of bidding projects or while seeking refinancing. The credit rating assessment is expected to incorporate performance evaluation of the contractors, giving a lot of emphasis on quality parameters, transparency and technical innovation in the execution of works and also achieving cost efficiencies in a time-bound manner. This is the need of the hour," were his pertinent pointers.
Post-pandemic, the evolving geopolitical situation and diversification in the global value chain presents a valuable opportunity for India to emerge as a major force in the global arena. To fully capitalise on this opportunity, India needs to enhance domestic preparedness, improve competitiveness and minimise logistic costs. India's merchandise exports have a low share of 1.8% in global exports (FY22). As India embraces globalisation, there is a renewed focus on signing new trade agreements to increase its share in global exports.
Going forward, the country's infrastructure investment requirement is bound to grow sharply. As per CareEdge Ratings estimate, India will require additional infrastructure investment of $ 18-20 trillion in the next 25 years as it becomes a $ 25-30 trillion economy by 2047. Currently, more than 70% of the financing for infrastructure projects comes from the Central government and public sector.
The airport sector has witnessed remarkable growth, fuelled by robust economic expansion, escalating demand for air travel, and extensive infrastructure development.
Over the period of FY15 - FY23, the cumulative investment in the roads sector amounted to Rs. 23.53 lakh crore. The Centre's commitment to implement successive reforms, the focus on executing the ambitious Bharatmala Phase-I project under the National Infrastructure Pipeline (NIP) and the growth in state capital expenditure have all contributed to creating a favourable investment climate.
CareEdge Ratings anticipates a healthy Compounded Annual Growth Rate (CAGR) of 19% in the capital outlay for roads, projecting an increase from Rs. 4.10 lakh crore in FY23 to Rs. 5.85 lakh crore in FY25. The introduction of Hybrid Annuity Model (HAM), Toll-Operate-Transfer (TOT) and FasTag, along with the harmonious substitution of sponsors, stands out as major successful reforms implemented by the government.
India has achieved a significant milestone in its renewable energy (RE) sector, with an installed capacity of approximately 125 GW as of March 31, 2023. This remarkable achievement is driven by a solar capacity of 67 GW, followed by a wind capacity of 43 GW. The record thermal generation achieved in recent years was facilitated by high coal production and transportation activities across the country. The proactive measures undertaken by the Centre have played a significant role in supporting this achievement.
India's G20 presidency presents a golden opportunity for the country to shape its infrastructure agenda and lead the way in global infrastructure development. With the aim of being a $ five trillion economy by 2025, India recognizes the crucial role of infrastructure in sustaining its high growth trajectory. The infrastructure financing landscape is maturing, with the availability of private equity, robust regulatory frameworks, competitive debt financing, and innovative financing structures like InvITs (Infrastructure Investment Trusts). However, addressing challenges and maintaining government focus on stakeholder needs will be vital for unlocking the growth potential in the coming decades.
While there is a positive trend in ESG disclosure among infrastructure companies, there is still ample scope to adopt ESG as part of a long-term strategy in business operations.
Some of the key aspects of the transition to a low carbon economy are commitment to net zero and carbon neutrality-related targets. CareEdge's study finds that in 2022, 18% of companies committed towards net zero targets in the long run. As the moment has begun towards integrating ESG practices, this will be a mainstream topic of consideration in most of the investment decisions in the sector.