Begin typing your search...
Planning a tomato-enriched menu? No chance now!
Tomato prices soar beyond common man's reach, so are that of beans, chilli, pulses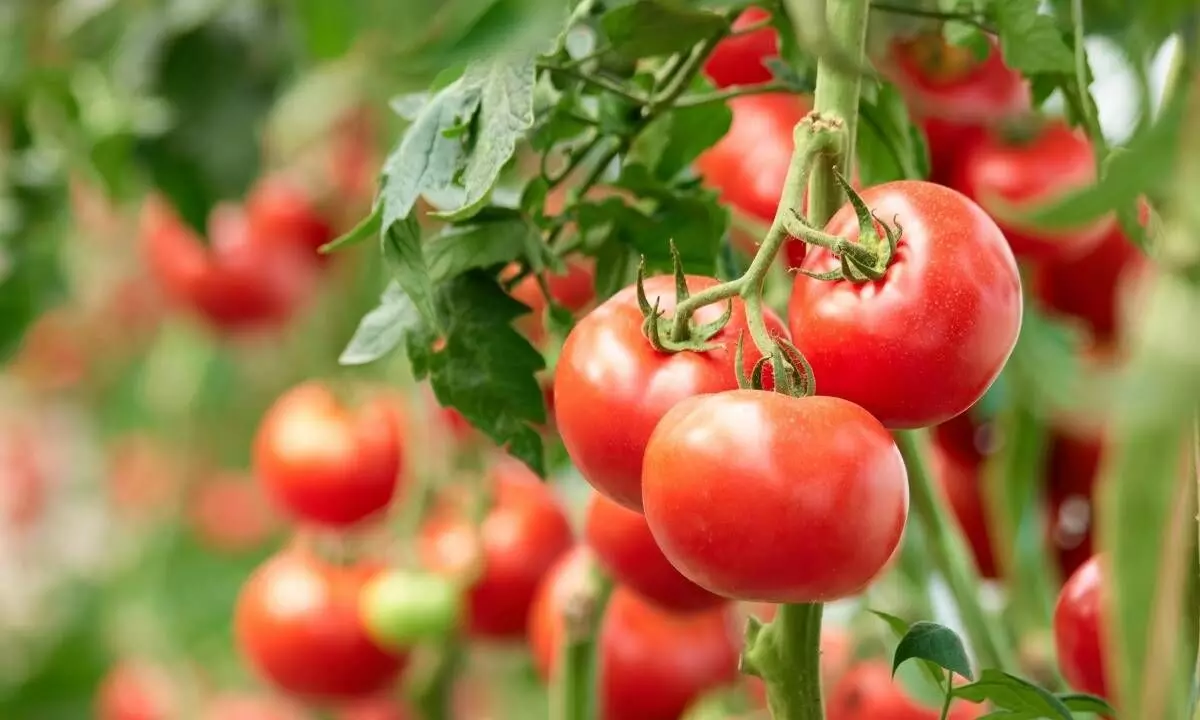 Hyderabad These days, buying vegetables seems to be a luxury that only the rich can afford to their contentment. The middle class and poorer sections can only dream of relishing their favourite vegetables as buying them is beyond their budget. To them it makes no economic sense.

The absence of timely rains after a particularly severe summer has adversely impacted cultivation of almost all vegetables. Those that have entered the market command prices that keep skyrocketing by the hour.
The worst hit has been the good old tomato, which, like onion and potato, is generally stocked in every household as an emergency standby for unexpected guests, despite it being a perishable commodity. Tomato is selling for anything between Rs 130 and Rs 150 a kg in Hyderabad, a phenomenon that is felt across the country.
The retail tomato prices are Rs 152 per kg in Kolkata, Rs 120 in Delhi, Rs 117 in Chennai and Rs 108 per kg in Mumbai, according to Consumer Affairs ministry's data. People earlier used to buy four to five vegetables in Rs 100 but nowat current prices, one can hardly buy two vegetables. Barring some like potato and cabbage, all others are being sold in the range of Rs 50 a kg and above.
The price of tomato in Hyderabad rythu bazaars,which was around Rs 33 per kg on June 5,is, as of July 6,priced Rs 83 per kg. This is approximately a 300 per cent increase in one month. In the district headquarters, it is being sold for Rs 100 to Rs 120 per kg, according to Telangana Rythu Bazaar website.Grocery apps are selling tomato in the Rs 130-Rs 150 range.
Meanwhile, it is not just tomato that is cutting into one's pockets. Prices of a kg of beans, chilli and carrot are also around Rs 100.
"There are no chances of any decrease in prices, perhaps only marginal if at all, till Dasaraas there have been no rains and farmers take three months to cultivate vegetables and supply them," Srinivas, a vegetable seller in Monda Market, said "I am buying in small quantities these days.The government must intervene and bring relief to the people because vegetables are integral to our everyday food," said Raghava Rao, a formersection engineer with Indian Railways.
Another customer, Surya Prakash, said "The prices of vegetables are outrageously high. We have a family get-together at home, which means that we have to splurge on vegetables as we cannot compromise on making available the best of delicacies."
Meanwhile, the steep hike in prices goes beyond vegetables. Must-have ingredients like pulses, ginger and cumin seeds are costing a bomb. The price of toor dal,which was Rs 110 to Rs 120 per kg last month,is around Rs 150 in retail stores. Ginger is sold at Rs 260 to Rs 280 per kg while cumin seed in wholesale market is Rs 750 per kg while in retail it is Rs 80 for 100 grams.
"Our suppliers, taking lack of rain as a pretext, say that there is nostock but the fact of the matter is that they are keener on exporting the produce rather than cater to the local demands," said M Sathaiah, a vendor in Monda Market. As things stand, just about everyone is praying to the rain gods to shower blessings and bring respite.