Begin typing your search...
Options data holds range-bound session
Higher OI base at same strike on both sides of options chain; Aggressive Call writing reduced Put-Call Ratio; Despite 50% drop in FII net short positions, the recovery was restricted due to lack of fresh accumulation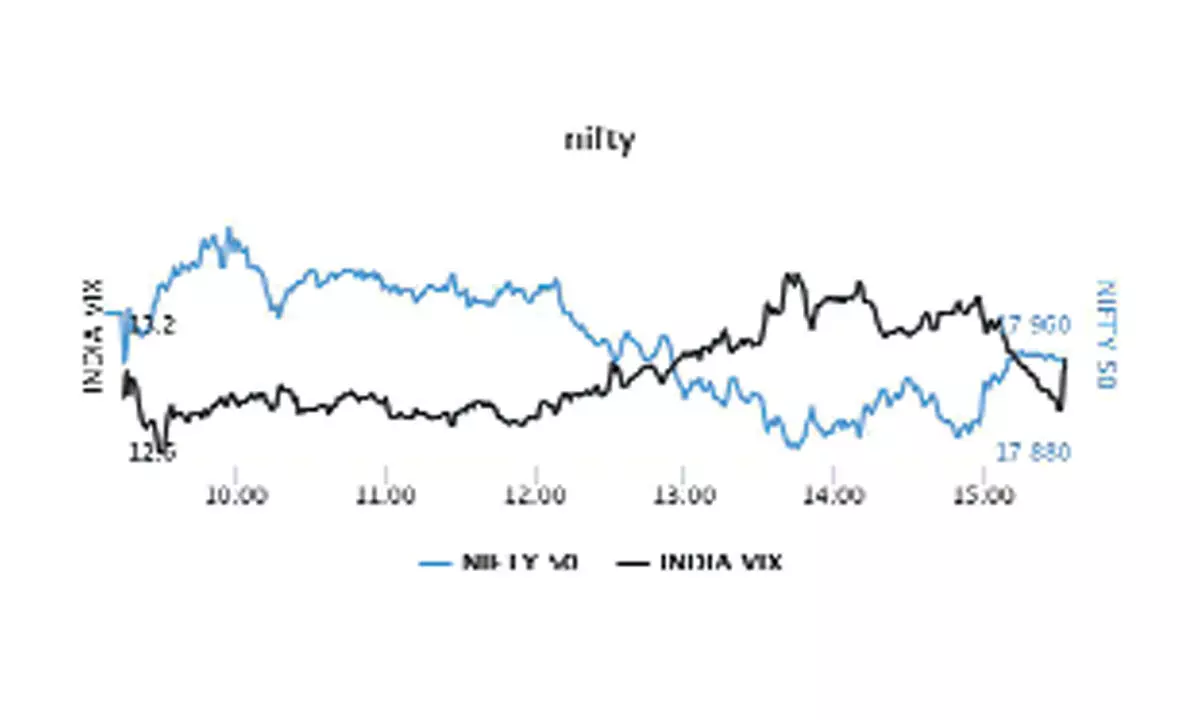 The highest Open Interest (OI) bases are on both sides of the options chain at the same strike i.e. 18,000 points. The options data on NSE after last Friday session points to sideways trading as the resistance level remained at 18,000CE for a consecutive second week, while the support level rose by 200 points to the same strike level on the Put side of options chain. FIIs net shorts declined from over 1.1 lakh contracts to 66,000 contracts, but lack of fresh accumulation kept the recovery restricted.

The 18,000CE has highest Call OI followed by 18,500/ 18,100/ 17,900/ 18,400/18,200/ 18,900 strikes, while significant build-up of Call OI is seen at 18,000/17,900/ 18,500/18,200/ 18,100 strikes.
Coming to the Put side, the 18,000PE has the highest Put base followed by 17,500/ 17,800/ 17,900/17,600/17,700/ 17,000/17,400 strikes. The 17,900/ 17,700/ 17,800/ 17,500/17,250 strikes recorded a reasonable addition of Put OI.
Dhirender Singh Bisht, senior research analyst (derivatives) at SMC Global Securities Ltd, said: "From the derivatives front, Nifty's highest Call Open Interest concentration was seen at 18,000 strike, followed by 18,100 strike, while on Put side, highest concentration was in Open Interest held at 17,500 and 17,800 strike respectively. Overall data suggests that Call writers are more aggressive as of now."
On the data front, Nifty Futures OI fell further due to short covering in the last week indicating one of the lowest seen since May 2022 ahead of settlement week.
In the options space, aggressive writing is seen at ATM strikes with highest Call and Put OI placed at 18000 strike expecting range bound bias in the settlement week. The cumulative premium of the straddle near 200 points is suggesting that NSE Nifty may find support near 17800 points.
The current month F&O expiry is scheduled on February 23 and roll activities may keep the volatility high. Nifty is expected to breach the current week highs and close the series on a high note near 18300 level.
"Indian markets remained volatile in the week gone by, as NSE Nifty ended in green zone, while Banking index settled the week with a loss of nearly one per cent on the back of weak global cues. Selling pressure was seen mounting in the later part of the week, after a fresh slate of US economic data, underscoring bets that the Federal Reserve would keep interest rates higher for longer. On the sectorial front, buying interest was seen in Infra and IT stocks, while banking and pharma counter remained under pressure," added Bisht.
BSE Sensex closed the week ended February 17, 2023, at 61,002.57 points, a net fall of 319.87 points or 0.52 per cent, from the previous week's (Feb 3) closing of 60,682.70 points. NSE Nifty ended the week at 17,944.20 points, a miniscule decline of 87.70 points or 0.49 per cent, from 17,856.50 points a week ago.
Bisht forecasts: "Technically, Nifty is struggling to catch fresh momentum above its key resistance level of 18100 while Bank Nifty has a strong hurdle zone around 41800-42000 zone. For the upcoming week, we expect that markets are likely to remain in range once again with Nifty holding strong support at 17700-17600 zone."
India VIX level rose 1.47 per cent to 13.08 level. The volatility remained near 13, which also suggests expectations of limited downsides. The VWAP levels for the February series are placed at 17815 and till the Nifty is trading above these levels, we expect the positive bias to continue.
"Higher Call writing resulted in low PCR in Nifty, which currently stands at 0.89. The Implied Volatility (IV) of Calls closed at 10.89 per cent, while that for Put options, it closed at 11.57 per cent. The Nifty VIX for the week closed at 12.89 per cent," observes Bisht.
Bank Nifty
NSE's banking index closed the week at 41,131.75 points, lower by 427.65 points or 1.02 per cent from the previous week's closing of 41,559.40 points.