Omicron worries haunt global mkts
World shares, US futures slip on fears over omicron risks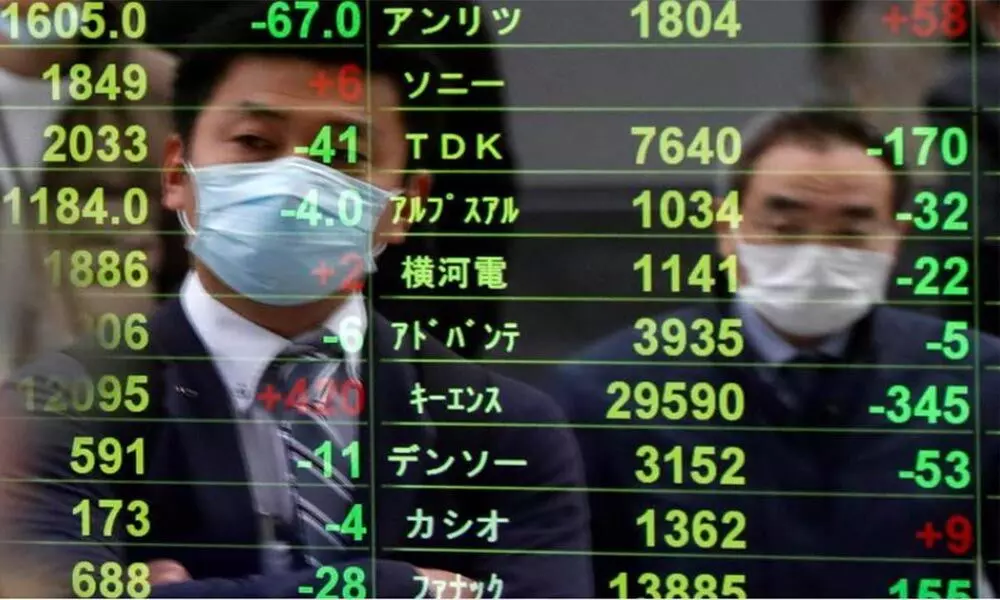 We're just going to be in the dark for several weeks here, said market experts
Tokyo: Global shares mostly slipped on Tuesday as investors cautiously weighed how much damage the new omicron coronavirus variant may unleash on the global economy. France's CAC 40 slipped 1.4 per cent in early trading to 6,684.44, while Germany's DAX lost 1.1 per cent to 15,105.99. Britain's FTSE 100 shed 1.2 per cent to 7,024.58. US shares were set for a bleak open, with the future contract for the Dow industrials down 1.2 per cent at 34,675.00. The S&P 500 future fell 1.4 per cent to 4,612.00. Singapore led Asia's losses, dropping 2.5 per cent, while South Korea's Kospi lost 2.4 per cent to 2,839.01. Japan's benchmark Nikkei 225 closed 1.6 per cent lower at 27,821.76, as pessimism over the omicron variant set in. Australia's S&P/ASX 200 gained 0.2 per cent to 7,256.00. Hong Kong's Hang Seng dipped 1.6 per cent to 23,475.26, while the Shanghai Composite was nearly flat at 3,563.89.
Some analysts think a serious economic downturn, like what happened last year, likely will be averted because many people have been vaccinated. But they also think a return to pre-pandemic levels of economic activity, especially in tourism, has been dramatically delayed.
"Sentiments may ride on the positive handover from Wall Street overnight, but with the slower vaccination rate and more limited healthcare capacity in the region, uncertainty from the new omicron variant may seem to bring about higher economic risks for the region at a time where it is shifting towards further reopening," Yeap Jun Rong, market strategist at IG in Singapore, said of the omicron's impact on Asia.