Nifty in unchartered territory, may give up gains
The unstoppable equity market moved to further news highs in the last trading week of the decade.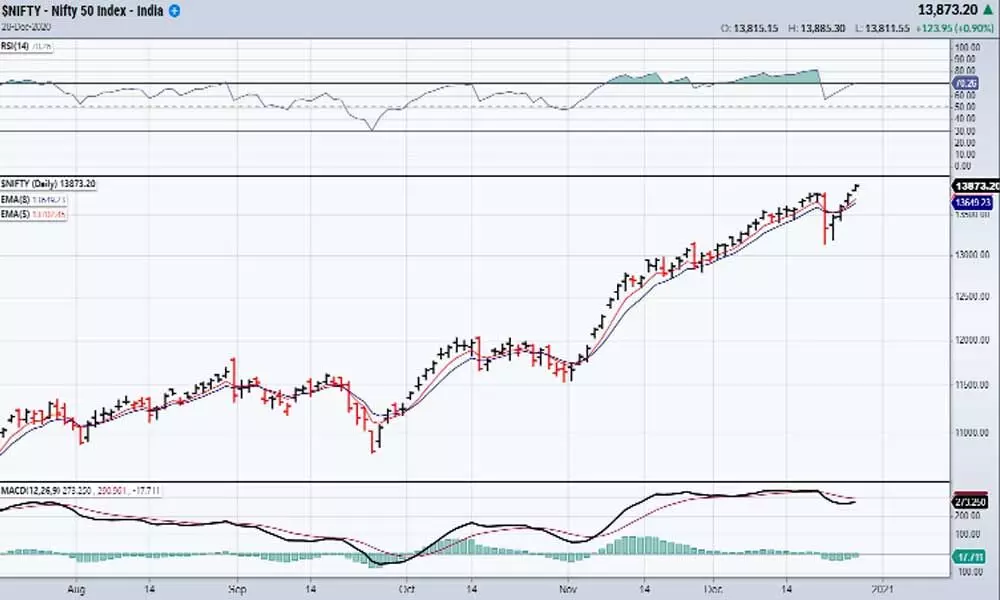 The unstoppable equity market moved to further news highs in the last trading week of the decade. The Nifty inched up another one cent and closed 13,873.20 with 123.95 point gain. Barring, IT sector index, all the sectoral and broader market indices participated in the rally.
Metals, realty and the banks led the market today. The broader indices Nifty-500, Nifty Midcap and Small-cap indices also gained over a per cent today. The overall market breadth is extremely positive and in favour of advances.
India VIX once again moved higher by 2.3 per cent and closed at 20.42. The December series of derivatives scheduled to expire on Thursday. The Nifty open interest is not encouraging as Banknifty. The Nifty rollovers stands at 33.17 per cent, and the Banknifty rollovers are at 24.42 per cent. Nifty PCR is still at a higher level of 1.46.
The Nifty opened with a gap up and closed at the high point of the day. It traded at 75 points in Intraday range and up another one per cent for the fourth consecutive day.
The broader market participation and improved market breadth boosted positive market sentiment. Metals and banks led the market rally. The Nifty formed a most bullish candle with low is open and closed near to the day's high. It moved above the prior swings and negated all bearish factors.
After five days' of consolidation, the Nifty made another lifetime high. It sustained the opening gains and traded strongly throughout the day. As we entered the last week of 2020 and an expiry week, there is no weakness visible during the day.
The RSI moved above the 70 zone, and the MACD line is about to cross the signal line indicates the possibility further upside. The positive movement indicator +DMI is also nearer to the prior swing high, and the ADX flattened.
These signs indicate unless a flash selling pressure occurs, the market is in a mood to give up the gains. Now the support zone has shifted to 13,650 -12,702 zone. As the Nifty is in uncharted territory, there are no resistances in place. It also moved above the 127.6 per cent retracement level (13,788) of the prior fall. Continue the long position with a trialling stop loss of prior day low or a close below 13,700. Trade with light positions with strict money management principles.
(The author is a financial journalist, technical analyst, trainer and family fund manager)