Nifty gains marginally after initial losses
The Nifty gained over half a per cent after reversing its initial losses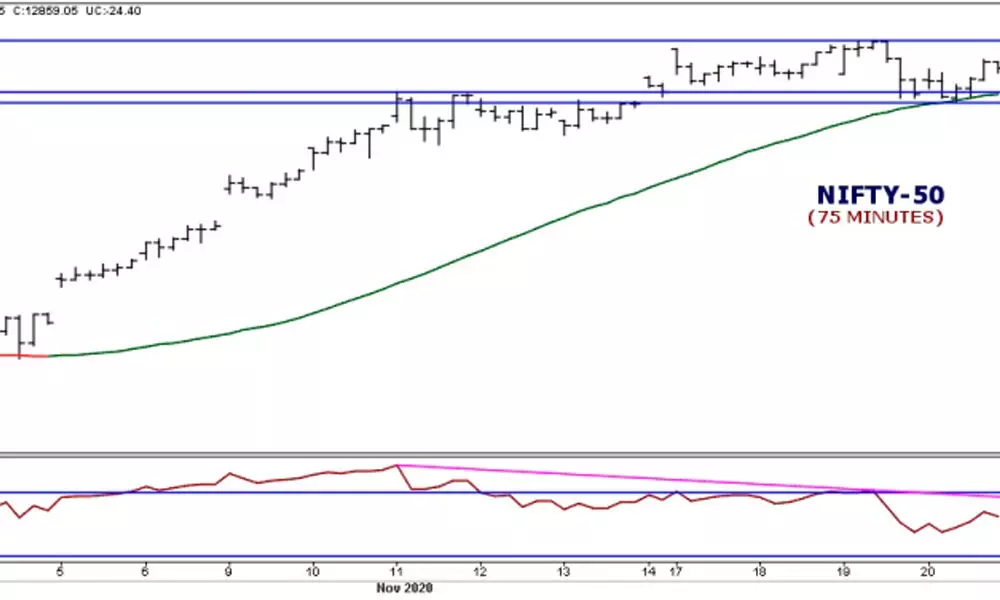 The Nifty gained over half a per cent after reversing its initial losses. Sharp gains in Bajaj Twins, Titan and Kotak bank, led the market today. Nifty gained over 130 points from the days' low. Finally, it advanced by 87.35 points and closed at 12859.05. Barring Pharma and Media, all the sectoral indices closed in positive territory. The market breadth improved in the afternoon session. About 1,089 stocks advanced, and 738 stocks declined. While 70 stocks made a new 52-week high, only five stocks hit the 52-week low. Even though index heavyweight Reliance industries declined by 3.73 per cent, managed to move higher with the help leaders in BFSI sectors.

Technically, the Nifty formed a bearish hanging man pattern on a weekly chart. This kind of pattern on a long-term chart and lifetime high is not a good sign for the market. It shows the overbought condition and tiredness in the ongoing trend.
For the last two days, it is making lower highs and lower lows is another signal for the toping formation. Nifty did not give any confirmation for the bearish stance, as Thursday's shooting star candle did not get a green signal for the bearish move. The initial dominance of profit booking dominated by the fresh buying interest. Currently, as many as eight sectors are in leading quadrant on a daily frame. Pharma, IT, FMCG, Consumer sectors were in lagging quadrant.
This scenario shows the perfect sector rotation in the market. The leading sectoral index, the bank nifty formed a doji pattern on the daily chart, shows the indecision. As the leading sector clearly shows uncertainty. This could be a lag for the next week. With today's up move, the support zone can be between 12,730-45. As long as the Nifty sustains above 12,800 on a closing basis, the market may remain in positive bias.
The author is a financial journalist, technical analyst, trainer, family fund manager