Begin typing your search...
Macro factors to set the tone for mkts
Global crude oil prices, rupee/dollar movement, unexpected developments on political side emerging from the special parliament session and global cues will dictate near-term direction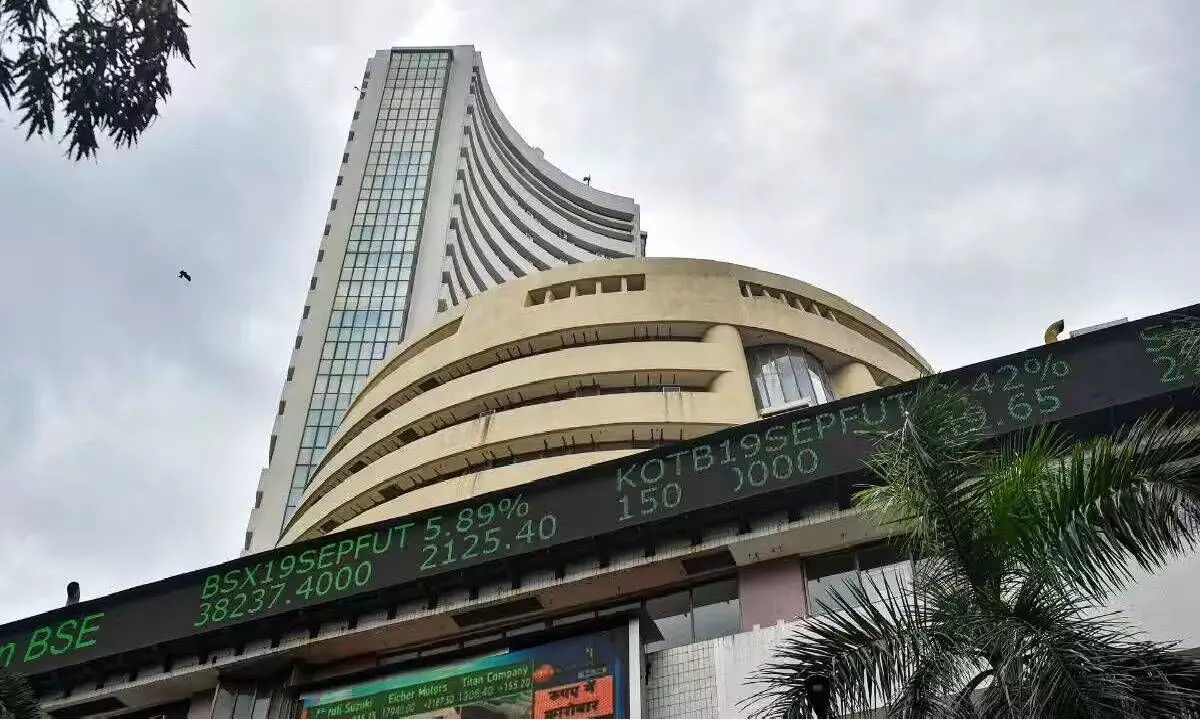 Unfazed by the weak rupee, inflation worries arising out of deficit monsoon rains and rising crude oil prices; the domestic stock market posted strong gains to end higher for the second consecutive week as it's supported by positive domestic macro data, sustained buying from DIIs and hopes of a rate pause by the US Fed.

BSE Sensex added 1.85 percent or 1,211.75 points to close at 66,598.91 points and NSE Nifty rose 1.97 percent or 384.7 points to close at 19,820 points. Continuing their outperformance, the BSE mid-cap and small-cap indices gained four percent and 2.2 per cent. All sectoral indices ended in the green, with the BSE realty index surging five per cent, capital goods five per cent, energy 4.7 per cent and the BSE Power index rose 4.7 per cent. Mid- and small-cap stocks attracted strong buying interest, even though their valuations were relatively high. Nearly 100 small-caps have gained 10-50 per cent in two months. FIIs selling spree continued for the seventh consecutive week, with sales of Rs9,321.41 crore, while DIIs purchased shares worth Rs4,572.14 crore during the week. G20 Summit 2023 has showcased to the world the importance of Vishwaguru India. Focus on climate issues, digital gender gap and other key issues emphasised the necessity for removal of barriers to accessibility, affordability, adoption, and usage of digital technologies. One worrisome factor for Indian economy is international crude prices which are now hovering around the $90 a barrel mark after gaining about five per cent in the week. After Saudi Arabia and Russia extended supply cuts, worries about tight oil supplies fuelled the present rise. Retail inflation is expected to have declined in August, but stayed well above the 6-percent upper band of the RBIs 2-6 percent tolerance range. Near-term direction of the market will be dictated by macroeconomic data, international crude oil prices, rupee/dollar movement, unexpected developments on political side emerging from the special parliament session and global cues.
Quote of the week: Avoid Uncertainty. When the trend is in doubt, stay out. Avoid a trader's market when the ultimate trend is uncertain unless the trade can be protected by a small stop and justifies the risk.
F&O / SECTOR WATCH
Mirroring the renewed resurgence in the cash market both the Nifty and Bank Nifty indices closed with gains of over one per cent. Derivatives segment witnessed heightened activity with record volumes. On the options front, the maximum Call OI was seen at 20,000 strike, followed by 20,200 & 19,900 strikes. The maximum Put OI was at 19,600 strike, followed by 19,700 strike & 19,000 strike. Implied Volatility (IV) in Call options for Nifty settled at 9.20 per cent, while for Put options it concluded at 10.35 per cent. The Nifty VIX, a measure of market volatility, ended the week at 10.87 per cent. The Put-Call Ratio of Open Interest (PCR OI), stood at 1.53 for the week. For Bank Nifty, the highest Call OI was seen at the 46,000 strike, followed by the 45,500 strike. On the Put side, the highest OI was noted at the 45,000 strike. Option data indicates that the Nifty may hit the next crucial resistance of 20,000 mark in coming sessions, which has the maximum OI as well as Call writing, with support at 19,700-19,600 levels. Adopt a buy on dips approach as long as Nifty remains above the 19,500 level. Good buying interest was seen in energy, infra, IT and media stocks. Hinduja group flagship Ashok Leyland is aiming to be among the top-10 global commercial vehicle manufacturers in the near future. The Hydrogen fuel bus developed by the company for state-owned NTPC is going to be the country's first hydrogen fuel bus that would be commercially plying on the road.
The company also launched new IeV series from itselectric vehicle subsidiary. Buy for target price of Rs250 in next few weeks. Stock futures looking good are Ashok Leyland, Ambuja Cements, Aarti Drugs, HDFC Life, IEX, TCS, Tata Chemicals and Tata Motors. Stock futures looking weak are Berger Paints, Dr Reddy, Pidilite, SBI Card, Vedanta and Zee Entertainment.
(The author is a senior maket analyst and former vice- chairman, Andhra Pradesh State Planning Board)