Begin typing your search...
Long-term strategy needed to tackle global refugee crisis
For those displaced from Ukraine, the end of violence and prospects for return remain difficult to forecast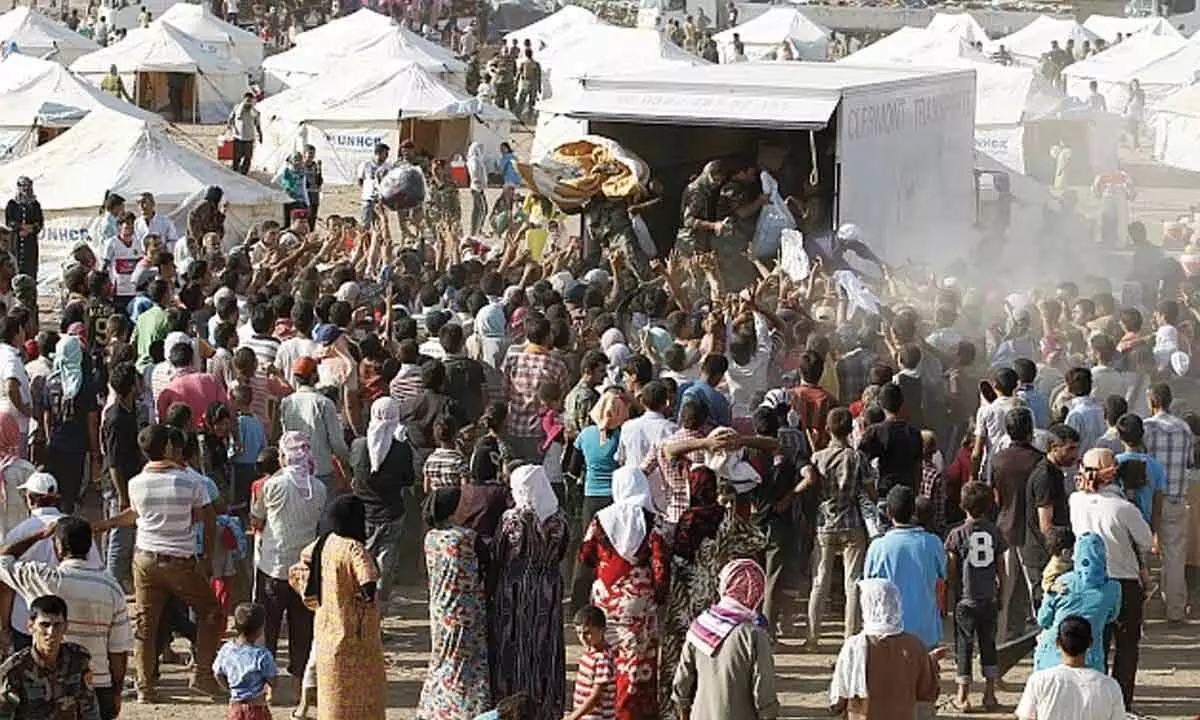 The EU's response to the displacement of people fleeing the war in Ukraine has been swift, solution-oriented, and unified. While the ongoing crisis response and the implementation of the temporary protection regime for refugees from Ukraine remain a priority for hosting countries, the need for longer-term strategies has become more pressing. Discussions on integration, reconstruction, and return, when possible and desired, have already taken a more prominent role on national policy agendas. At the same time, the extent of the impacts of these developments on the future of the EU migration and asylum policy debate remains challenging to assess and is likely to be less straightforward than some might have predicted.

For those displaced from Ukraine, the end of violence and prospects for return remain difficult to forecast. As the war in Ukraine wears on, hosting states' responses are reflected in exit strategies for temporary protection. Concrete solutions to questions of residency are already being rolled out in some Member States. Poland, for example, offers a simplified procedure for obtaining a three-year residency permit to those who have been registered under temporary protection for at least nine months. Such options are likely to gain popularity among beneficiaries once their right to stay and the corresponding support granted under temporary protection expires.
Forced displacement is a development challenge, not only a humanitarian concern. Around 76 per cent of refugees are displaced for more than five years, and the vast majority of the world's refugees and internally displaced people live in developing countries (four out of five.) As part of a global effort, the World Bank Group is focused on addressing longer term, social and economic challenges that will help both the displaced and their hosts.  
A surge in violent conflict since 2010 has led to historically high levels of forced displacement. More recently, the war in Ukraine has caused the fastest-growing refugee crisis in Europe since the end of World War-II. Globally, there are more than 100 million forcibly displaced people including refugees, internally displaced persons and asylum seekers who have fled their homes to escape violence, conflict and persecution. 
The hardships they endure through their displacement make these people vulnerable. They lose assets and livelihoods and are unable to plan their future. Many suffer from trauma, and women and girls are at high risk of gender-based violence. They need help to regain their agency and begin rebuilding their lives.
Host communities need support, too. The forcibly displaced often live in poor areas in developing countries that are struggling to meet their own development goals. Accommodating the sudden arrival of masses of newcomers presents a challenge for host governments, putting further pressure on their ability to deliver basic services and infrastructure. 
This is why forced displacement is not only a humanitarian crisis, it is a development challenge as well. Today, displacement situations are becoming increasingly protracted, and close to 16 million people are now in exile for over 5 years - the highest since the end of the Cold War -underscoring the need for a more sustainable and efficient way to support both the displaced and their hosts with a longer term perspective.
Many host countries in the developing world are taking the lead to better manage these crises, by including refugees in their country's development plans and in their health and education systems, for example. The global community is also working to improve the transition between humanitarian and development assistance, aligning these efforts under the  Global Compact on Refugees led by UNHCR.  
The first Global Refugee Forum (GRF) took place in December 2019 to bring the international community together, support implementation of the Global Compact on Refugees and develop a concrete work-plan towards the next forum in 2023. At the Forum, the World Bank announced $2.2 billion in support for refugees and host communities as part of the IDA19 replenishment. Two years later, the IDA20 replenishment allocated another $2.4 billion for the same purpose.
As climate and weather-related disasters increase in frequency and intensity, peoples' lives are negatively impacted by the destruction, trauma, and resource scarcity, and affecting peoples' physical and mental health. The IFRC's World Disasters Report 2020 states that 83 per cent of all disasters are caused by climate and weather-related events, rising by almost 35 per cent over the last three decades and impacting over 1.7 billion people around the world.
Ensuring self-sufficiency and the agency of the individual in situations of displacement can help to define the way forward. For those displaced, understanding and participating in the host country's society are important prerequisites for well-informed decision-making, including if and when to return. In this context, supporting skills and knowledge acquisition from the start, including language immersion, schooling, and labour market integration, plays an important role.