Begin typing your search...
India needs to improve investment climate for boosting FDI inflows
China remains a country of great interest for the global investing community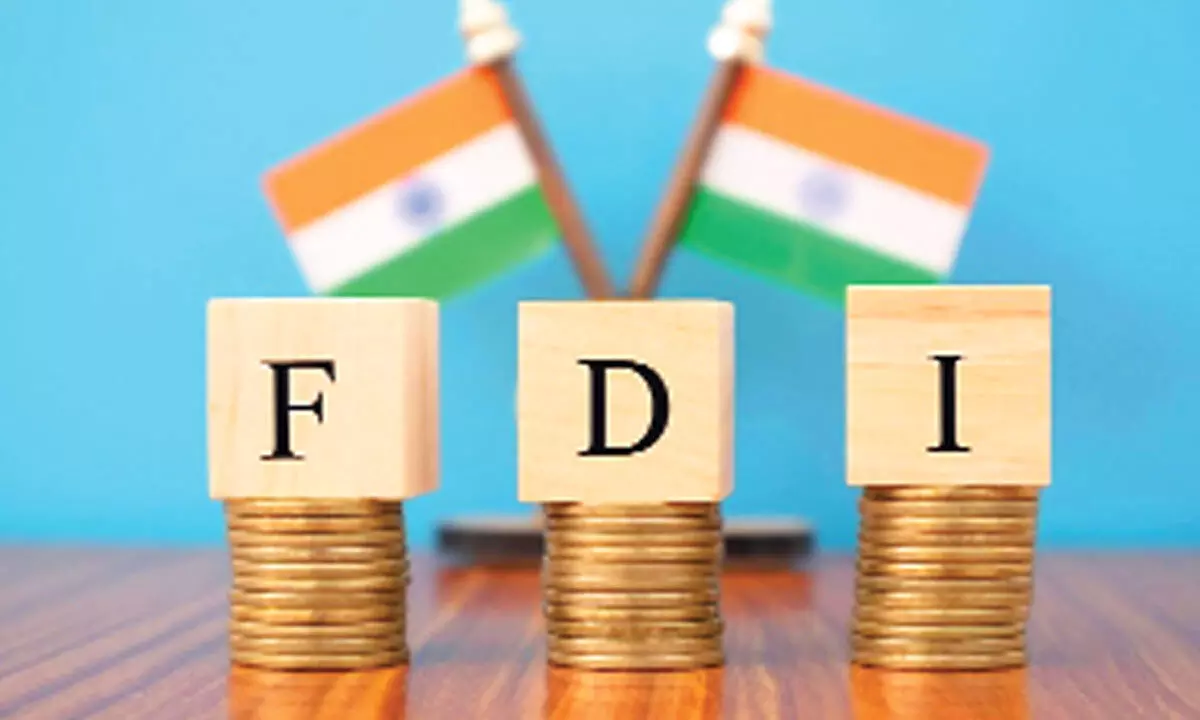 India's foreign direct investment (FDI) inflows have fallen for the first time in a decade, a worrying development that comes in the backdrop of a worsening geopolitical environment. A 16 per cent decline in 2022-23 has reduced inflows to 71 billion dollars, indicating that the economy is not as resilient to eternal headwinds as has appeared so far.
India has been described as a bright spot in the global economy in recent years. This is in the midst of the sluggish growth witnessed around the world, due to the impact of Covid initially and then the Ukraine war. Yet the economy is expected to grow at over six per cent in 2023-24, making it the fastest growing for the second year in succession.
The latest data on FDI flows from the Reserve Bank of India, however, shows that the effect of external headwinds cannot be avoided completely. At the same time, the decline must be viewed in the context of the previous year's high base when inflows peaked at 84 billion dollars to support the spurt in the startup ecosystem.
The moderation in investments from abroad reflects a general global trend. According to a study by the OECD, global FDI flows were declining even before the pandemic. One of the possible reasons mentioned for this phenomenon is the increasing protectionism in many countries leading to investors citing the need for policy stability and predictability for their investment decisions.
At the same time, the study notes that global trends mask considerable diversity across countries with some like Vietnam or India having done relatively well even during the pandemic. So though global flows fell by a record 38 per cent in 2020 owing to Covid-linked lockdowns, there was an impressive rebound in 2021.
The OECD study also commented that reforms in making policies less discriminatory towards foreign investors could improve the situation and improve the FDI stock in an economy.
The current decline in FDI inflows thus should be seen in the backdrop of both external developments as well as the domestic policy environment. As far as the first is concerned, there is no doubt that high inflation and slowing demand has curbed inflows from advanced economies. At the same time, countries like China continue to receive high levels of FDI. It received foreign equity inflows estimated at 189 billion dollars during 2022. This is more than double the amount coming to India.
As for the second issue of domestic policies, it cannot be denied that a big reason for India lagging behind China is that red tape continues to bog down investors. Excessive delays persist in getting clearances to operate a business here. This is at a time when other Asian countries like Indonesia and Vietnam have streamlined policies making it easier for investors to set up projects. Companies seeking to implement a China plus one policy are keen to go where the processes are seamless and rapid for setting up new ventures. Indonesia has recently implemented a series of reforms to simplify procedures in a bid to attract corporates seeking alternative production centres.
Problems in regard to bureaucracy and red tape continue in this country, in spite of considerable easing of foreign investment policies over the years. Yet there are snags in the fine print. Clearances to carry out construction and obtain power connections, for instance, are still time-consuming issues. Many of these regulations come under the purview of states, which need to simplify and rationalise their existing policies.
On the positive side, with states now vying to attract investors, one can hope that this will drive them to carry out more reforms and cut red tape.
In case, policy makers are able to push through the much-needed simplification of procedures, including taxation – related matters, India will rise much higher in the charts of attractive foreign investment destinations.
Even now, a Kearney study finds that India is among the most appealing emerging economies for foreign investors. In the list of top countries in the consulting firm's FDI Confidence Index, India features at 16th place with the U.S. having the highest ranking. But in its special FDI Confidence Index for emerging economies, India is second only to China and followed by the UAE and Qatar.
It must be noted, at the same time, that China has jumped from tenth to seventh place in the main Index, on the strength of its economic recovery in recent months. Thus it would be realistic to accept that it remains a country of great interest for the global investing community.
The decline in FDI inflows in 2022-23 should thus be seen as a wakeup call to policy makers to bring about more reforms in easing policies and procedures for international investors. This is essential to sustain the pace of development, as it will need large scale infusion of foreign investments in key areas, especially infrastructure and the manufacturing sector.