Begin typing your search...
How Milkha, Khushwant, Nanda came from cross border
Those were bad times, no humanity at all, but after Partition they had no venom against anyone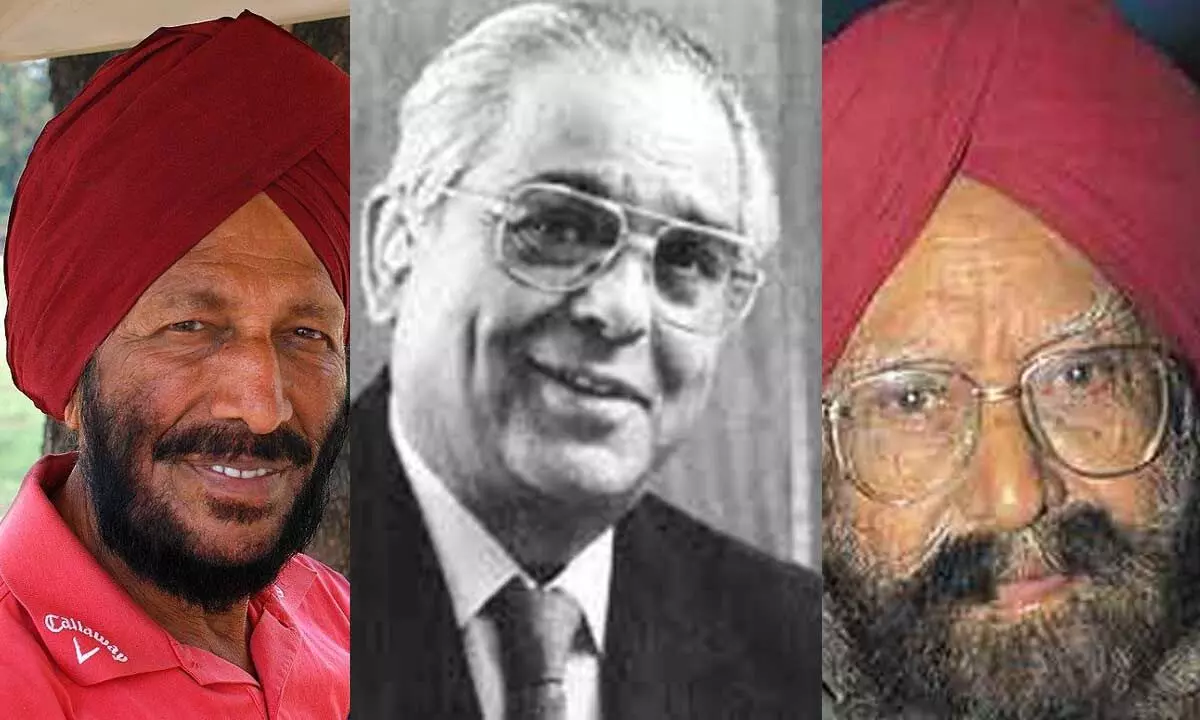 It was around 9.30 in the morning and Delhi Junction, which is also popularly known as Purana Delhi Railway Station, is agog with activities. Coolies, passengers and vehicles are visible everywhere. The very sight of Delhi Junction takes back ex-Delhi University teacher Prof Virender Lal Wadhwa to those heady days when trains full of refugees from across the border were coming here. The passengers were worried of their grim future prospects.
As Delhi bound trains bringing refugees enter from Sabzi Mandi Railway station, some refugees even used to get down there. Jag Pravesh Chandra, his mother and sister all got down there. He had a relative living near the station. They all stayed there and Jag Pravesh Chandra became active in social work. Later, he became much respected leader of Delhi and even remained MLA of Delhi assembly many times.
"I was around ten years old when partition of the country took place. We were comfortably placed in Lahore. However, when gory riots begun there, we had to move out from the city where we were there since over two hundred years. I vividly remember my family was escorted by our Muslim neighbours in Tonga to Lahore Railway station. The Lahore to Amritsar journey was scary till our train was inside the Pakistan side. All the passengers were praying for safe journey. Thankfully, we reached safely. And from a little over one hour halt, we left for Delhi Junction," recalls Prof Wadhwa.
Those trains moved slowly, the passengers gossiped with each other, the wheat fields outside swayed gently in the breeze. In his epic story, Amritsar Aa Gaya (Amritsar has come), noted writer Bhisham Sahni reflects the mood of passengers (read refugees) from West Punjab. With future tense, they discuss endless subjects.
"The Sardarji (a passenger) asked me repeatedly whether I thought Jinnah Sahib would continue to live in Bombay or move to Pakistan. My answer was always the same: 'Why should he leave Bombay? What would be the point? He can always go to Pakistan and come back'. There was speculation about which side of the border Lahore and Gurdaspur would find them. Nothing had changed in the way people talked to each other or joked together," writes Bhisham Sahni in his book Amritsar Aa Gaya. He too came at the Delhi Junction with his family from Rawalpindi.
Refugees finding refuge in Karol Bagh
And once refugees reach Delhi, and then they search for some roof on their head and some money to eat. As very large number of Muslims left for Pakistan from Karol Bagh area, many refugees get vacant houses there. Even the young man Dharampal Gulati too found a place in Karol Bagh for himself and his family. Gulati's family came from Sailkot, which is close to Jammu.
In Karol Bagh, Gulati started running a Tonga and helping his father in his Masala business in a humble way. The very same Gulati later established Mahashany Di Hatti (MDH) Masale and he became a legend in his own way. There are plethora of stories of refugees taking odds head-on here and made their names in business, politics and more. They had changed the sleepy Delhi to vibrant city aspiring for more.
When Milkha Singh reaches Delhi Junction
And the sob story of Milkha Singh is really heart-wrenching. At the age of barely 16, he came at the Delhi Junction all alone. Some of his family members, including his father, were butchered in partition frenzy. He managed to fly to safe place from his home town Multan. He used to recall that first he reached from Multan to Firzozpur on truck. And he stayed there in a refugee camp.
And from Firozpur, he came to Delhi as he learnt that his younger sister is there. Actually, the siblings lost track with each-other. And in Delhi, he managed to find his sister after tremendous amount of efforts. "The scene out the Delhi Junction used to be very scary as thousands of refugees were staying there outside the station. They were getting food from local people and Gurudwara Sis Ganj. Indeed, the wounds of partition have still not healed. Those who had suffered then still become very emotional while sharing their stories. Writer and ex Railway Board Chairman YP Anand does not like to speak on rail journeys across the Redcliff line.
Sitting in his Vasant Kunj residence, now 88, Anand was in tears when he said, "What is the point of recalling the rail journeys of refugees? We had a chilling journey from Sailkot to Jammu on our way to Delhi. We thought that our 21-km journey from Sailkot to Jammu would be free from all the troubles. Alas, we were so naive. Our train which was moving in a decent speed suddenly stopped in a secluded place. The area was deserted and within seconds' merchant of deaths entered in our train with sharp weapons. They wasted no time and killed dozens of passengers, including my several family members."
Anand couldn't speak any further. His blood soaked train later reached Jammu. He does not remember how he reached Delhi.
Who wrote the first national anthem of Pakistan
Well, everyone knows that the Pakistan was created on the basis of two-nation theory. MA Jinnah was arguing very vociferously for it, especially since March 24, 1940, when he spoke in favour of separate nation for Muslims of India in the Lahore session of All India Muslim League. But, he surprised one and all when he asked Hindu Urdu poet Jaganath Akhtar to write the Quami Tarana of newly created Pakistan. It is said that the anthem wrote by Azad was played on Pakistan's national radio on August 14, 1947.
However, it was never officially adopted as Pakistan's national anthem. After the demise of Jinnah, Azad Tarana was abondened by Pakistan. Even before that, Azad moved to Delhi. After reaching Delhi's gigantic railway station, he was provided a good house at Pul Bangash by his friend to live.
Well, not everyone was reaching at the Delhi Junction in 1947 where Gandhi ji came with Kasturba Gandhi on March 12, 1915 for the first time at the invitation of SK Rudra, the then principal of St. Stephen's College. Some affluent people were coming from across the border in their cars. Khushwant Singh, then a lawyer in Lahore High court, drove from Lahore to Delhi. "I drove on a totally empty road, blank road, all the way to Delhi. I didn't see a soul till I reached Delhi," Khushwant Singh told Manleen Sandhu before his death in March 2014 relating his personal experience of Partition.
"Jinnah sent a message to me through my father — he was his friend — to stay on in Lahore and become a High Court judge. I was a lawyer," he said. "Those were bad times, no humanity at all! After Partition I returned to Lahore many times. I had no venom against anyone," he said shaking his head as he explained his decision to move amid the escalating violence.
Even HP Nanda, a transporter, too came to Delhi on his car. The legend came to Delhi from Lahore with only Rs 5,000 and two cars. And yet he stayed at the hotel, The Imperial. Nanda later established Escorts Group.
(The author is Delhi-based senior journalist and writer. He is author of Gandhi's Delhi which has brought to the forth many hidden facts about Mahatma Gandhi)