Begin typing your search...
Global shares rise as sentiments get a boost from Fed
Encouraging data on US jobs also helped global stock markets; But layoffs have been mounting in the technology sector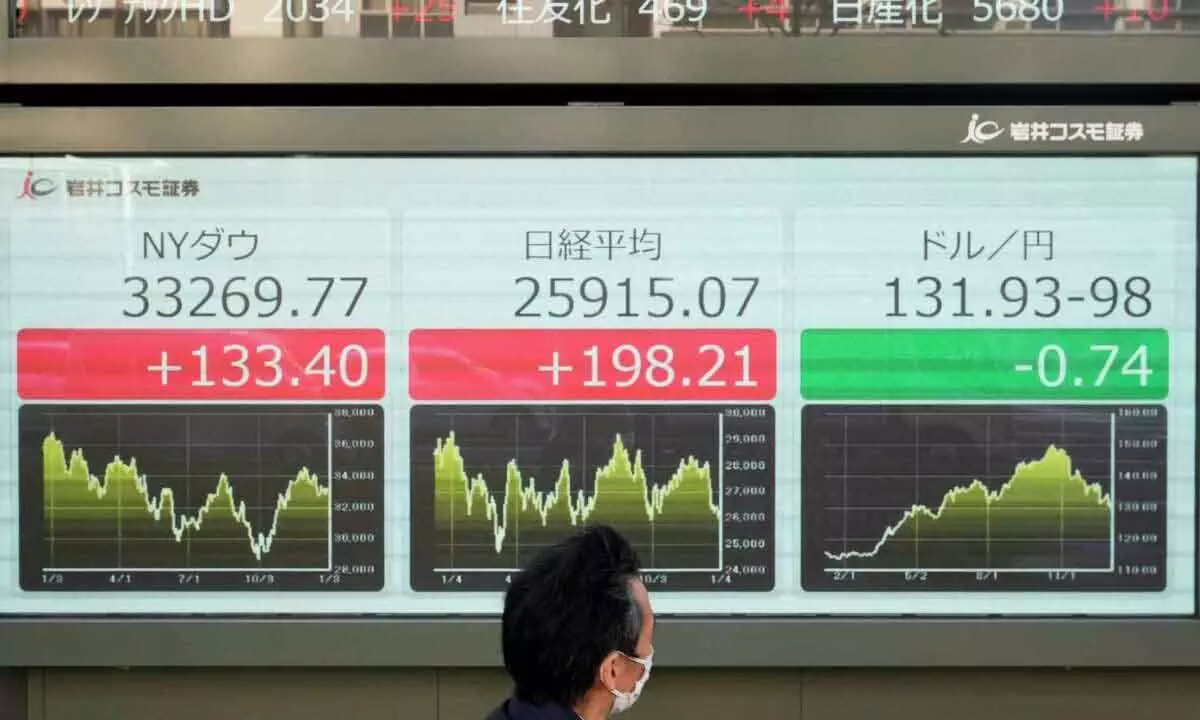 Tokyo: Global shares mostly rose Thursday following a rally on Wall Street as investors assessed minutes from the Federal Reserve's latest meeting of policymakers and welcomed encouraging data on US jobs.
France's CAC 40 lost 0.6 per cent to 6,736.01 in early trading, while Germany's DAX fell 0.4 per cent to 14,438.94. Britain's FTSE 100 edged up 0.1 per cent to 7,595.23. US shares were set to drift higher with Dow futures up 0.3 per cent to 33,389.00. S&P 500 futures rose 0.5 per cent to 33,389.00.
Worries over China's economic slowdown were weighing on Asian regional sentiment. Japan's benchmark Nikkei 225 rose 0.4 per cent to finish at 25,820.80. Australia's S&P/ASX 200 edged up nearly 0.1 per cent to 7,063.60. South Korea's Kospi added 0.4 per cent to 2,264.65. Hong Kong's Hang Seng jumped 1.3 per cent to 21,052.17, while the Shanghai Composite gained 1.0 per cent to 3,155.22.
Widespread Covid-19 cases in China have added to gloom over a long-term slump in its property sector and over the impact of pandemic restrictions that were only recently loosened as the virus gained ground in the worst nationwide outbreak so far. "Retail sales in general should be weaker in December compared to the prior month," said Robert Carnell, regional head of research Asia-Pacific at ING. He said demand might bounce back during the Lunar New Year later in the month.
"After the long holiday, there could be even more daily Covid cases, and then another quiet month for retail. The road to recovery may not be smooth for retailers," he said. On Wall Street, the S&P 500 rose 0.8 per cent Wednesday and the Dow Jones Industrial Average advanced 0.4 per cent. The Nasdaq composite added 0.7 per cent while the Russell 2000 index gained 1.2 per cent. The US government will release its weekly unemployment report on Thursday and its closely watched monthly employment report, for December, on Friday. Strong jobs numbers are seen as an indication of inflationary pressures that support further interest rate increases by the Federal Reserve. But layoffs have been mounting in the technology sector, which is dealing with falling demand as inflation squeezes consumers.
The Fed raised its key short-term interest rate last month for the seventh time in 2022 and signalled more hikes to come. The increase was smaller than those from the previous four meetings, reflecting signs that inflation, while still high, has been easing. The minutes from the mid-December meeting show Fed officials remained determined to keep rates high, taking little comfort from inflation's decline from a peak of 9.1 per cent in June to 7.1 per cent in November.
The Fed's benchmark lending rate stands at a range of 4.25 per cent to 4.5 per cent, up from close to zero following seven increases last year. It has forecast that the rate will reach a range of 5 per cent to 5.25 per cent by the end of 2023 and it isn't calling for a rate cut before 2024. Investors have had their eyes on the Japanese yen, because investors don't expect Japan's superlow rates to continue, even as rates are rising in other nations. "Even though the BoJ warned that this doesn't mean that a rate hike is imminent, the BoJ won't be able to maintain rates below zero while rates are soaring elsewhere. Sooner or later, the BoJ will hike, and that's enough for traders to pile into the yen, which has been the worst performing major currency last year," said IpekOzkardeskaya, senior analyst at Swissquote Bank. In currency trading, the US dollar fell to 132.51 Japanese yen from 132.56 yen. The euro cost $1.0621, up slightly from $1.0610.