Begin typing your search...
Global shares churn as investors wary of US, China economy
Seoul, Tokyo, Shanghai and Hong Kong ended in the negative territory; European markets were trading mostly in the green; France, Germany edged up; The US markets ended lower on Tuesday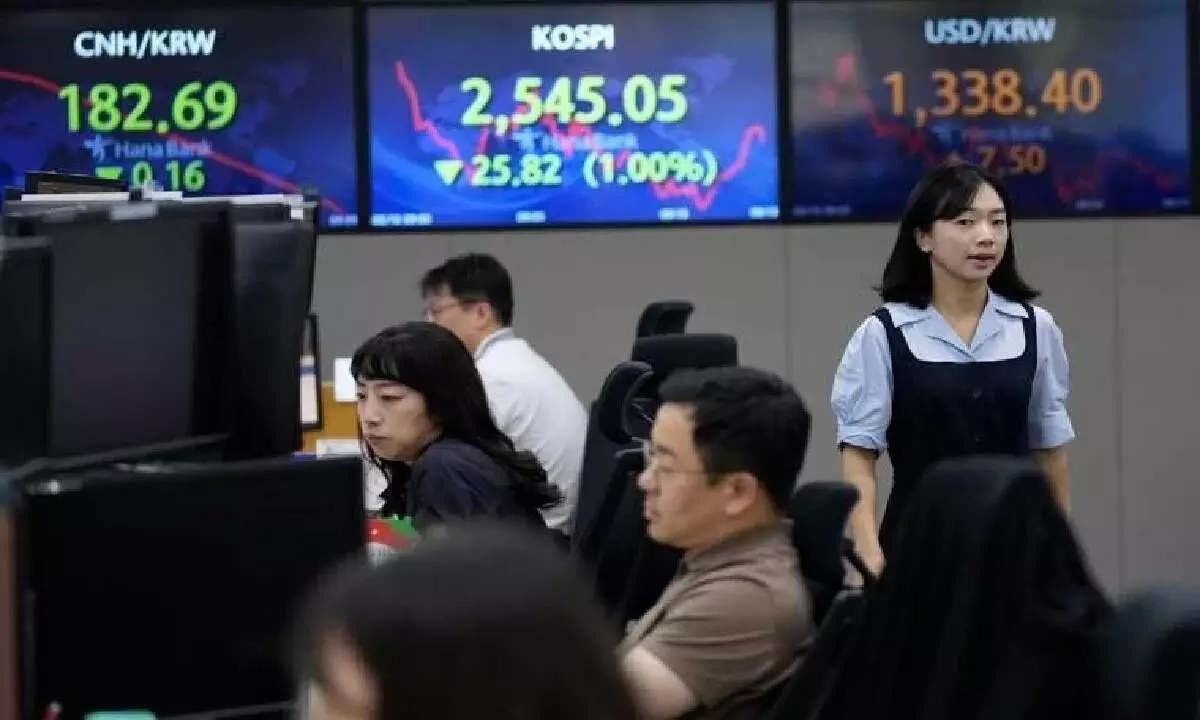 Tokyo Global shares were trading mixed Wednesday amid worries over discouraging data on China, as well as over the future of the US economy.
France's CAC 40 edged up 0.4 per cent in early trading to 7,292.89, while Germany's DAX rose 0.2 per cent to 15,799.93. Britain's FTSE 100 was little changed, inching down less than 0.1 per cent to 7,387.74. US shares were set to drift higher with Dow futures up 0.2 per cent at 35,073.00. S&P 500 futures gained 0.2 per cent to 4,463.00. But benchmarks fell in Asia earlier in the day. New Zealand's central bank left its benchmark interest rate unchanged at 5.5 per cent on Wednesday. The Reserve Bank of New Zealand's monetary policy committee said the headline inflation rate had declined, but core inflation remained too high. The committee said it would take a prolonged period of subdued spending to reduce inflation pressure. The New Zealand dollar was little changed on the news, trading at around US $0.60. "A recent set of disappointing economic data out of China has not been encouraging for the region," said Yeap Jun Rong, market analyst at IG. Japan's benchmark Nikkei 225 dropped 1.5 per cent to finish at 31,766.82. Australia's S&P/ASX 200 dove 1.5 per cent to 7,195.20. South Korea's Kospi dipped 1.8 per cent to 2,525.64. Hong Kong's Hang Seng slipped 1.4 per cent to 18,329.30, and the Shanghai Composite lost 0.8 per cent to 3,150.13.
Clifford Bennett, chief economist at ACY Securities, believes that strong US consumer spending could be momentary and run out of steam. "This is perhaps largely due to the huge sale efforts that took place both online from Amazon and at major stores in general. It could be the case that all of that retail sales gain completely disappears in August. Remember, we did say this would be a strong result, but possibly the last of the good retail sales numbers for quite some time," he said. Coming into this year, the expectation was that China's economy would grow enough after the government removed anti-Covid restrictions to prop up a global economy weakened by high inflation. But China's recovery has faltered so much that it unexpectedly cut a key interest rate on Tuesday and skipped a report on how many of its younger workers are unemployed.