Begin typing your search...
Gaming, the new king of content, is winning the attention war hands down
With $185 bn in revenue in 2022, the gaming industry has revolutionized the entertainment landscape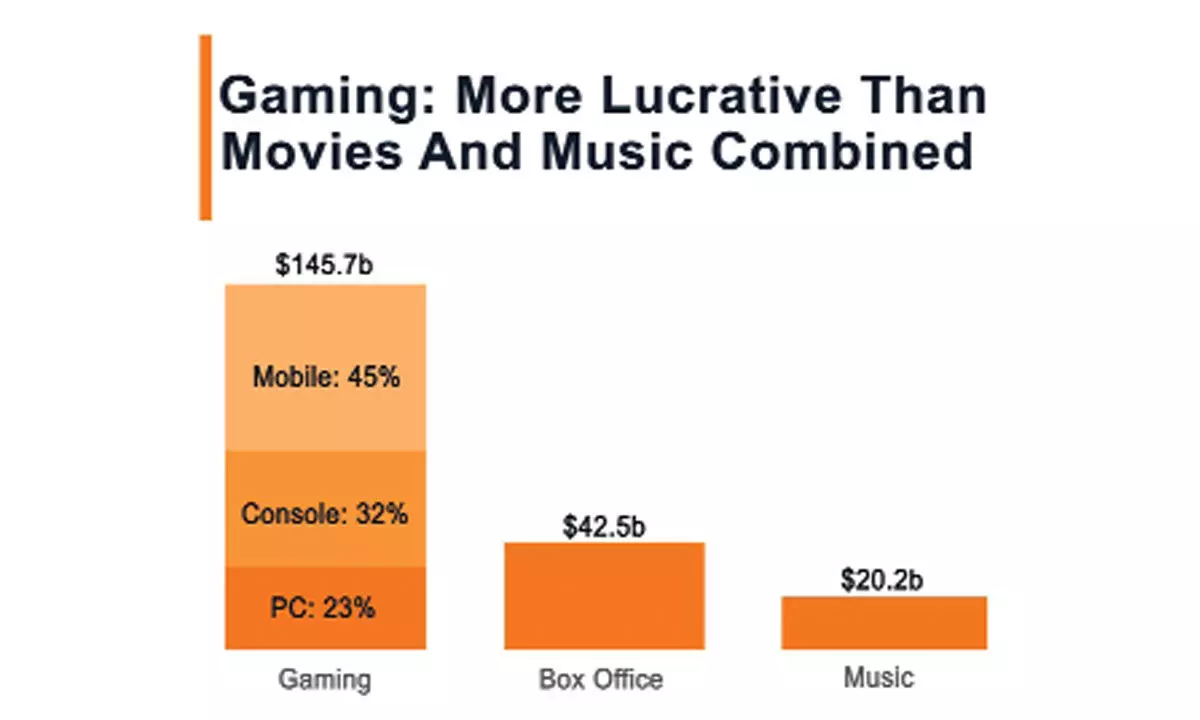 Get ready to power up and dive into the world of content consumption, where the stakes are high and the competition is fierce. Streaming services like Netflix and Amazon Prime have upended traditional TV while social media platforms like Instagram and TikTok have revolutionized the way we discover and interact with content. But in

this crowded and rapidly evolving space, there is one industry that is rising above the noise and captivating audiences like never before: gaming. With a staggering $185 billion in revenue in 2022, gaming has surpassed movies and music combined to become the new king of content.
So what is it about gaming that is so engaging, and how has it managed to hook users in ways that other forms of entertainment can only dream of?
Let us explore the captivating world of gaming, and uncover the secrets for its unparalleled successes in the attention war.
The gaming industry has evolved from a casual pastime into a cultural phenomenon that has revolutionized the entertainment landscape.
Its unique ability to immerse users in captivating virtual worlds has surpassed traditional media like movies. With games like Fortniteand World of Warcraft, players are provided with interactive and customizable gameplay that can keep them engaged for hours on end.
This has led to an explosion of new and exciting games that continue to push the boundaries of what is possible. The ability to create, explore, and connect with players from around the world has
transformed gaming into a deeply social experience that transcends cultural barriers. The industry truly has something for everyone, with over three billion players worldwide spanning all ages, genders and locations. It has become a melting pot of cultures and backgrounds, breaking down language barriers and providing a unique platform for individuals to connect, have fun, and create memories with friends and strangers alike. As a result, gaming has become a highly coveted market for brands to tap into, with advertisers seeking to reach this diverse and engaged audience in the hope of finding their next customer.
Games have a unique advantage over other forms of media when it comes to creating "sticky" experiences. Unlike movies or TV shows, games
offer endless replay-ability, with the potential to discover something new each time you play. The sense of control and agency that games provide keeps players engaged and invested, creating a sense of attachment that translates to positive word-of-mouth recommendations.
Best-selling author Nir Eyal, in his book 'Hooked: How to Build Habit-Forming Products', explains that products that offer sticky experiences are more likely to be recommended by users, and gaming is the perfect example of this phenomenon. From mastering new skills to unlocking new levels, games offer a sense of accomplishment and entertainment that keeps players coming back for more. It's no wonder that games are so much more likely to be recommended over other forms of media.
Games are the ultimate engagement tool, and it seems that non-gaming companies also realise this. Tata Play, Snap, and even Royal Challengers Bangalore are just a few examples of companies that have added dedicated gaming sections to their platforms, as they attempt to tap into the lucrative gaming market. It's worth noting that Tata Play aggregates content from OTT platforms, Snap specializes in short-form content and Royal Challengers Bangalore is a leading IPL team that provides cricketing content on its app.
Talking to Bizz Buzz, Yashash Agarwal, CEO and co-founder of Gamezop , a platform that powers games on these products, says, "The inclusion of games on non-gaming products can significantly increase engagement by 15-40 per cent. Gamezop also operates a trivia platform called Quizzop, which reported a similar uplift."
But while non-gaming products are increasingly relying on games to keep their users hooked, gaming products don't seem to feel the need to reciprocate. It's possible that games already provide a level of engagement that other content simply can't match, he said.
As the competition for attention grows fiercer, companies must find innovative ways to keep their users engaged. Gaming has emerged as a dominant force, surpassing other forms of content and offering a unique and immersive experience.
As we move forward, it's clear that gaming will continue to shape the way we consume content and interact with brands.
With its unmatched ability to create memorable and engaging experiences, gaming is set to transform not only entertainment but the entire content business landscape. It's an exciting time to be a part of this rapidly evolving industry.