Begin typing your search...
Dip in demand for iron, steel worries Indian wholesalers
Rising prices of diesel and petrol have impacted the logistics as wholesalers have to shell out more for the delivery of raw materials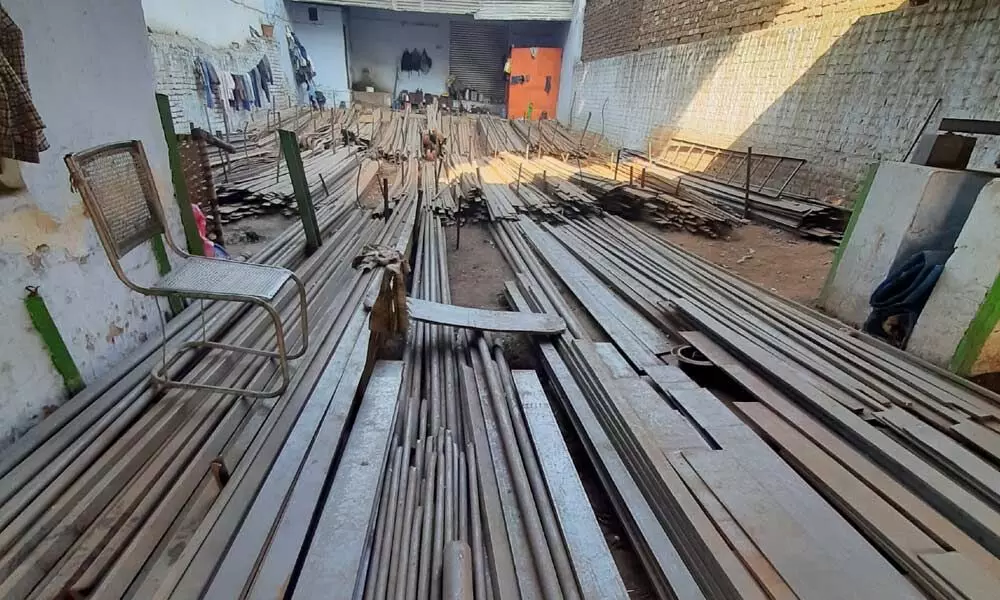 New Delhi: Iron and steel wholesale industry is facing the new challenge of lower demand from within the country after picking up the pace post-pandemic. As per the wholesalers, demand for iron and steel has seen a drop, specifically from the real estate sector, as most alloys are being sold for existing, ongoing construction or industrial projects and the inflow of new projects stands to a minimum.
"The entire industry is dealing with a low trend. The rates are fluctuating on daily basis but so far, we are witnessing a downward trend. The profit margins have fallen down since January 1," Rajesh Kethania, General Secretary, Naraina Iron and Steel Manufacturers Welfare Association, told Bizz Buzz.
According to the association, the procurement of raw materials from manufacturers stands at between Rs 55/kg to Rs 58/kg whereas the selling prices to end-customers is at Rs 50 to Rs 52 a kg. The Loha Mandi or Iron market of Naraina is Asia's largest iron and steel wholesale market with over 1000 wholesalers and retailers.
The market procures raw materials from large manufacturers such as Steel Authority of India, Tata Steel Ltd., JSW Steel Ltd., and SR Mittal. Raw materials such as iron and steel sheets, metro sheets, iron plates, TMT bars, structural bars, angle bars for constructions and industrial purpose are sold at the Loha Mandi.
The rising prices of diesel and petrol, currently at Rs 80.97/litre and Rs 90.58/litre respectively, has also impacted the logistics as wholesalers have to shell out more for the delivery of raw materials.
Tusshar Aggarwal, the fourth-generation owner of Kesar Mal Madan Lal, a 100-year-old shop originally from Lahore, Pakistan, said: "At present, different iron raw materials can cost anywhere between Rs. 40,000/tonne to Rs 85,000/tonne and whereas TMT stands at Rs 55,000/tonne. The market fluctuation hasn't affected our operations much. We procure and sell iron and steel on-demand basis," Aggarwal said.
Agarwal pointed out that although the rising fuel costs of petrol and diesel haven't affected the market immediately, but may become a matter of concern as wholesalers, already witnessing slim profits, will have to shell out more on transportation.