Begin typing your search...
Canada keen to tap South India's biz potential
Added dedicated trade and investment officers in New Delhi, Mumbai and Bengaluru; Focusing on sectors such as digital industries, agriculture and textiles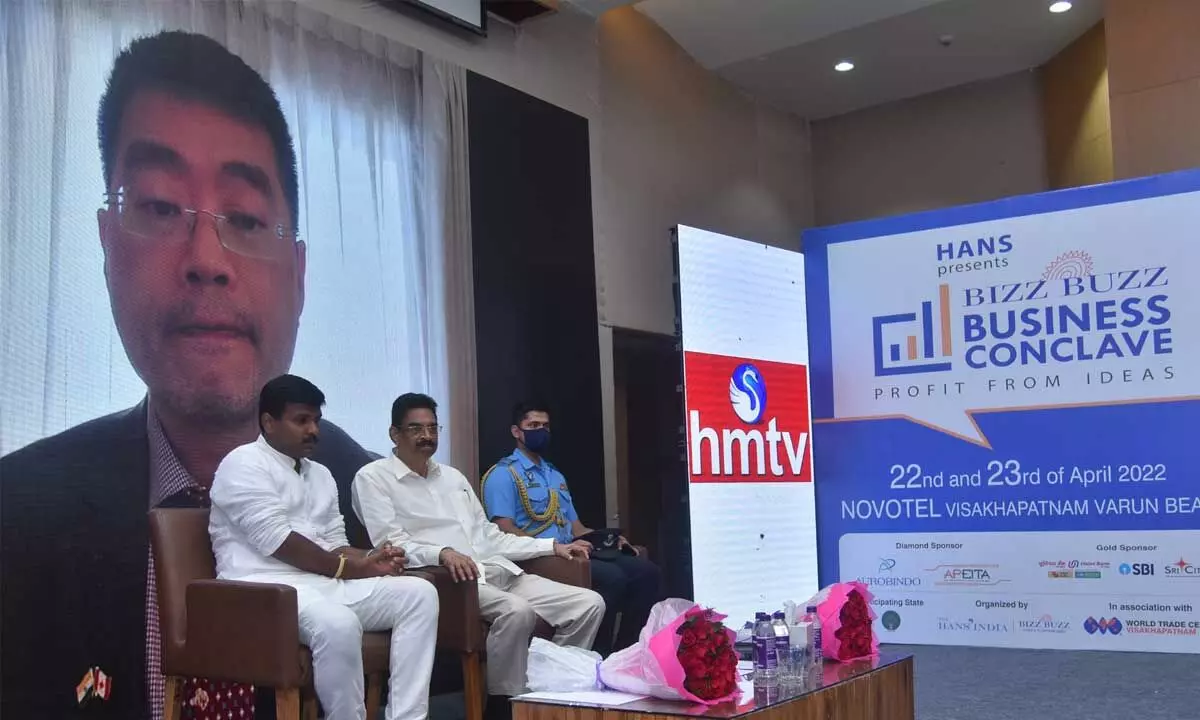 Looking To East
- AP, Karnataka, TS, TN, Puducherry and Kerala contribute 38% to India's GDP
- With 252 mn people, South India accounts for 21% of India's population
- India is Canada's 12th largest merchandise trading partner
Visakhapatnam: Consulate General of Canada to India will visit Andhra Pradesh, Telangana and Tamil Nadu by the end of May to explore trade and investment opportunities here, says Kenneth Wong, Consul and senior trade commissioner, Consulate General of Canada in Bengaluru, while addressing valedictory session in a virtual mode at Bizz Buzz Business Conclave (BBBC) organised by Bizz Buzz and The Hans India here.
"The Consulate General has been concentrating their efforts in the local ecosystem. We will travel to this region soon. I know the value of being in such an environment, and we are planning out being here for at least the next three years. So, we will have ample opportunity to meet," he said, congratulating all the people involved in the event for organising the first business conclave successfully after the Covid-19 impact.
Wong says, "my team in Bengaluru and those from the trade offices in Chennai and Hyderabad are responsible for the promotion and facilitation of trade and investment in the six provinces in the South India – Karnataka, Tamil Nadu, Puducherry, Telangana and Kerala – that contribute 38 per cent to India's GDP with 252 million people, a 21 per cent of the country's population."
Canada recognises the growing importance of deepening our trade ties in the long term economic perspective across the Indo-Pacific region and India plays a critical role in this. There are so many reasons for Canada and India to look to each other for new opportunities. Last year, India was Canada's 12th largest merchandise trading partner.
India has been one of the faster growing major partners in the region. Over the past decade, merchandise trade has increased by 68.2 per cent. Canada wants to grow the trade partnership even more by building on the promising momentum seen in 2019, when the trade and services between Canada and India reached nearly $18.2 billion.
According to Wong, there are key opportunities in AP to increase the trade investment in the automotive industry, particularly the electric vehicle (EV) sector. Apart from major original equipment manufacturers (OEMs) like Hero Motocorp who are transitioning into EV tech, there are more than a hundred component manufacturers, including many tier-1 suppliers.
Canada has a large presence of OEMs from the internal-combustion engine (ICE) space and it finds a massive $4-billion investment opportunity in battery manufacturing plants. In recent years, Canada has added dedicated trade and investment officers in New Delhi, Mumbai and Bengaluru, focusing on sectors such as digital industries, agriculture and textiles.
Canada recognises that India with its young entrepreneur population has a dynamic world-leading tech ecosystem. With strong ties and resources, Canada is a natural partner to work together to bring increased prosperity. Great opportunities are ahead to invest in India, more mutually beneficial success stories may happen especially in emerging sectors, Wong said.
The Consulate General has been concentrating their efforts in the local ecosystem. We will travel to this region soon. I know the value of being in such an environment, and we are planning out being here for at least the next three years. So, we will have ample opportunity to meet
- Kenneth Wong, Consul and senior trade commissioner, Consulate General of Canada in Bengaluru