Begin typing your search...
Can textile industry lead the way globally?
India scaled its highest ever exports tally at $44.4 bn in textiles and apparel (T&A) including handicrafts in FY22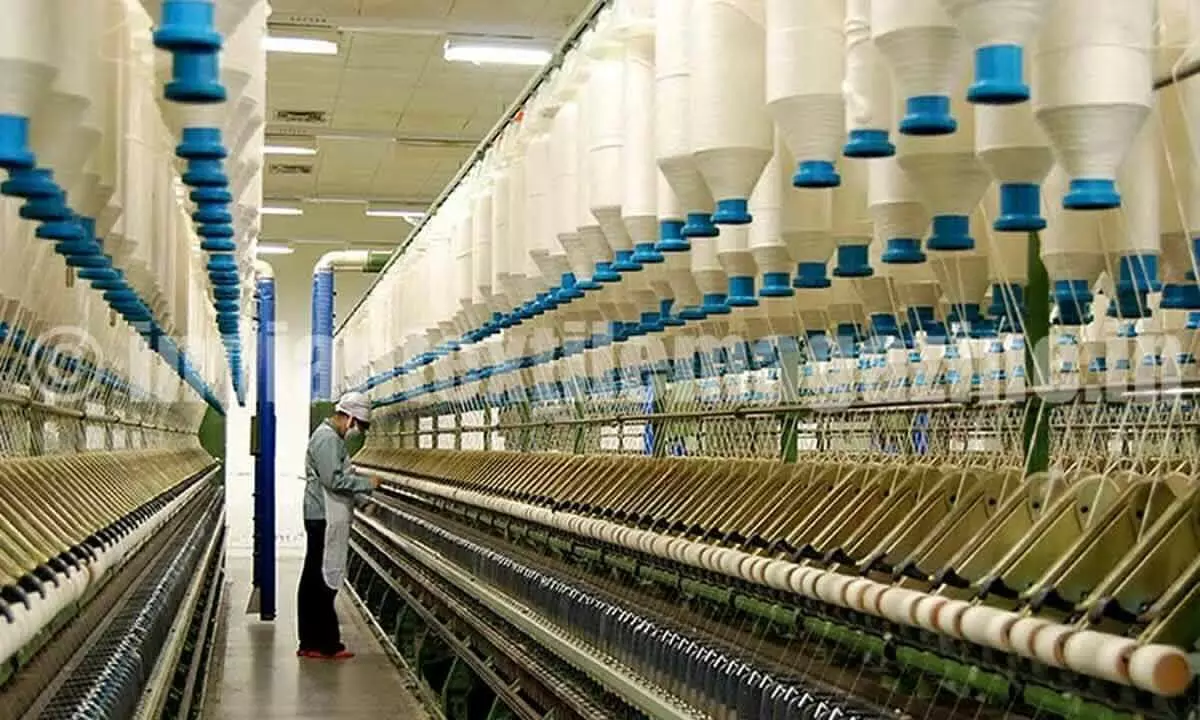 Textiles and garments industry is expected to reach $190 billion by 2025-26 from $103.4 billion in 2020-21. Textile Industry in India is one of the largest in the world with a large raw material base and manufacturing strength. The mill sector, with 3400 textile mills having installed capacity of more than 50 million spindles and 842000 rotors is the second largest in the world.

Global textile trade stood at $1300 billion. China continued to shed its market share, but India has been clearly missing the bus – most of the gains have been captured by Bangladesh and Vietnam – clearly the second and third largest exports after China, respectively. Bangladesh clearly accounts for over 6 per cent of the global apparel exports while Indian exports continue to de-grow for the second year in a row.
The Indian textile industry is the second largest exporter in the world after China. The share of textile and clothing in India's total exports stands at 12.4 per cent in 2018. India has a share of 5 per cent of the global trade in textile and apparel. The major textile and apparel export destination for India is the European Union and USA with 47 per cent total textile and apparel export. It employs 4.5 crore people directly and another 6 crore people in allied sectors.
Textile Industry in India continues to be dominated by cotton, accounting for nearly 3/4th of the total fibre consumption in the country. Globally fibre consumption is dominated by manmade fibres having 70 per cent of share in total fibre consumption. Contrary to the global trend, fibre consumption in India is skewed towards natural fibres with around 65 per cent share, especially cotton.
Cotton is one of the most important cash crops and accounts for around 25 per cent of the total global fibre production. In the raw material consumption basket of the Indian textile industry, the proportion of cotton is around 59 per cent. The consumption of cotton is more than 300 lakh bales (170 kg each) per year. India occupies first position in the world in the cotton acreage with around 105 lakh hectare under cotton cultivation which is around 35 per cent of the world area. India's productivity was 540.80 kg/ha. India has emerged as the largest producer of cotton in the world with Production of 345 lakh bales. The textiles and apparel industry in India has strengths across the entire value chain from fiber, yarn, fabric to apparel. The Indian textile and apparel industry is highly diversified with a wide range of segments ranging from products of traditional handloom, handicrafts, wool, and silk products to the organized textile industry in India. The organized textile industry in India is characterized by the use of capital-intensive technology for the mass production of textile products and includes spinning, weaving, processing, and apparel manufacturing.
Technical textiles are textiles materials and products used for their technical performance and functional properties. Technical textile has a huge scope in India and is in the sun-rice sector. India accounts for 3 per cent of the world's technical textile production producing roughly 90,000 MT of technical textiles. India accounts for 4 per cent of global technical textile exports and 3 per cent of global imports. The technical textiles industry in India was estimated at Rs 1,16,217 crore in the year 2018. The domestic market is projected to reach Rs 2,00,823 crore by 2021 with a CAGR of 20 per cent.
The domestic textiles and apparel industry stood at $108.5 billion in 2019-20 of which $75 billion was domestically consumed while the remaining portion worth $28.4 billion was exported to the world market.
India scaled its highest ever exports tally at $44.4 billion in textiles and apparel (T&A) including handicrafts in FY22, indicating a substantial increase of 41 per cent and 26 per cent over corresponding figures in FY21 and FY20, respectively.
Cotton production supports 5.8 million farmers and 40-50 million people in allied sectors.
Further, the domestic consumption of $75 billion was divided into apparel at $55 billion, technical textiles at $15 billion and home furnishings at $5 bn. While, exports comprised of apparel exports at $12 billion; home textiles exports at $4.8 billion; fabric exports at $4 billion; yarn exports at $3.8 billion; fiber exports at $1.8 billion and others at $2 billion. USA was the top export destination accounting for 27 per cent share, followed by EU (18 per cent), Bangladesh (12 per cent) and UAE (6 per cent). Given the potential, the industry is targeting to reach Rs 20 lakh crore in terms of industry size and Rs 10 lakh crore exports in the next five years.