Begin typing your search...
Broad-range trading to continue amid volatility
For a sharp up move, it needs to break out of previous resistances made; Crucial levels for the markets are 61,343 for BSE Sensex and 18,265 points for Nifty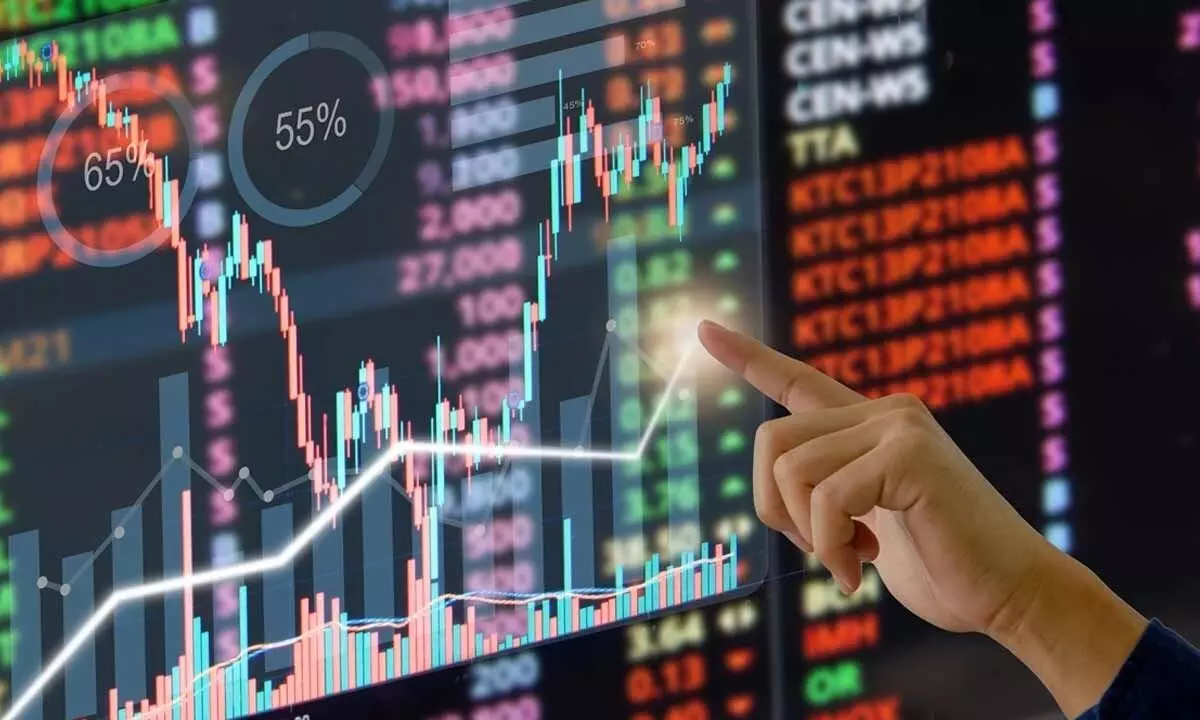 The February 2-8 period under review saw the Union Budget being digested and markets settling down. They gained on three of the five trading sessions, losing on the remaining two. Even the Adani Group shares, which were under pressure post revelations and attack by Hindenburg, turned steady and regained lost ground in some of the shares. Results from the group have also come with some positive ones and a couple marginally negative. BSE Sensex gained 955.71 points or 1.60 per cent to close at 60,663.79 points, while Nifty gained 255.40 points or 1.45 per cent to close at 17,871.70 points.
Dow Jones gained on two of the five trading sessions and was up 69.80 points or 0.20 per cent to close at 34,156.69 points. The US Fed had increased interest rates by 25 basis points to a band of 4.5-4.75 per cent and it appears that there could be another two hikes of 25 basis points each before a pause in the rate hike happens.
RBI raised Repo rates by 25 basis points at its MPC meeting held during February 6-8. The new repo rate would be 6.5 per cent. Post the rate hike, Indian markets were stable and there was hardly any volatility witnessed as the rate hike was on expected lines.
The budget is more or less done with and after a week of it being presented, things have quietened. Considering the challenging times that we are in at present and the global challenges with inflation and rising rates, the budget could be termed as thoughtful and effective. The FM has refrained from making it populist even though this was the last full budget before general elections of
2024. The push to make people use the new income tax slabs where there are no exemptions has been given a big thrust with income up to Rs7 lakh being exempt from tax.
Coming to the markets, people are unable to understand why they are under so much pressure. In the month of January, FPI sold shares worth Rs41,500 crore on a net basis. In the first week of February, they have again sold shares worth Rs6,000 crore so far. Of course, against this selling domestic institutions have been buyers to the extent of Rs33,500 crore in January and Rs6,000 crore in February. It could be said that the domestic funds flush with funds from a steady flow of SIPs are matching the selling from FPIs. Why are the FPIs selling is the next question? They believe that Indian markets valuation is richly valued and they would get better returns on their investments from China which is slowly rallying after the Covid impact.
Readers would recall that in the middle of 2022, FPIs had similarly pulled out money and invested in China, but that decision had turned wrong as markets did not rally in China. Probably this time around they seem to be on the right track so far.
Results season would enter the final week for third quarter results for the period October to December 22. Results declared so far are more or less on expected lines with very few surprises whether on the positive or negative side. The banking sector led by the public-sector banks have seen significant improvement in performance and those which were yet to turn positive, have done so.
Coming to our markets in the period February 9-15, expect markets to remain volatile and trade in a broad range. Markets have been trading in a broad range and they can be expected to continue doing so. For there to be a sharp up move it needs to break out of previous resistances made, and move up. Crucial levels for the markets are 61,343 on BSE Sensex and 18,265 points on Nifty being the high points that need to be crossed and then sustained. The major support on the lower side would be at 17,000-17,200 on Nifty. These would correspond to 57,250-57,850 on BSE Sensex. Earlier we were talking of levels which were higher, but because budget day saw new lower levels being made, we have shifted the levels lower. These new levels post Budget Day which saw the intraday lows being made at 58,816 and 17,353 points. While these levels would act as the first level of support, the final levels would be the levels mentioned earlier.
The strategy for the period ahead would be to sell on any strong rallies and buy on sharp dips. Refrain from large positions on the weekend. We need significant news flow for any sharp movement which could take us out of the band. Trade cautiously.
(The author is the founder of Kejriwal Research and Investment Services, an advisory firm)