Begin typing your search...
Battery as a Service model has huge potential for e-3W operators
State governments of Telangana and Kerala have appointed nodal agencies that are conducting pilot programmes to ensure battery swapping as a model is accepted widely among three-wheeler drivers and aggregators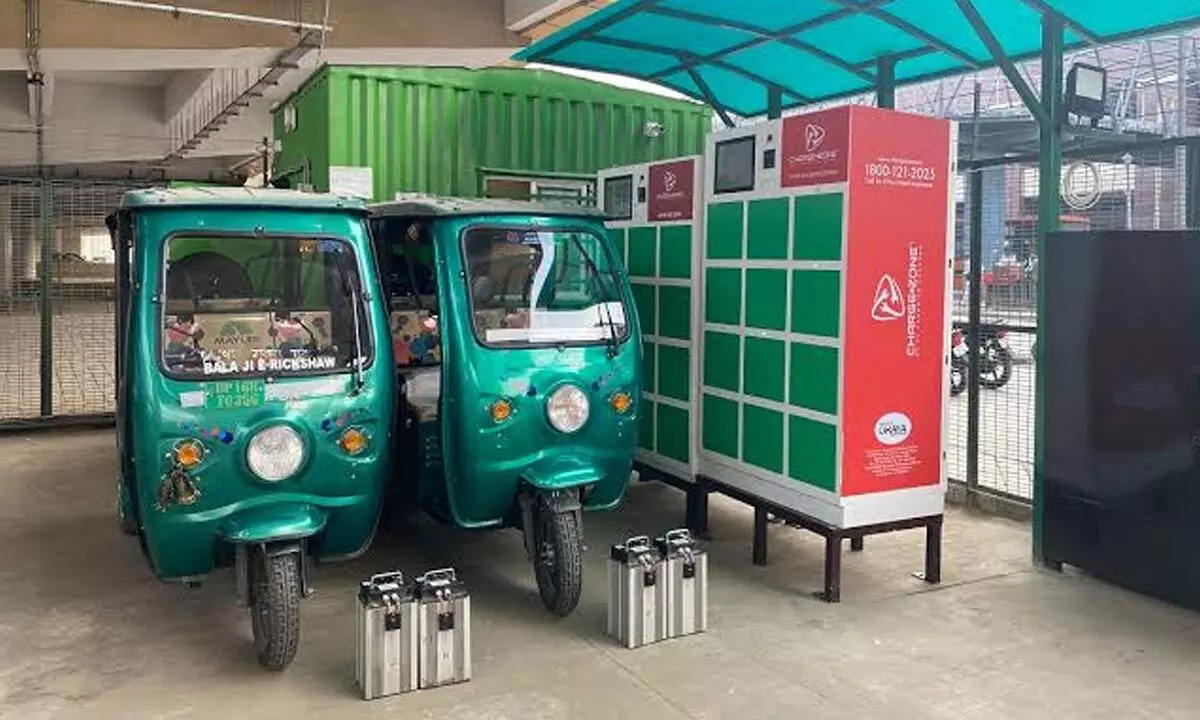 Hyderabad: With a focus on safety considerations and adherence to robust standards, battery swapping is a cost-effective and efficient solution for evolving electric mobility landscape, especially electric three-wheelers (e-3W) in India. The convenience, time efficiency, and scalability that battery swapping offers could make electric vehicles a more viable and attractive option for consumers, leading to increased adoption rates in the country.
Various State governments including Telangana and Kerala have appointed nodal agencies that are conducting pilot programmes to ensure battery swapping as a model is accepted widely among the three-wheeler drivers and aggregators.
Highlighting the importance of the battery swapping concept, Mayur Karmarkar, Managing Director, International Copper Association, India said, "Battery swapping has the potential to accelerate the transition to sustainable and clean transportation, contributing to India's broader goals of reducing carbon emissions and building a greener future."
"The rise of electric vehicles (EVs) has revolutionised the automotive industry, offering a cleaner and more sustainable mode of transportation. However, challenges like limited driving range and long charging times present a persistent concern for EV users. And this is where battery swapping concept eliminates the time-consuming process of recharging an EV battery, thus making it comparable to refuelling a conventional internal combustion engine vehicle," he added.
While battery swapping holds immense potential, several challenges need to be addressed for its widespread adoption. Karmarkar said that collaboration between automakers, energy companies, and governments is necessary to develop the infrastructure and ensure compatibility among different vehicle models. Industry-wide standards for battery dimensions, connectors, and communication protocols must be established to make battery swapping truly universal as standardisation will allow different EV models to utilise the same battery swapping infrastructure seamlessly.
Swapping a depleted battery for a fully charged one takes a matter of minutes, making it a viable alternative for long-distance travel. This significantly reduces the downtime and range anxiety associated with traditional charging methods.
Battery swapping infrastructure can be built on a larger scale, allowing for more vehicles to access charging simultaneously. It is not limited to a specific vehicle or battery type, allowing for greater flexibility in the EV market. As battery technology evolves and improves, swapping enables owners to upgrade to newer, more efficient batteries without replacing the entire vehicle, fostering a more sustainable approach to transportation.
Given the proactiveness, preparedness and the consumer-friendly stance of some of the government appointed nodal agencies, they are conducting pilot program including electric retrofit for 3W passenger vehicles with Battery as a Service model (BaaS). State Nodal Agencies will be overseeing the entire pilot investment which shall include cost of the retrofit kits, batteries to be used in a BaaS model as well as the cost of the swapping stations.
The Indian electric vehicle battery swapping market size was valued around $10 million in 2022, and is projected to reach $61 million by 2030, growing at a CAGR of 25 per cent from 2022 to 2030. The 3W category is estimated to have accounted for the majority of revenue share of around 90 per cent in 2022.
The average 3W travels for more than 100 km & 10-12 hours per day and changing batteries result in less downtime than charging the EVs. The acceptance of this technology is increasing among e-3W operators.