Avoid major buying till Nifty moves above 17.3k mark
Index drops by 200- points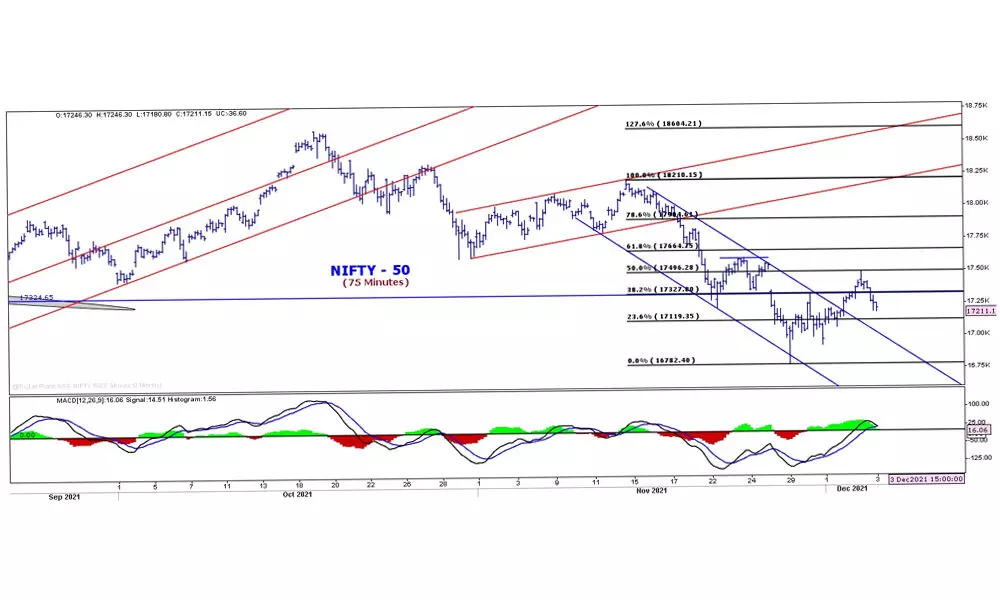 After two days of resilience, the Nifty fell sharply by over 200 points. Once again, across board selling is a worry. With Omicron cases emerging in the country, the cautious investors booked the profits. The Nifty closed at 17,196.70 with a 204.95 points loss. In fact the benchmark index declined by over 300 points from the day's high. The Nifty FMCG index fell by 1.04 per cent, and the Infra index down by 1.02 per cent. Only the Media index and the Smallcap-100 index gained 1.73 per cent and 0.82 per cent, respectively. All other indices are down by 0.25 per cent to one per cent. The VIX went up by 2.03 per cent. The overall market breadth is in favour of gainers as 1,074 advances and 924 declines have been recorded.

The Nifty tumbled after hitting our 50 per cent retracement target of 17,490. On the weekly chart, it formed a long-legged small body candle. During the current, week the Nifty has gained 170 points or one per cent. The daily volatility has increased. On the daily chart, the index escaped a bearish engulfing candle but formed dark cloud cover, which is also bearish in nature. The higher volume indicates the distribution. It failed to sustain above the short-term averages 5 and 8 EMAs.
On a lower time frame, it shows the counter-trend is almost matured. The index closed on the support line on a 75 minutes chart. The RSI has already broken the support. Unless the daily RSI moves above the 46 zone, it isn't easy to resume upward. As mentioned earlier, the index has come out of an oversold condition. Unless the Nifty moves above the 17,324 we, cannot see a major buying support. On a 75 minutes chart, the MACD is about to give a sell signal. For next week, an opening or closing below the 17,150 will be a negative for the index.