Begin typing your search...
Asian stocks track broad slide on Wall St
Nikkei, Kopsi, Shanghai, Hang Seng decline on rising inflation, bond yields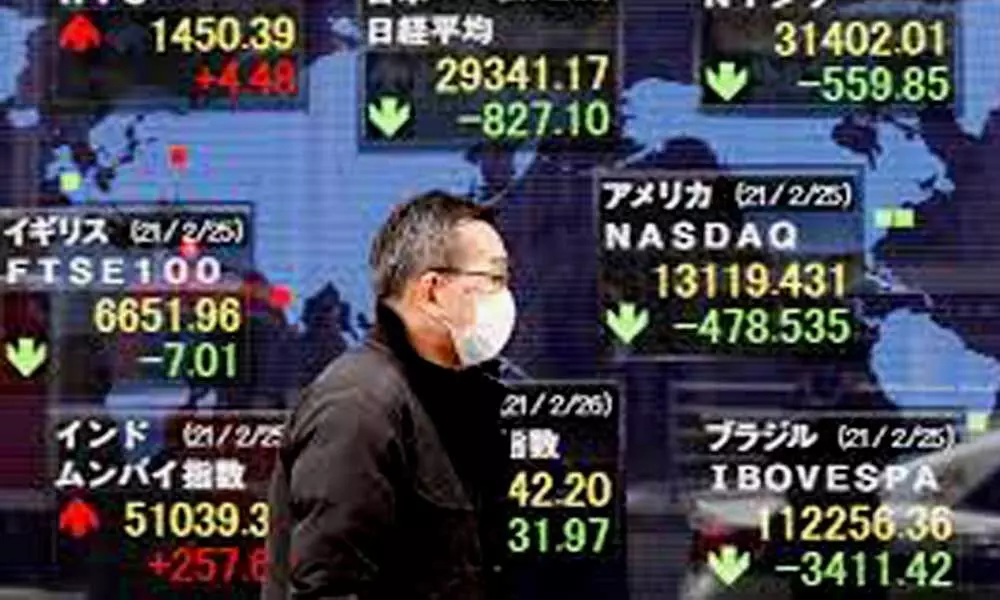 Tokyo: Asian shares fell sharply on Wednesday after a broad slide on Wall Street as investors reacted to a surge in US government bond yields.
Tokyo's Nikkei 225 sank 2.6% to 29,395.14 and the Kospi in Seoul dropped 2% to 3,036.86. The Shanghai Composite index shed 1.8% to 3,537.60. In Sydney, the S&P/ASX 200 gave up 1.1% to 7,198.40. Hong Kong's Hang Seng index logged a more modest 0.5% decline, to 24,374.62 after troubled property developer Evergrande Group said it was selling a stake in Shengjing Bank for 9.9 billion yuan ($1.5 billion) — a step toward addressing its cash crunch. Evergrande's Hong Kong-traded shares jumped 10.5% by midday.
A swift rise in Treasury yields is forcing investors to reassess whether prices have run too high for stocks, particularly the most popular ones. The yield on the 10-year Treasury jumped to 1.54%, its highest level since late June. That's up from 1.32% a week ago. On Tuesday, the benchmark S&P 500 index fell 2%, its worst drop since May, and the tech-heavy Nasdaq fell 2.8%, its worst drop since March. Decliners outnumbered advancers on the New York Stock Exchange 4 to 1. The benchmark S&P 500 is down 3.8% so far this month and on pace for its first monthly loss since January after it gained nearly 16% since the beginning of 2021. Bond yields started rising last week after the Federal Reserve sent the clearest signals yet that the central bank is moving closer to begin withdrawing the unprecedented support it has provided for the economy throughout the pandemic.