Begin typing your search...
Asian shares slip on Wall St tech selloff
Shanghai Composite rebounded, while stocks in Tokyo, Hong Kong, Seoul and Sydney declined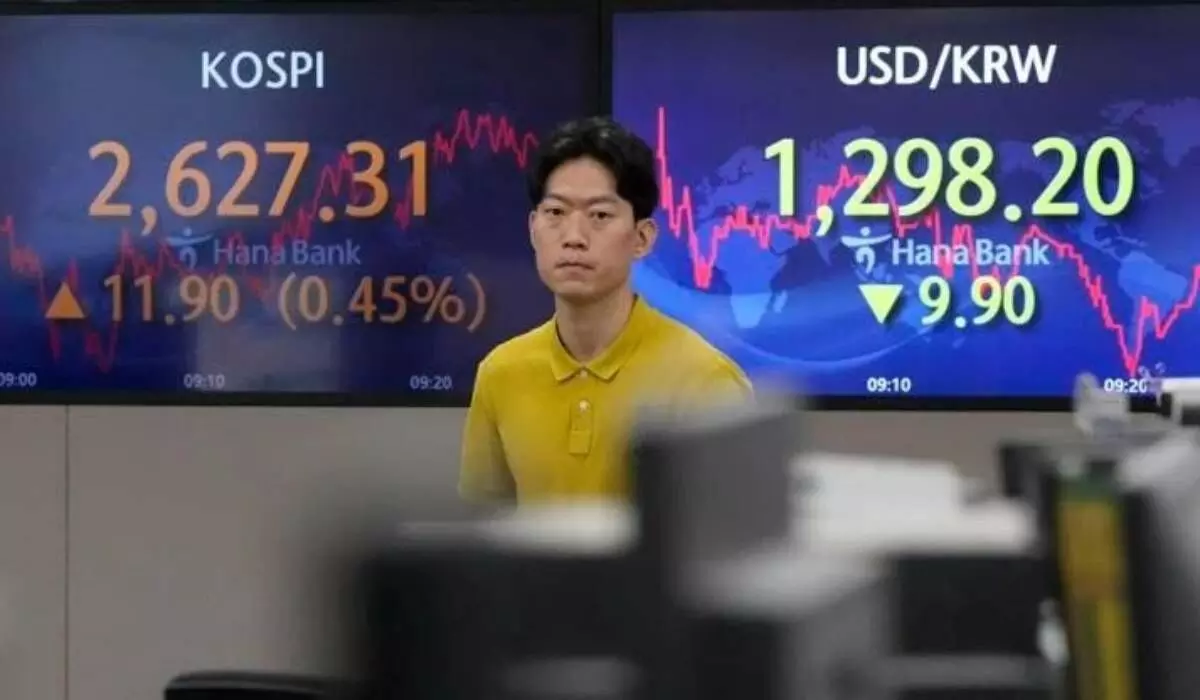 Tokyo Global shares were trading mixed Thursday after heavy selling of big-name tech stocks pushed benchmarks lower on Wall Street.
Stocks rose in Paris, Frankfurt, Shanghai and Hong Kong but fell in Tokyo, London and Sydney. US futures were flat and oil prices declined. The European economy contracted slightly at the end of last year and beginning of 2023, according to revised figures released Thursday that underline the impact of the loss of Russian natural gas and high inflation on consumer spending. That means the eurozone endured two consecutive quarters of declining output, which is one definition of recession often used in political and economic discussions, dubbed a "technical" recession. The economic growth figure for the 20 countries that use the euro currency was revised down from zero to minus 0.1 per cent for the fourth quarter of 2022. The number for the first three months of this year also was downgraded from scant 0.1 per cent growth to minus 0.1 per cent. France's CAC 40 gained 0.3 per cent in early trading to 7,224.07, while Germany's DAX added 0.2 per cent to 15,993.05. Britain's FTSE 100 slipped 0.2 per cent to 7,612.19. The futures for the Dow Jones Industrial Average and S&P 500 were nearly unchanged. In Asian trading, Japan's benchmark Nikkei 225 sank 0.9 per cent to 31,641.27. Australia's S&P/ASX 200 shed 0.3 per cent to 7,099.70. South Korea's Kospi slipped 0.2 per cent to 2,610.85. Hong Kong's Hang Seng edged up 0.3 per cent to 19,299.18.
The Shanghai Composite gained 0.5 per cent to 3,213.59. Taiwan's Taiex lost 1.1 per cent, while India's Sensex gave up 0.4 per cent. The Japanese government revised its estimate for growth in the January-March quarter sharply higher, to 2.7 per cent. That was above what analysts had expected. The economy has been recovering since restrictions related to the coronavirus pandemic were lifted. The nation has seen a return of tourists, as well as other economic activity. The focus is now on when Japan's central bank may move away from the easy monetary policy it's stuck to for years. In the past year, the US Federal Reserve and the world's other central banks have been raising interest rates. Japan's benchmark rate is minus 0.1 per cent. "While a higher growth reading may provide some room to consider a policy exit from the Bank of Japan, the central bank's stance could remain unmoved for now, with recent comments from the Governor Kazuo Ueda pointing to more wait-and-see," Yeap Jun Rong, a market analyst at IG said in a report.
Wednesday on Wall Street, the S&P 500 fell 0.4 per cent though the majority of stocks within the index rose. The Dow Jones Industrial Average gained 0.3 per cent and the tech-heavy Nasdaq composite fell 1.3 per cent. Microsoft, Amazon, Nvidia and Alphabet all sank at least 3 per cent and were the heaviest weights on the S&P 500. Because they're some of Wall Street's most valuable stocks, their movements pack extra punch on the index. Wall Street is questioning which will come first: a recession or inflation falling enough to get the Federal Reserve to cut interest rates? Most traders expect the Fed to leave rates steady next week. That would mark the first policy meeting in more than a year where it hasn't hiked its benchmark rate, which is at its highest level since 2007. But the Fed may resume raising rates in July. The goal of higher interest rates is to squelch high inflation by slowing the entire economy and hurting prices for stocks, bonds and other investments.