Begin typing your search...
Asian indices track gains on Wall St up amid strong US jobs data
Markets appear poised to ride last week's upward momentum as bubbly risk appetite finds a comfort pillow in hopes for a US soft landing, experts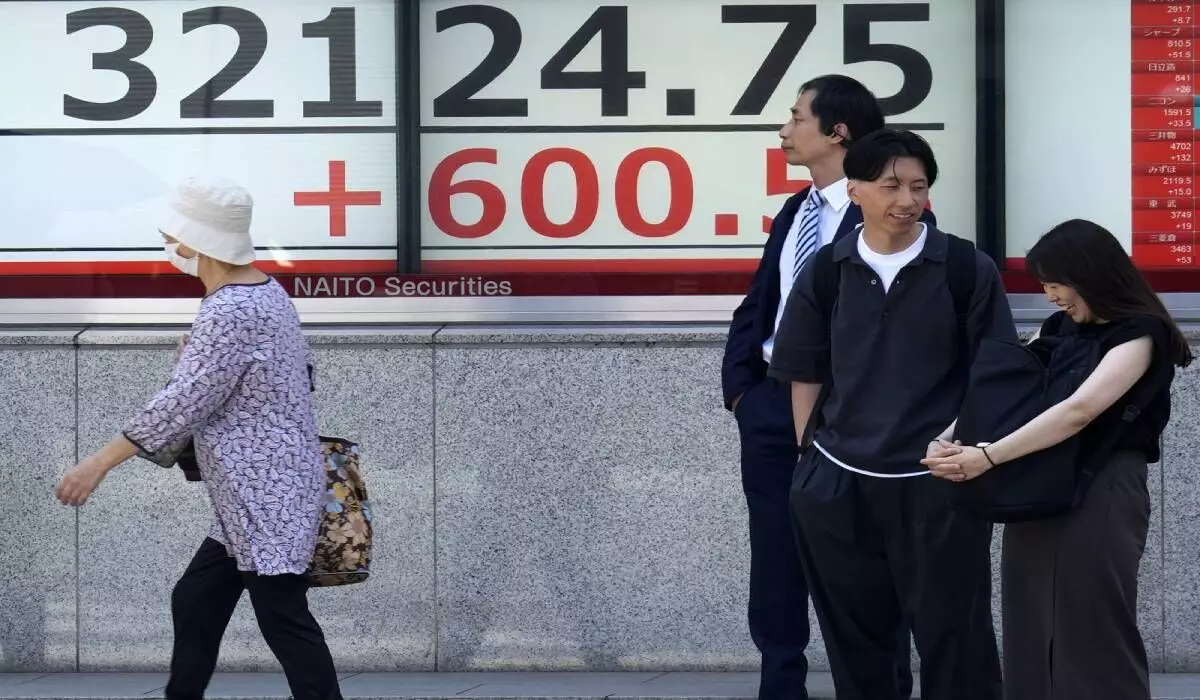 Beijing Asian stocks followed Wall Street higher on Monday after strong US hiring data suggested a possible recession might be further away, while smaller wage gains stoked hopes inflationary pressures are weakening.
Tokyo's benchmark gained almost 2 per cent. Shanghai, Hong Kong and Seoul also rose. Wall Street's benchmark S&P 500 index leaped 1.5 per cent on Friday, putting it on the verge of entering what traders call a bull market after rising nearly 20 per cent in seven months. Government data Friday showed employers hired more people than expected in May, suggesting the economy is strong despite repeated rate increases to cool inflation. Wage gains slowed, suggesting pressure for prices to rise might be weakening, which would reduce the need for the Federal Reserve to cool business activity with more rate hikes.
"Markets appear poised to ride last week's upward momentum as bubbly risk appetite finds a comfort pillow in hopes for a US soft landing," said Stephen Innes of SPI Asset Management in a report.
The Nikkei 225 in Tokyo advanced 1.9 per cent to 32,106.94 and the Shanghai Composite Index added less than 0.1 per cent to 3,232.77. The Hang Seng in Hong Kong gained 0.3 per cent to 19.011.82. The Kospi in Seoul was 0.6 per cent higher at 2,615.35 and the S&P ASX 200 in Sydney jumped 1 per cent to 7,214.90. India's Sensex opened up 0.5 per cent at 62,860.24. Singapore gained while Jakarta declined. Markets in New Zealand and Thailand were closed for holidays.
On Wall Street, the S&P 500 rose to 4,282.37 on Friday. The Dow Jones Industrial Average rallied 2.1 per cent to 33,762.76 and the Nasdaq composite gained 1.1 per cent to 13,240.77. Industrial companies, energy producers and banks rose. Exxon Mobil advanced 2.3 per cent as prices for crude oil climbed on hopes that a resilient economy would burn more fuel. The Labour Department's monthly jobs report showed a slowdown in wage increases even though hiring strengthened. While that may discourage workers who are trying to keep up with rising prices, investors believe slower wage gains will mean less upward pressure on inflation. Unemployment also rose by more than expected last month, moving up to 3.7 per cent from a five-decade low. That implies a more slack in the job market and seems to conflict with hiring data, which come from a separate survey. Following the report, traders were largely expecting the Fed to hold interest rates steady at this month's meeting. That would be the first time it hasn't hiked rates in more than a year. Higher rates have also hurt many smaller and mid-sized banks, in part because customers have pulled deposits in search of higher interest at money-market funds. Several high-profile bank failures since March have shaken the market, leading Wall Street to hunt for other possible weak links. Several under the heaviest scrutiny rallied following the jobs report. PacWest Bancorp leaped 14.1 per cent to trim its loss for the year to 66.6 per cent. Fed officials have also warned a pause on rate hikes at this month's meeting won't necessarily mean the end to increases.
In energy markets, benchmark US crude rose $1.06 to $72.80 per barrel in electronic trading on the New York Mercantile Exchange. The contract gained $1.64 on Friday to $71.74. Brent crude, the price basis for international oil trading, advanced $1.05 to $77.18 per barrel in London. It added $1.85 the previous session to $76.13. Prices rose after Saudi Arabia took the unilateral step on Sunday of saying it will reduce how much oil it sends to the global economy. The move is meant to support sagging crude prices after two earlier cuts in supply by major producing countries in the OPEC+ alliance failed to push prices higher. The dollar rose to 140.05 yen from Friday's 139.94 yen. The euro fell to $1.0697 from $1.0712.