Begin typing your search...
A radical out of the box thinking needed to rebuild agriculture
Farmer leaders and farm activists have often maintained that the suicide figures are invariably underreported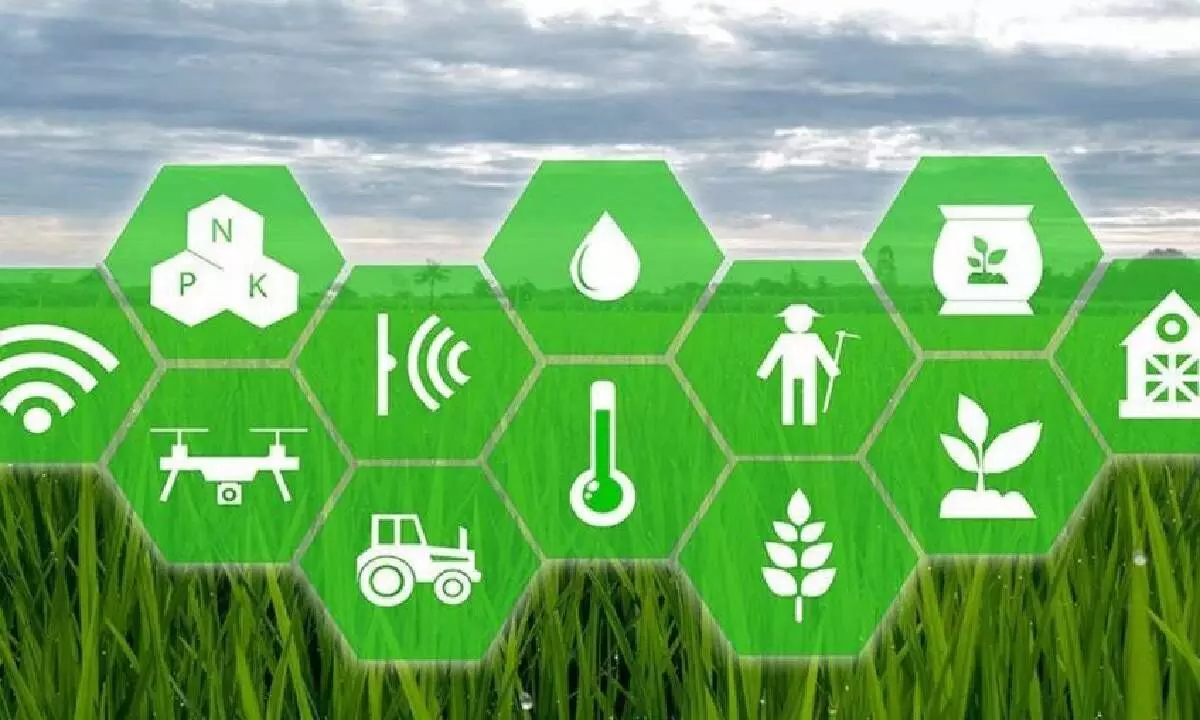 Farmer suicides show no signs of abatement. And that too in a country where a new report says that the Union Government is planning to serve G-20 Summit delegates in silverware and gold-plated utensils.
An Asian News International (ANI) report quotes CEO of IRIS India, manufacturers and exporter of luxury metalware, as saying: "We started the preparation in January 2023. We have made cutlery according to the location. We have incorporated the cutlery according to State's culture. Some cutlery is silver-coated. We have also made a 'Maharaja Thali. Some cutlery is also gold-plated ..."
With the kind of rich preparations being made, as someone said it appears to be nothing short of a fat Indian wedding, I don't see any reason why we are invariably faced with a resource crunch when it comes to handholding farmers, pulling them out from deep misery and suffering they find themselves perpetually in. As per the report of the latest 2019 Situational Assessment Survey for Agricultural Households, the average monthly income of an agricultural family stands at a paltry Rs 10,218. In other words, agriculture continues to be at the bottom of the pyramid. In fact, as per the survey, a daily wager earns more than a farmer.
This comes at a time when the Centre has announced a four per cent hike in DA instalment effective from July 1, 2023 for its roughly one crore employees and pensioners. The hike will entail an additional expenditure of Rs 12,815 crore per year. Let it be known that the hike in DA is merged with the basic pay of the employees, which means their basic pay keeps on increasing with every DA instalment.
I have never heard of any financial constraints when it comes to providing DA for employees. The financial crunch is only when we need to spend on farmers.
Now let me revert back to the issue of farmer suicides. Well, the fact that farmers continue to commit suicide in droves is a reflection of the terrible agrarian distress that continues to prevail. Burdened with mounting debt and that happens when the output price does not even cover the cost of production, farmers are often left with little choice but end their lives.
I remember, several years ago, a newspaper report had rightly termed continuing farmer suicides as a 'serial death dance'.
It truly is. After all, since 1997, and as per official figures, close to four lakh farmers had taken to suicide as the fatal route to escape the humiliation that they face. Farmer leaders and farm activists have time and again contested these statistics saying the deaths figures are often underreported. I will not go into the reasons behind what leads to farm suicides, but it is important to look into a report that has been submitted by a senior bureaucrat in Maharashtra, which has stirred a hornet's nest.
Let's understand what he suggests in the light of hundreds of other recommendations we have seen in the recent past.
If I am not mistaken, there are at least a hundred reports/studies on farmer suicides that have been prepared and submitted across the country over the years. And yet, there seems to be no let-up in the number of farmers who take to suicides.
In Maharashtra, as per official estimates, 26,566 farmers have taken their lives in the past 10 years, between 2013 and 2022, to be more precise. This implies that on an average seven farmers died by suicide every day.
A recent article in Frontline magazine (September 2) says a report filed by a Divisional Commissioner of Aurangabad, Sunil Kendrekar, has called for discontinuing all welfare schemes, implemented by both the Centre and State, and instead provide a direct income support of Rs 25,000 per hectare.
While the Maharashtra government has not accepted the report, a lot of criticism has also come from farmer unions and civil society stakeholders. Given that 206.95 lakh hectares is under cultivation, the amount spent under 26 different welfare schemes comes to Rs 31,595 crore. Against Rs 51,737 crore needed for one-time grant to farmers per year, and minus the welfare amount of Rs 31,595 crore, there would still be a need for another Rs 20,000 crore for the Maharashtra government to arrange. This is a tall order given the financial crunch that every State government finds itself in.
Interestingly, Maharashtra provides a direct income support of Rs 12,000 to every land owning farmer, Rs 6,000 under PM Kisan Samman Nidhi scheme, and another Rs 6,000 from the State's budgetary resources. While Telangana and Andhra Pradesh have been providing an additional support of Rs 5,000 per month to farmers, Odisha has certainly been more imaginative with its Krushak Assistance for Livelihood and Income augmentation (KALIA) scheme. Tailored to pull farmers and landless tenants out of the debt trap, it has provided Rs 12,500 for every landless agricultural household and Rs 10,000 per family per year to vulnerable groups like disabled, widows and the elderly.
While there is no denying that there is a need to learn from each other's experience and redraw the farm support programmes, the way to strengthen agriculture is not by discontinuing the existing welfare schemes. Many of these are crucial and some can certainly be improved given the local conditions. But overall, I think the time has come to make some radical changes in the way we look at farming, and come up with some out of the box thinking that can rebuild agriculture. There is certainly need for making crop insurance effective, for providing disaster relief, and, of course, implementing the National Food Security Act in right earnest. Eventually, the aim should be to enhance farmer's income.
While legalising MSP for all crops is the surest way to enhance farm incomes, the other suggestion I have is to constitute a State Commission for Farmers Income and welfare. It should be akin to the government employees, who get basic pay plus DA and in addition get a total of 108 allowances (not for everyone, but collectively).
For instance, in Punjab the average monthly income per farm household is about Rs 25,000. It should set up a target to enhance the average income to Rs 40,000 in the next two years. Similarly for Maharashtra, where the 2019 agricultural household survey had computed the average income at Rs 11,492 per month, the Maharashtra Commission for Farmers Income and Welfare, if the State Government envisages, should have a target of increasing it to Rs 25,000 in the next two years.
If we plan like this, I am sure there would be no need to put up a temporary wall or green sheets to hide the poor whenever some of the world's important leaders come.
If it was Garibi Hatao in the past, it seems to be Garibi Chhupao now. If only we were to truly aim at Sabka Saath Sabka Vikas, for which the roadmap passes through agriculture, there will be no need to hide the poor.
(The author is a noted food policy analyst and an expert on issues related to the agriculture sector. He writes on food, agriculture and hunger)