Begin typing your search...
US chipmaker AMD to invest $400 million in India
AMD chief technology officer Mark Papermaster made the announcement at the annual semiconductor conference in the presence of Prime Minister Narendra Modi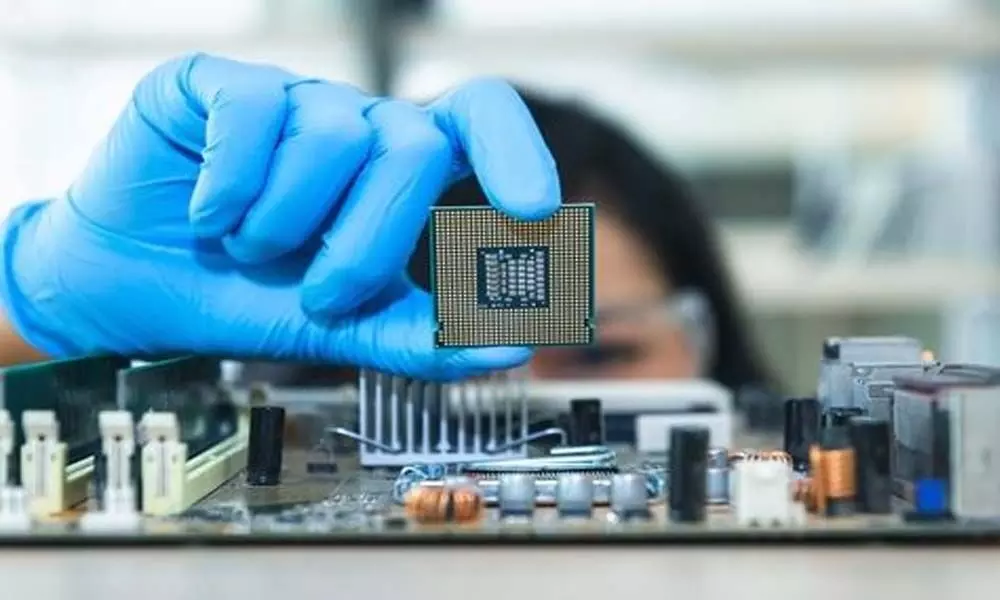 Gandhinagar: US chipmaker Advanced Micro Devices(AMD) on Friday announced a $400 million investment in India over the next five years and said it will build its largest design centre in Bengaluru.
AMD chief technology officer Mark Papermaster made the announcement at the annual semiconductor conference in the presence of Prime Minister Narendra Modi. Undeterred by Taiwan's Foxconn pulling out of his group's $20 billion semiconductor-making venture, mining baron Anil Agarwal said the first phase of Vedanta's chip-making project will be ready in two-and-a-half years. Hon Hai Technology Group, also known as Foxconn, earlier this month pulled out of the chipmaking joint venture with Vedanta, and said it intends to apply for incentives under the government's semiconductor production plan. Vedanta Ltd has lined up partners and will begin a foray into chip-making this year.
Speaking at the conference, Foxconn chairman Young Liu said the ecosystem for semiconductors in India is for the "very brave". "The ecosystem for chips in India is for the very brave. Every experience only positions companies stronger going forward," he said, without making any direct comment on the Vedanta joint venture. India is luring prospective chipmakers into the country to reduce reliance on expensive imports and dependence on Taiwan and China.
The government has offered $10 billion of fiscal incentives for units setting up chip-making factories in the country. Also known as semis or chips, semiconductors can be found in thousands of products, such as computers, smartphones, appliances, gaming hardware, medical equipment and cars. India's chip market is set to reach about $64 billion in 2026, triple what it was in 2019, according to Counterpoint Research.
AMD said it will open its new 5,00,000 square foot design centre campus in Bengaluru by the end of this year and create 3,000 new engineering roles within five years. This campus will increase AMD's office footprint in India to 10 locations. The Santa Clara, California-based firm already employs more than 6,500 persons in India. "Our India teams will continue to play a pivotal role in delivering the high-performance and adaptive solutions that support AMD customers worldwide," Papermaster said.
Agarwal said that the first phase of his group's semiconductor project will involve $5 billion investment and will be ready with a Made-in-India chip in 2.5 years. Vedanta Ltd is talking to three companies to rope them in as technology partners for its mega plans entailing foundry, chip manufacturing, packaging and design. "In 2.5 years, we will give you Vedanta made-in-India chips," he said.
"Vedanta has a good cash flow, we will make a capital allocation in Vedanta, and there is a queue of people to give us equity and debt...but we want the tie-ups to be in place first, and have an ecosystem," he said. Agarwal said the group is 100 per cent committed to producing semiconductors and display glass in India. Vedanta and Foxconn had formed a 63-37 joint venture to make semiconductor chips and display manufacturing.
At the conference, Foxconn's Liu said Taiwan will be the "most trusted and reliable partner" for India. "Prime Minister Narendra Modi once mentioned to me that IT stands for India and Taiwan. Honourable Prime Minister, Taiwan is and will be, your most trusted and reliable partner. Let's do this together!" he said. Liu also spoke about Taiwan's "buffalo spirit", and how the same can be applied to India for semiconductor development. "India has said its government has a high say-do ratio. This kind of trust is important because India's semiconductor development is just starting." He added that several people with varying expertise need to work, and overcome challenges together.
Foxconn earlier said it has been actively reviewing the landscape for optimal partners after withdrawing from the semiconductor joint-venture project with Vedanta. "Foxconn is working toward submitting an application related to the Modified Programme for Semiconductors and Display Fab Ecosystem. We have been actively reviewing the landscape for optimal partners," Foxconn said in a statement.