Begin typing your search...
Telecom tariffs set for hike
Upsurge-led revenue growth, 5G key events for telecom in 2023; Pvt networks, if allowed, may eat into 5G operators' enterprise services opportunity: Report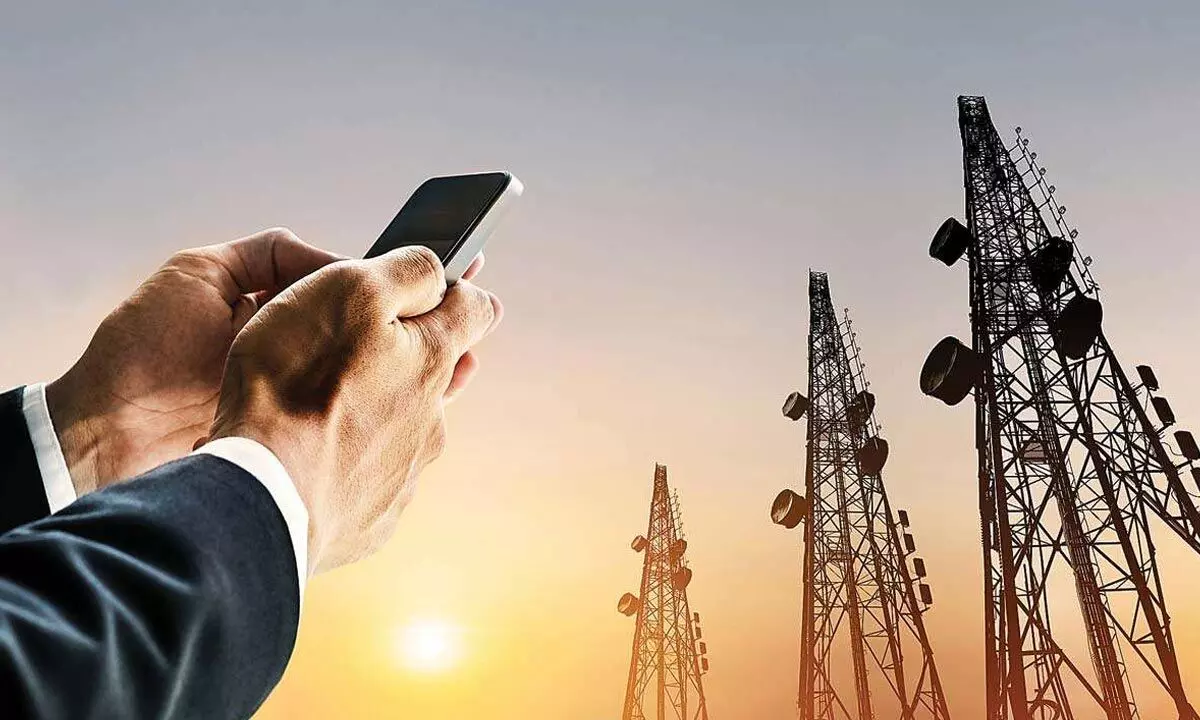 - Telecoms keen on revenues
- Rising data penetration and usage
- 2023 is also decisive year for ailing VIL
- Industry's revenue rose 14% in 2022
New Delhi: Data adoption and tariff hike-led revenue growth as well as 5G rollouts are key monitorables for 2023 which will also be a decisive year for Vodafone Idea as a viable third player, according to a report.
The telecom sector's Average Revenue Per User (ARPU) when adjusted for inflation is still 17 per cent below pre-Reliance Jio launch. "We expect Bharti (Airtel) to lead tariff hikes to ARPU of Rs236 by FY25, while Bharti targets Rs300 ARPU," leading brokerage CLSA said in its report on the telecom sector. According to CLSA's outlook, 2023 will have three trends to watch out for when it comes to India's mobile market. Among them will be 5G rollouts and monetisation led by top-end subscribers.
"We see multiple events to watch, led by likely tariff hikes and Reliance Jio's (RJio) widely-anticipated IPO," it said. Private networks, if allowed, may eat into 5G operators' enterprise services opportunity. India's mobile sector revenue, after rising 14 per cent in 2022, should grow again in 2023 led by tariff hikes, rising data penetration and usage.
CLSA expects that Bharti (Airtel) will possibly lead tariff hikes, with VIL (Vodafone Idea Ltd) and Reliance Jio likely to follow. VIL's financial crisis has not been averted, with delays in fund raising and pending conversion of four years' interest on spectrum and AGR (Adjusted Gross Revenue) payments into equity for government. With decline in VIL's share, Bharti and Jio together control 77 per cent and should continue to gain share, the report said.
"VIL fund raising is critical for 4G capex and 5G rollout while delays could trigger further share loss, which would be gains for RJio and Bharti which will ramp up 5G rollouts in 2023," it added. Jio and Bharti 5G rollout will coincide with growing subscriber realisations and market share gains. "We forecast rising ARPU and data penetration to drive a 14 per cent CAGR in sector revenue to Rs 2,84,600 crore ($36 billion) by FY25," it said. As per the report, the new telecom bill will be "positive" for VIL. "VIL, which is currently in a four-year moratorium on government dues, could gain from this regulatory bill, which could have options of write-offs," the report said.