Begin typing your search...
T-Hub, Berkadia in strategic alliance to drive innovation
1.Programme Aims to Connect 40-56 Startups with Elite Corporate Partner Berkadia, Fostering Collaboration and Driving Growth. 2.Berkadia Joins T-Hub's Membership Program for Next 2 Years, Gaining Access to India's Thriving Startup Ecosystem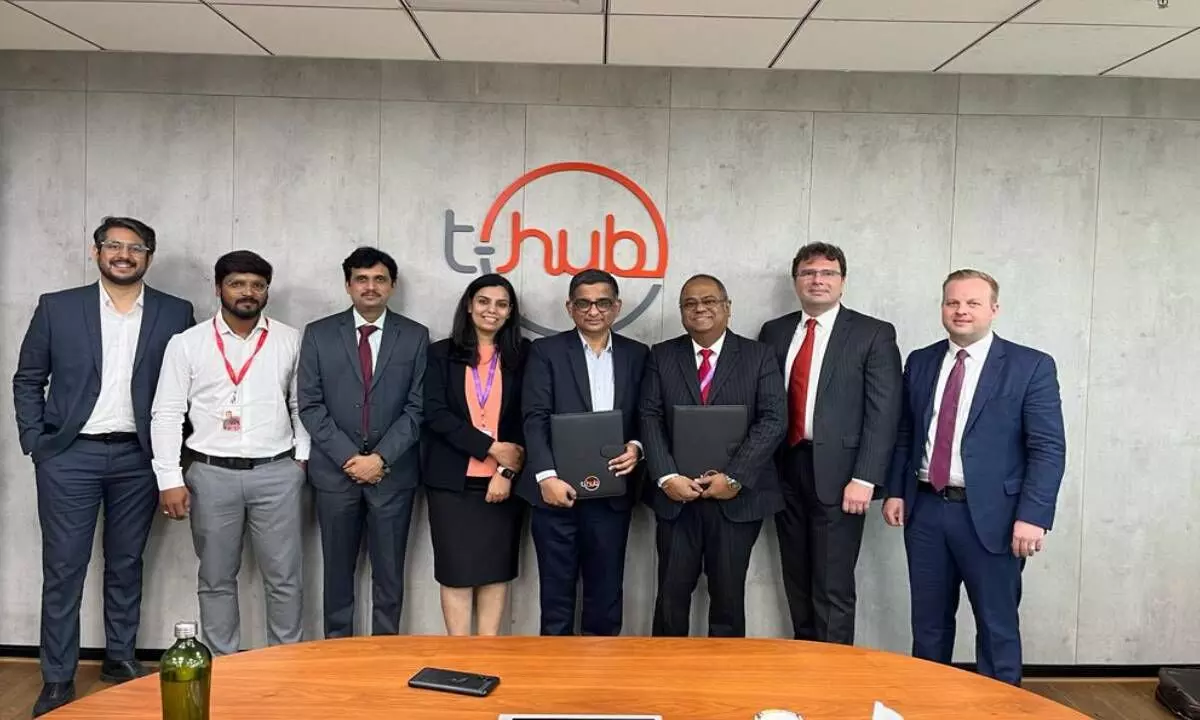 Hyderabad: T-Hub, city-based leading innovation ecosystem, on Wednesday announced its alliance with Berkadia, a leading commercial real estate company, to foster innovation, growth, and knowledge exchange in the Indian startup ecosystem. This alliance will last for two years, during which Berkadia will actively participate in T-Hub's membership programme.

As part of the alliance, Berkadia will gain access to T-Hub's extensive network of startups. The relationship journey will build on facets of mentorship, networking, proofs of concept, pitch analysis, design assessments, business reviews, technical discoveries, and market analysis that will all play a part in driving change in the commercial real estate industry, ultimately creating value. This will provide valuable networking opportunities and knowledge sharing with other corporate partners and startups. T-Hub's startups, on the other hand, will gain access to Berkadia's network of startups based on their focus areas, creating opportunities for collaboration and potentially scaling their businesses.
The programme aims to connect at least 40-56 startups with Berkadia during the two-year alliance period. The program will include sensitization meetings, scouting, screening, evaluating, curated marketing campaigns, outreach, call for applications, specialized jury members, and pitch day. By providing a platform for startups to showcase their solutions, the program will foster collaboration between Berkadia and startups, driving growth, and development.
Mahankali Srinivas Rao (MSR), CEO, T-Hub, said, "We are delighted to work with Berkadia to promote innovation and entrepreneurship. Through this alliance, we aim to connect our startups with Berkadia's network and resources, enabling them to collaborate and create new opportunities. We look forward to working with Berkadia and achieving our shared goals of driving growth and development.""The expansion of our BeEngaged program into India is very exciting and we couldn't think of a better partnership than with T-Hub," said Director – Berkadia Digital Bryce Nyberg. "BeEngaged advises and accelerates startups that are redefining the commercial real estate industry by providing them with resources, strategic counsel, and a collaborative network to test and grow innovative concepts. Since its origination in 2019, the program has accelerated more than a dozen CRE tech startups. T-Hub's track record of promoting innovation and entrepreneurship in India, and their commitment to driving growth and development, is commendable."
Adding to that, Sudipto Mukherjee, Country Head and Managing Director at Berkadia India said, "This strategic partnership is a first of a kind initiative by Berkadia in the Indian subcontinent and is set to open avenues for more innovation. By working with T-Hub, we will have access to a wide range of innovative startups that align with our focus areas and enable us to stay ahead of the curve in the fast-paced commercial real estate industry"

The alliance between T-Hub and Berkadia is a strategic move that aims to foster innovation, drive growth, and create a robust ecosystem of entrepreneurship in India. With over 2000 startups impacted to date through various programs and initiatives, T-Hub has a proven track record of scaling startups in partnership with a robust ecosystem of partners. T-Hub and Berkadia are set to drive innovation and growth in the Indian startup ecosystem.
T-Hub (Technology Hub) is an innovation hub and ecosystem enabler. Based out of Hyderabad, India, T-Hub leads India's pioneering innovation ecosystem and is the world's largest innovation campus. Over the six years, T-Hub has pivoted around the 6Ms (Mentors, Market, Motivation, Manpower, Money, Methodologies) and 2Ps (Partnerships & Policy advisory) framework with a mission of driving results and collaboration for entrepreneurs' success. It has delivered 100+ innovation programs so far, creating an impact for start-ups, corporations, and other innovation ecosystem stakeholders. Since inception, it has provided over 2000 national and international start-ups with access to better technology, talent, mentors, customers, corporates, investors, and government agencies.
Launched in 2019, BeEngaged, powered by Berkadia advises and accelerates startups that are redefining the commercial real estate industry by providing them with resources, strategic counsel, and a collaborative network to test and grow innovative concepts. Since then, the organization has accelerated more than a dozen CRE tech startups, including Esusu.

The BeEngaged program offers three phases of increasingly close collaboration and experimentation with startups across the commercial real estate industry: BeEngaged Network, Verified Status, and the BeEngaged Lab®. The BeEngaged Network develops an ecosystem of founders, industry professionals, and capital providers dedicated to redefining the commercial real estate space. Companies participating in the BeEngaged Network® that have proven potential for long-term growth and industry transformation can be invited to seek Verified Status (VP). This stage provides company founders with focused mentorship for validating strategic alignment to participants of the BeEngaged ecosystem through experiments and pilots. Successful VP companies are invited to join BeEngaged Lab, which is a catalyst for founders and Berkadia to collaborate on long-term initiatives.

Berkadia, a joint venture of Berkshire Hathaway and Jefferies Financial Group, is a leader in the commercial real estate industry, offering a robust suite of services to our multifamily and commercial property clients. Through our integrated mortgage banking, investment sales and servicing platform, Berkadia delivers comprehensive real estate solutions for the entire life cycle of our clients' assets.