Begin typing your search...
MICE sector goes for a toss in Vizag
No big convention centre in coastal city even as Jagan govt gears up for Global Investors Summit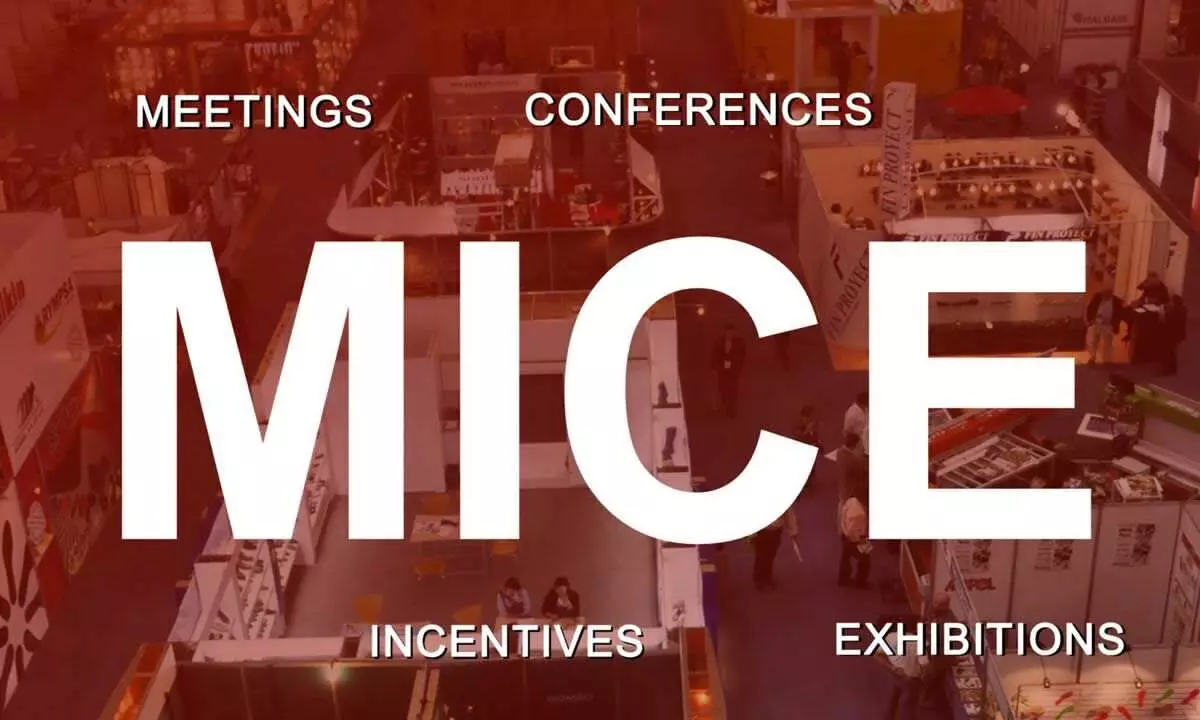 l Rs 20 cr token advance by GoI for international convention centre lapsed
l YSRCP Govt scrapped MoU inked by TDP govt with LuLu Group
l Jagan Govt's plan to develop a convention centre at Shilparamam fails to take off
l Bidding process for a mega convention hall at Rushikonda gets lukewarm response
Visakhapatnam: The talk of promoting MICE (Meetings, Incentives, Conferences and Exhibitions) tourism in Visakhapatnam, the most populated city in Andhra Pradesh with a solid industrial base and cosmopolitan culture, has remained a far cry for a long time. Interestingly, there is no big convention centre in the coastal city even as the Jagan Mohan Reddy government in the State is gearing up for its maiden investors conclave, Global Investors Summit (GIS), slated for March first week.
Visakhapatnam is ranked as the ninth richest city in India with a two million plus population and a GDP of $43.5 billion. It is projected to grow at a faster pace with the State Government deciding to make the executive capital.
Even from the UPA-II Government at the Centre, several proposals were mooted to develop international convention centres in the city, but nothing has materialised due to a variety of factors. Ironically, Rs 20 crore of token advance released by the Government of India for developing an international convention centre at Mudasarlova at a cost of Rs 300 crore lapsed with none coming forward to take up the project.
Subsequently, during erstwhile TDP Government inked an MoU with Abu Dhabi-based LuLu Group to construct an international convention centre with a five-star hotel and a multiplex at Harbour Park land belonging to APIIC at a cost of Rs 2,200 crore failed to take off. This was because of scrapping of MoU by the YSRCP Government which dislodged TDP from power in 2019 elections. The YSRCP big wigs including senior leader and MP V Vijayasai Reddy at that time termed the MoU counterproductive as it would not serve the interest of the State.
The TDP government then acquired 3.4 acres of land from a private company which was running a function hall on the beach road because the LuLu Group insisted that this piece of land have a beachfront view and entry to the convention hall. The YSRCP Government said the entire deal lacked transparency.
Nearly 14 acres of land allotted to LuLu Group was put up by the government in 2020 for online auction through NBCC for an amount of Rs 1,452 crore, the highest price fixed for land sale in any part of the State till date. This could not be executed due to court orders.
Visakhapatnam has huge potential to become a most sought-after MICE destination due to its scenic beauty and strategic location, said Tours and Travel Association of Andhra (TTAA) president KVijay Mohan.
Speaking to Bizz Buzz, he said that the State government should realise the fact that the long-term sustainability of MICE business can be ensured through building on allied infrastructure, which ranges from availability of hotel rooms, excellent connectivity of airlines to the city, a well-developed transport network and other tourist attractions. The government should provide financial support for developing international convention centers and tourism related infrastructure.
It would be very important to get Visakhapatnam on the global MICE market and for that the State has to come out with many incentives. The State Government should start a scheme to reimburse some incentive for the winner of the bid for a conference/convention in the State of 300 pax and more, he added. The YSRCP Government also wanted to develop a convention centre with a five-star hotel at Shilparamam on the highway near ACA-VDCA YSR Cricket Stadium though there is no progress till date to implement it. There was also a proposal to develop a mega convention hall with a luxury hotel in an area of 70 to 100 acres on Hill Number three at Rushikonda overlooking the sea in the past. The response to the bidding process was lukewarm.
As of today, the city only has small and medium convention centres with a seating capacity of 1,000 to 1500. Big events like the Global Investors' Summit (GIS) slated for March 3 and 4 are being hosted on open grounds by erecting AC hangers-which is an expensive affair. The first edition of GIS will be organised on AU Engineering College Grounds where Prime Minister Narendra Modi had addressed a huge public meeting in November. To facilitate the ground-levelling, over 1500 trees were cut in an area sprawling over 70 acres, which led to raising of concern among social and environmental activists.
During the TDP regime, for three editions of Partnership Summits, APIIC Harbour Park Ground was the venue. It is said that the Adani Data Park will have a provision for a huge convention hall. Chief Minister Y S Jagan Mohan Reddy is scheduled to lay the foundation stone for the Rs 14,000-odd crore project.
Underling the need for a vision to promote tourism, Datla Tirupati Raju, promoter of Vijayanagar Biotech Pvt. Ltd and former AP chairman of CII, said as of now there is no serious attempt to create the support infrastructure to bring investments into the tourism sector in the city.
He said for transforming the city into a MICE tourism hub, the right signal should be sent to the investors by offering short and long-term policy guidelines and incentives.
The State government should realise the fact that the long-term sustainability of MICE business can be ensured through building on allied infrastructure. The government should provide incentives for developing international convention centres and tourism related infra
- K Vijay Mohan, president, TTAA