Begin typing your search...
'Investor-friendly policies made Hyd biz destination'
IKON President Dr Dinesh Kumar Murugesan appointed as the Chairman of International Human Rights Protection Council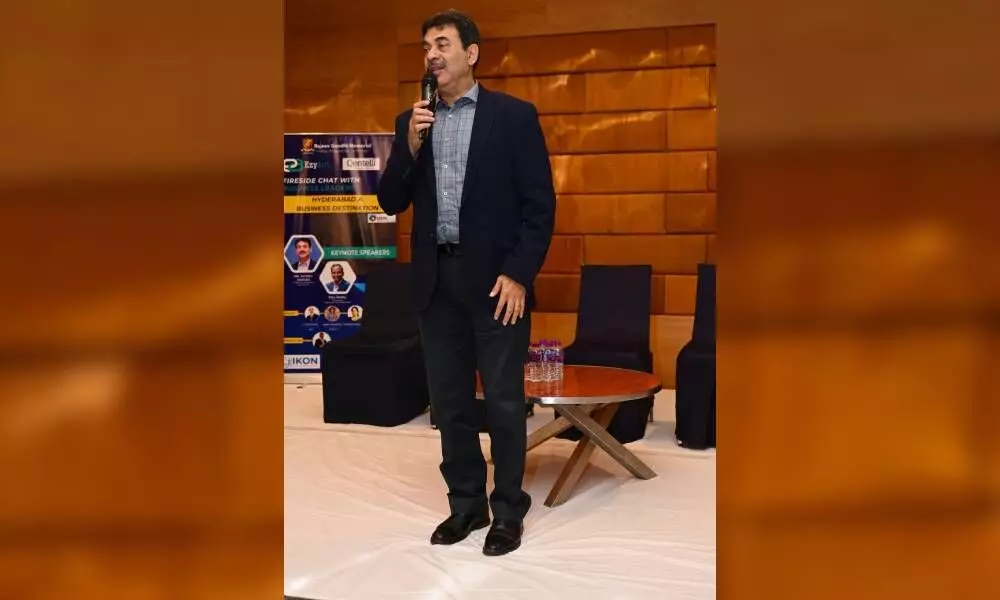 Hyderabad In a short span of seven and a half years, Telangana has achieved high levels of economic growth and progress in various sectors. The State leadership has a great role in motivation, determination and formulating policies to make Hyderabad as a business destination, said Jayesh Ranjan, IT and industries principal secretary.

He was the Chief Guest at a conclave "Fireside chat with Business Leaders – Hyderabad as a Business Destination" conducted by International Knowledge and Opportunities Network (IKON). Its President Dr Dinesh Kumar Murugesan was appointed as Chairman of International Human Rights Protection Council.

IKON is a platform created for professionals from corporate, academia, NGOs and other independent consultants to interact and collaborate for the development of Hyderabad. It has adopted this as their motto and conducts various events highlighting the developments of the city.

On the occasion, Jayesh Ranjan said that the government has always prioritised in formulating people-oriented policies. He said that these policies have pushed the State on the growth chart in these seven years. The fact that Telangana's per capita income doubled than the national average is proof of the State's progress.

Despite being 12th in terms of size and 11th in terms of population, the State's contribution to the national GDP is the fourth highest in the country. Strategic and flagship programmes of Telangana have become role model for the country like PM Kisan Yojana which drew inspiration from State's Rythu Bandhu, he said.

Jayesh Ranjan further said the State has laid focus on agriculture by spending almost 30 per cent of the Budget on agriculture and irrigation. The world's largest multi-stage lift irrigation scheme was completed in three and half years. The speedy execution of projects has led to State's rapid progress.

Telangana became gold standard from day one due to reforms, investors-friendly policies, good governance and transparency. Hyderabad as a cosmopolitan has attracted talent in various sectors, the IT and industries principal secretary said in the conclave.

Raju Reddy, a well-known entrepreneur and philanthropist from Hyderabad was the special guest. He credited the State leadership behind Hyderabad and State's progress. He said that the high density of academic institutions in Hyderabad is a talent pool and added to the city's tremendous progress.

Hailing the State government's schemes to develop rural pockets, Rahul Reddy said that the country cannot progress without rural development. Telangana has improved the rural infrastructure, which is evident from the growth witnessed in the surrounding districts of Hyderabad.