Begin typing your search...
MEIL enhancing philanthropic footprint: Sudha Reddy
Director at MEIL, she is setting up rehabilitation centre for drug addicts, rape victims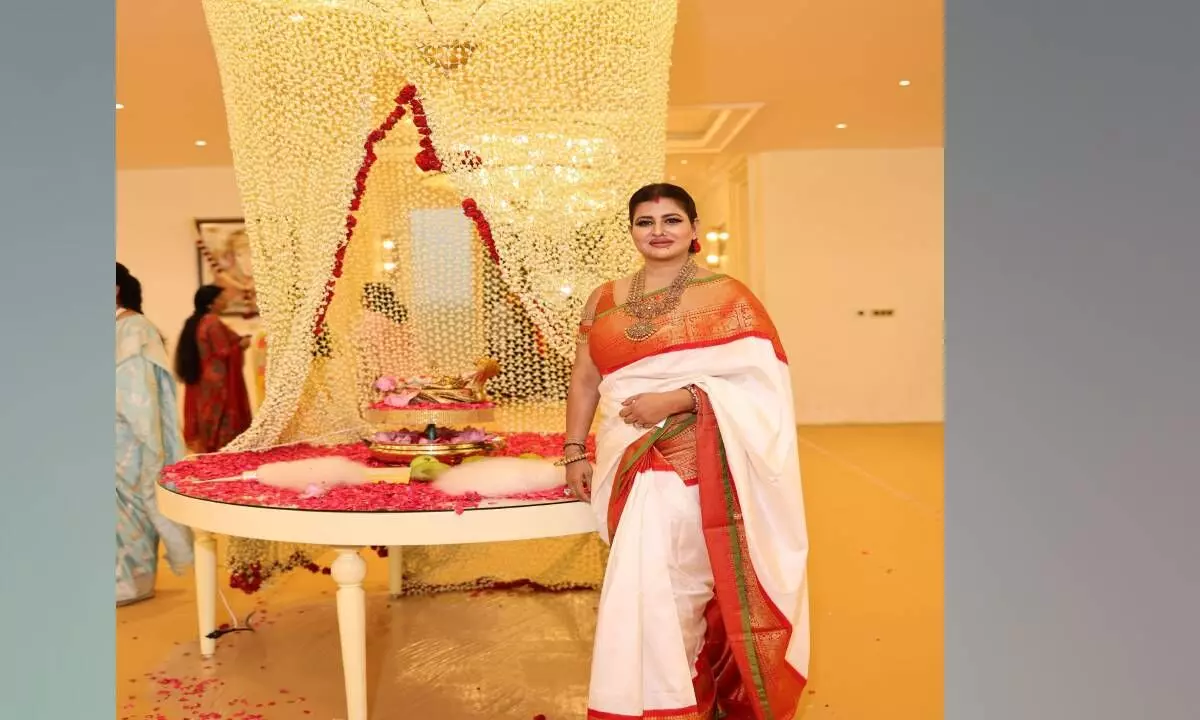 Hyderabad City-based Megha Engineering and Infrastructures Ltd (MEIL), a $5-bn conglomerate comprising over 25 companies with footprint across 20 countries, has PV Krishna Reddy at the helm as the co-founder and Managing Director and his wife Sudha Reddy as the Director at MEIL, also a philanthropist and fashion icon. In conversation with Bizz Buzzat an event here, Sudha Reddy spoke about the importance of a right-spirited leader needed to carry forward a company into a successful conglomerate. "I attribute Megha Engineering and Infrastructures Ltd's growth and success to the leader spearheading MEIL, my husband Krishna.As a team leader heading Megha Group of companies, I have seen how he used to work 25 years back. Till date, he works in the same way. He works as an employee, but never acts like a boss. That is the success behind MEIL. He works very hard. He has put his heart and soul into the business, and he literally enjoys it. He enjoys providing employment and working on improving the infrastructure," the philanthropist said.

The MD of MEIL is also her mentor, she says, adding: "I have learnt many things from Krishna and he is my mentor. At times, he feels proud that his student is brighterthan the mentor and that is a honour to me."
A philanthropist and socialist, Sudha Reddy has been working on critical societal issues like women empowerment, education and healthcare, among others. Highlighting issues, she would want to address in the future, she said: "I have not covered drug addicts and rape victims. I want to address their issues and will try to do my best for them. It is a pressing matter, but sensitive too. I need to learn and gain experience on how to handle these situations. I have plans of setting up a rehabilitation centre for the drug addicts and rape victims. They have the right to come out and lead a normal life. This is my future plan on which I will be working very soon. We also want to createa hunger free world. But that will take time to achieve."
Reddy is a recipient of Fashion 4 Development Philanthropy Award, and has walked the red carpet of Met Gala, Cannes Film Festival and White House Correspondents' Dinner, among other global events. On being the fashion icon, she says, "walking the red carpet is not about the dress I wear but it is about the confidence that I carry. I do not like to spend hours on make-up, or styling. For me it should take less time, but the impact should be big. For Met Gala, celebrities spend over six months in a year but for me it is hardly 15 days of preparation. I believe it is all about confidence and the sparkle in your eyes."
After having drawn the attention of the foreign media, on a query whether the global recognition weighs her down, she said, "Global platforms have accepted me in a very good way. There is no pressure of being in the limelight. The world encourages me, and I am literally enjoying my journey." Celebrated by many titles, when asked, what does Sudha Reddy want herself to be identified as, she said, "I am just the girl next door."