Begin typing your search...
India's realty sector may expand to $5.8 trillion by 2047
Residential real estate has a potential to generate an output equivalent of $3.5 trillion in 2047, says Knight Frank India's latest report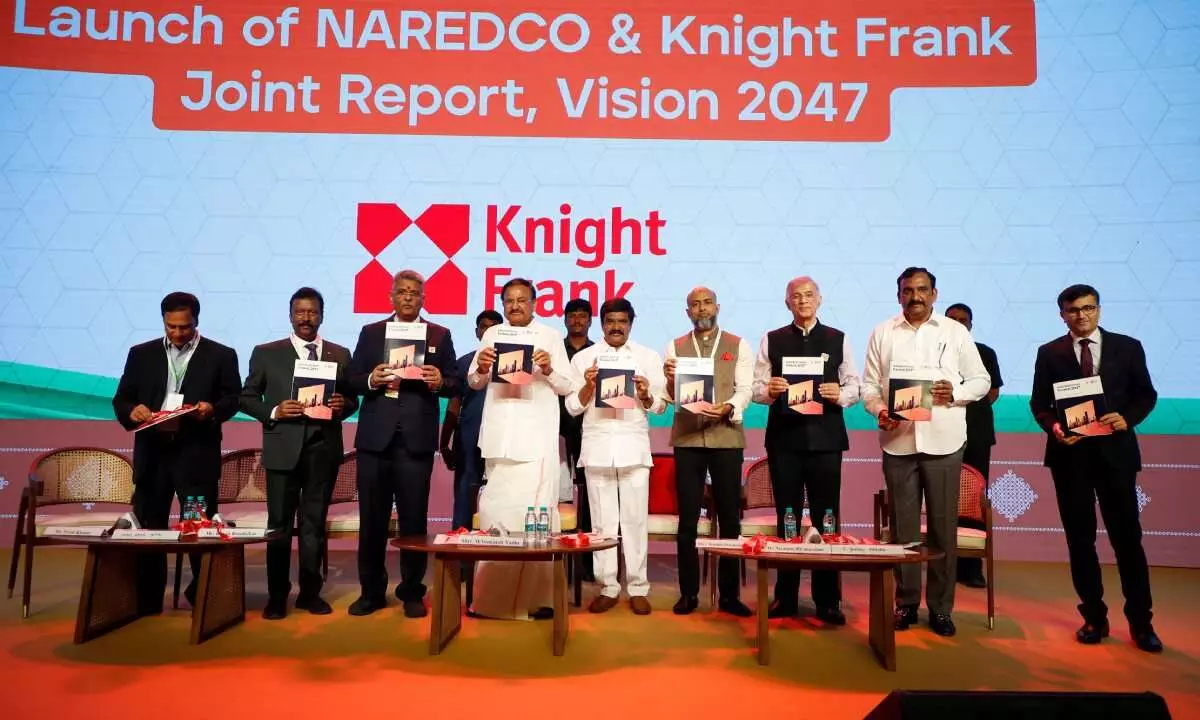 Hyderabad: India's real estate sector is expected to expand to $5.8 trillion by 2047, says real estate consultancy Knight Frank India in its latest report – India Real Estate: Vision 2047. The estimated real estate output value will contribute 15.5 per cent to the total economic output in 2047 from an existing share of 7.3 per cent.
The report was prepared by Knight Frank India in association of apex real estate body NAREDCO. It will be unveiled by M Venkaiah Naidu, Former Vice President of India at NAREDCO's Silver Jubilee Celebration event in Hyderabad on Saturday. By 2047, the size of India's economy is estimated to range between $33-40 trillion.

Private equity (PE) investments in the Indian real estate sector have consistently grown over the past two decades. Projections for 2023 indicate that PE investments in Indian real estate are poised to reach $5.6 billion, reflecting a YoY growth of 5.3 per cent.

With India's GDP expected to reach $36.4 trillion by 2047, the private equity investments within the Indian real estate sector are projected to surge to $54.3 billion, signifying a CAGR of 9.5 per cent spanning 2023 to 2047, the Knight Frank India report said.

Providing perspective on REITs, it said that the combined portfolio of Indian REITs encompasses 84.9 million sq ft, with 75.9 million sq ft dedicated to office assets and 9 million sq ft to retail assets. Additionally, there is ongoing construction of 21.3 million sq ft within the REITs sector, projected to reach completion within 1-2 years.

Rajan Bandelkar, President NAREDCO India said, "Vision 2047, not just for NAREDCO but for Indian Real Estate, is about the roadmap of India's economic growth, and the role of real estate as one of the leading engines of that growth story. Significant expansion of the Indian economy by 2047 will be powered by real estate."

"A multifold economic expansion will boost demand across all the asset classes - residential, commercial, warehousing, industrial land developments etc - will grow at a multiplier rate to accommodate the growing needs of the economy and consumption needs of the individuals," he added.

With the initial REITs setting a positive precedent, it is probable that REITs in future will expand into diverse sectors such as residential and warehousing, in addition to the office and retail segments. The developers are likely to contemplate venturing into REITs for alternative asset classes, in the longer term over the next 25 years.

According to Knight Frank India, in the next 25 years, cumulatively there will be an estimated 230 million units of housing requirement in India. In terms of market value, the residential market has a potential to generate an output equivalent of $3.5 trillion in 2047.

It is expected that with the changing income profiles, the demand for housing will emerge across all the price categories. In the next few years, while the demand for housing will remain concentrated in affordable housing, it will gradually shift towards mid segment and luxury housing.

The share of lower income households will reduce from existing 43 per cent currently to 9 per cent in 2047. Thus, a significant share of the population will shift to lower middle and upper middle-income categories.

This will enable a significant demand for mid-segment housing. Additionally, the share of HNIs and UHNIs households in India which will likely increase from 3 per cent at present to 9 per cent in 2047 will generate a significant demand for luxury housing in India.

Dr Niranjan Hiranandani, National Vice Chairman of NAREDCO, said: "PMO's ambitious project 'Housing for All' will propel the sustainable demand for residential housing across the spectrum. A strong foundation for the upward cyclical growth of the real estate sector is being laid by the Government of India and the regulatory authorities."

"The northbound growth in the Indian Real Estate sector is driven by the favourable domestic economic environment with economic resilience, bolstered infrastructure growth plans, alternative investment models, and domestic consumption power. Growing GDP will stimulate commercial and industrial real estate growth, attracting global investors towards Grade A assets. Emerging alternative asset classes will also play a critical role in pooling investments and boosting investors' confidence," he anticipated.