Begin typing your search...
Foxconn to invest `5k cr in Karnataka
Taiwanese major signs LoI with State govt; `3,000-cr phone enclosure project will generate 12,000 jobs and `2,000-cr semicon equipment project to employ 1,000 people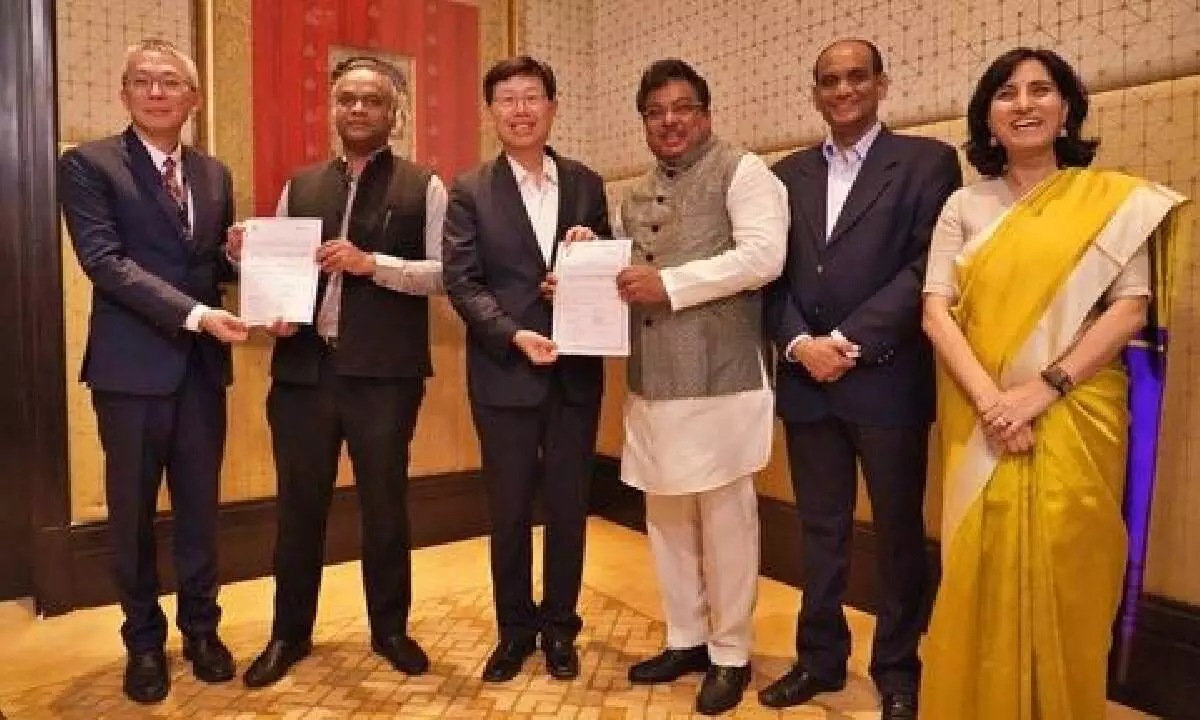 Bengaluru The Karnataka government on Wednesday said it has signed a Letter of Intent (LoI) with Foxconn, a major iPhone assembler for tech giant Apple, to undertake two marquee projects in the State with an estimated investment worth Rs5,000 crore. The projects would create employment opportunities for 13,000 people in the state, it said. The signing ceremony took place between a high-level delegation of the Government of Karnataka and Foxconn in Chennai recently, where Large and Medium Industries and Infrastructure Development Minister MB Patil and Minister for IT and BT, Rural Development and Panchayat Raj Priyank Kharge along with senior officials met Foxconn Chairman Young Liu and other executives of the company.
The two projects are: phone enclosure project under which the Foxconn subsidiary plans to invest $350 million (Rs3,000 cr) with employment opportunities for 12,000 people, and semicon equipment project in collaboration with Applied Materials with a projected investment of $250 million (Rs2,000 cr) and employment generation for 1,000 people. The LoI outlined the framework for the two projects that Foxconn plans to establish in the state, an official release said, adding that the Karnataka government reaffirmed its commitment to providing a supportive environment for businesses to thrive.
"The meeting between Foxconn Chairman and the Government of Karnataka holds immense promise for the economic landscape of the state, with potential benefits in terms of employment generation, technology advancement, and overall socio-economic growth. The LoIs between Foxconn and Government of Karnataka will boost investments in the State," Patil said.
"It is a significant opportunity for Foxconn to engage with the Government of Karnataka and move forward with the establishment of these ventures. The projects will significantly contribute to the state's economic growth and foster employment opportunities for thousands of skilled individuals," he added.
Foxconn's Chairman Young Liu, was quoted in the statement as saying: "We are excited about the possibilities that Karnataka offers for our expansion plans in India. The state's conducive business environment, coupled with its skilled workforce, makes it an attractive destination for our high-tech ventures. We look forward to building our success story with the state."
The location for this project is likely to be finalised at Haraluru Muddenahalli - Hi-Tech Aerospace and Defence Park-Phase II in Bengaluru Rural district, where Foxconn has sought a 35-acre land parcel. Regarding the phone enclosure manufacturing project, the Industries department said Foxconn is setting up a facility for manufacturing sub-assembly components for smartphones, specifically mechanical enclosures of iPhones. The company is currently evaluating suitable land parcels in and around Bengaluru.
On the Semicon equipment manufacturing project, it said Foxconn is collaborating with Applied Materials on a project for manufacturing semiconductor manufacturing equipment. FoxSemicon Integrated Technologies manufactures sophisticated subassemblies for Applied Materials, a semiconductor and display equipment manufacturer. Separately, Applied Materials has also recently announced a $400 million investment to set up its collaborative engineering centre in India at Bengaluru that will work with both domestic and global suppliers to drive semiconductor manufacturing equipment R&D for the next level of innovation and commercialisation of technologies.