Begin typing your search...
Films and stars fail to deliver in 2022
No actor could draw the initial viewers. For the Hindi film industry, the year was an unmitigated disaster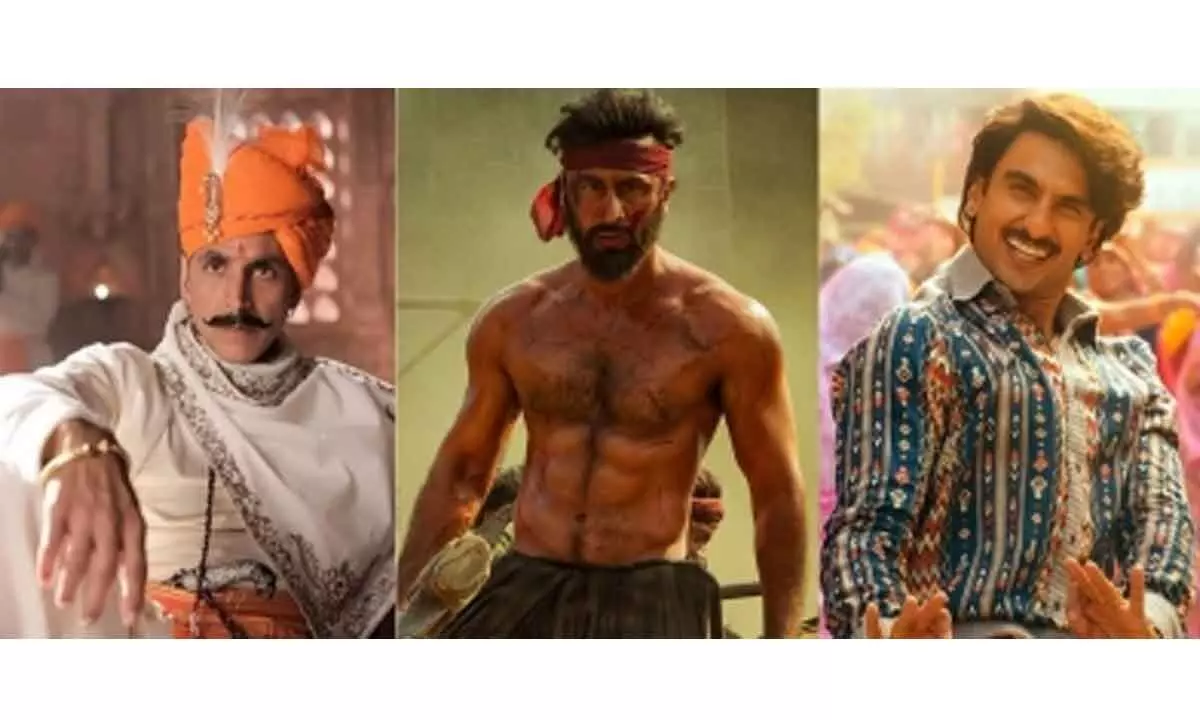 It is the time of the year to look back on the one gone by, 2022. A great deal of hopes was riding on 2022 after the disastrous pandemic-hit two years - 2020 and 2021.

The countrywide lockdowns of all activities, be they personal or commercial, brought the world to a standstill. Like all others, the entertainment industry also came to a stop. No shootings for films or television, no film releases, no television serials or stage shows. Just nothing.
Things started to ease midway through 2021 with a hiccup here and there. Businesses and the entertainment industry as well were opening up gradually with controls being eased. It was a phased process, but it offered hope.
Just when the first total lockdown came into effect, people missing out on cinema and television took to the OTT platforms. These came to India 2016 onwards and are subscription-based, which few could afford or cared to subscribe. The lockdown worked wonders for OTT. Especially after these platforms started showing films; no one in India would pay to watch serials on OTT.
That too changed soon when episodic content was made especially for OTT streaming and because people also started discovering international productions. Besides, one thing the OTT platforms did was to provide work to actors who were talented, but not used by filmmakers.
The film industry, which considered even a circus in town as an opposition, and later learnt to brave the onset of television, video piracy and CDs, now had the OTT platforms to contend with. Because OTT did not depend entirely on filmmakers for content; it also created its own.
The OTT platforms are a revolution and have affected the theatrical business all over. Especially since the flow of feature films had been greatly affected because of an 18-month lockdown, not only in India, but all over the world. Besides, a lot of filmmakers have taken to creating content for these OTT platforms solely and not for regular theatrical release. It makes their job easier.
The OTT platforms made people also realise that subscribing to them made much more economic sense than a single visit to a multiplex. This, besides the realisation that what hits a cinema today is bound to surface on the OTT platform in a matter of weeks. The most affected branch of the entertainment industry is the exhibition trade, the cinemas, mostly the single screens. Already suffering and struggling for existence, a lot of them had to down shutters.
In Bihar, for instance, there used to be 200 single-screen cinemas, but only 70 remain now. The story is the same all over. And, in the Hindi belt, when it comes to multiplexes and single-screen cinemas, they manage to survive on the strength of films from Hollywood and dubbed films from the South. Not Hindi films, which have been their mainstay!
The cinemas tried to wean their audience back with gimmicks such as the National Cinema Day, when all tickets were sold for Rs75. They also held an Amitabh Bachchan retrospective to coincide with his 80th birthday. In some countries, the exhibitors filled the cinema seats during the FIFA World Cup. But these were stopgap measures.
The biggest Hindi films were failing. Bigger the film, louder the thud. No actor could draw the initial viewers. For the Hindi film industry, the year was an unmitigated disaster.
Just three films had managed to sail safe and earn profits. 'Bhool Bhulaiya 2', 'Drishyam 2' and 'The Kashmir Files' were the ones. 'Drishyam 2' and 'Bhool Bhulaiya 2' were sequels to successful films, so both got the benefit. 'The Kashmir Files' was an unconventional film, not a commercial one.
And guess what, even among these three successful films, 'The Kashmir Files' remains the biggest grosser at Rs240 crore! 'Drishyam 2' collected Rs 220 crore (the film is still running). 'Bhool Bhulaiyaa 2' made Rs179 crore.
The Hindi films in between - all the 96 which released in 2022 - have collected Rs1,800 crore. This is less than the 2019 figures. It must hurt the Hindi filmmakers that all the releases together this year have collected less than what just five dubbed South Indian films, which made a whopping Rs2,400 crore between them!
And the point to note is that none of these figures are inflated, which Hindi filmmakers are suspected to be doing most of the time.
For Hindi films and its biggest stars, the days of Rs200 crore and Rs300 crore are a thing of the past and not likely to happen any time soon. Who is to be blamed? The makers as well as the stars. The makers, for taking their audience for granted and dishing out unpalatable and least entertaining films - utter rubbish. The stars are known to accept any and every project with money being the only consideration. And just about every big actor, moreover, is overexposing him/herself spread across every media and on television ads.
Akshay Kumar had four releases - 'Bachchhan Pandey', 'Ram Setu', 'Raksha Bandhan' and 'Samrat Prithviraj'. None worked. Ranbir Kapoor did two high-end films, 'Shamshera' and 'Brahmastra'; both disappointed. Ranveer Singh seems to be closer to the end of his run, having delivered duds like 'Jayeshbhai Jordaar' and 'Cirkus', making it a hat-trick of flops with his last year's release, '83'.
Shah Rukh Khan had a guest role in 'Rocketry' to account for this year; his major new film, 'Pathaan', is due later this month. Salman Khan had no release this past year. The Hindi superstars and stars have all failed. Aamir Khan's solo release, 'Laal Singh Chaddha', was a disaster. Shahid Kapoor had one release, 'Jersey', which was again a failure.
Kartik Aryan's career would seem to be on the rise after 'Bhool Bhulaiyaa 2'. Tiger Shroff has been the victim of sequels where the makers just want to exploit his action proficiency. Among female actors, Kriti Shanon was the most in demand along with Kiara Advani. Others offered little competition.
The cinemas, the multiplexes, which had taken to calling the shots, and deciding how a film would be released and on how many screens, are in an unenviable situation. Ironically, Hindi films, on which the cinemas thrived, are now a second choice for them. Take the example of the latest release, 'Cirkus', released last Friday. Most cinemas were screening 'Avatar' and were not willing to cede playtime to 'Cirkus'.
Why, one would wonder?
That is because the cinemas are now surviving on the flow of Hollywood films and dubbed South Indian films. The Hindi film industry has been delivering only duds. Hindi stars hold a grudge against the South-dubbed films capturing the Hindi-belt audience. Ajay Devgn even aired his resentment openly. He should understand that the South took over the Hindi audience when Hindi filmmakers and stars failed to deliver. And Devgn's own major hits are South remakes (which includes his latest success, 'Drishyam2')!
Why begrudge only South films, even Hollywood films are dubbed in various Indian languages and nobody has ever questioned that! And the truth is that television and OTT platforms today boast of bigger stars with bigger fan bases than the Hindi film industry stars!