Begin typing your search...
UK to invest $1.2bn in India's RE sector over next 5 years
3 cos from UK, 2 from US shown interest to set up EV manufacturing units in Telangana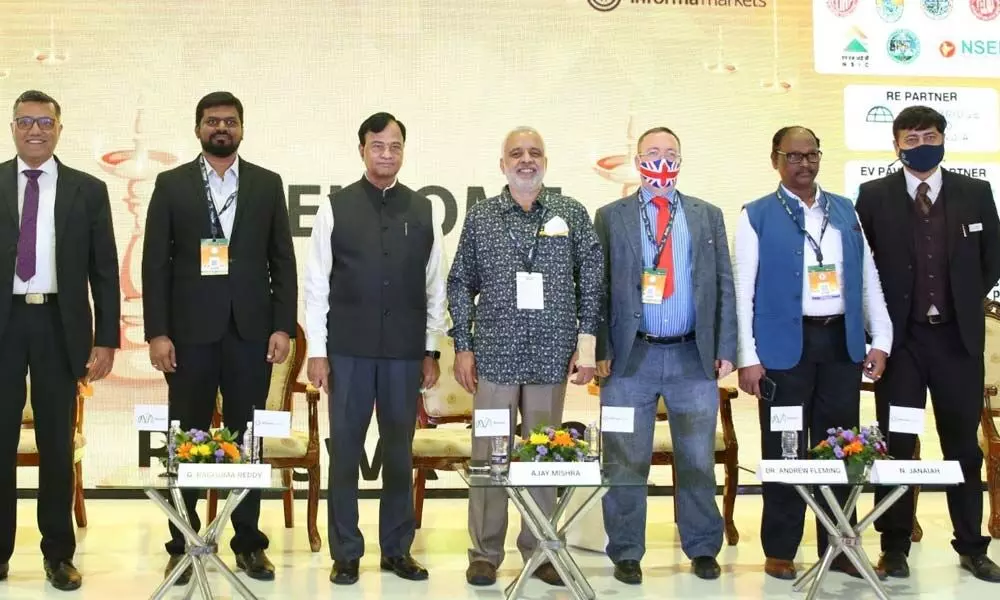 Hyderabad: UK will invest around $1.2 billion in India's renewable energy (RE) sector over next five years. This was announced during CEO Conclave at 5th edition of RenewX - RE trade expo in Hyderabad. UK and India have emerged as natural financial partners, focusing on various segments such as electric vehicles (EV), charging infra, green hydrogen and offshore wind.
This year, for the first time, the expo has witnessed the presence of UK as the partner country. Telangana State Renewable Energy Development Corporation Ltd stood at the forefront to support RenewX as the nodal agency, resonating the State government's successful initiatives in the process of becoming the most electrified state in the country.
A dedicated hydrogen mission from UK is arriving in February 2022. The country is also setting up offshore wind turbines testing facilities in India. During the conclave, three companies from UK and two from US have shown interest to set up EV manufacturing units in Telangana. About 110 charging stations will be set up in the first phase and another 600 in next phase.
The two-day expo that began on Friday has witnessed participation from manufacturers, suppliers and distributors from different categories – PV modules, hybrid systems, materials and equipments, inverters, charge controllers, batteries, testing and monitoring systems, components, bio-energy equipment, back sheet manufacturers and system integrators.
Andrew Fleming, British Deputy High Commissioner to Andhra Pradesh and Telangana, said, "Collaboration between the UK and India will be crucial in tackling climate change. In the recently concluded COP26 in Glasgow, both the Prime Ministers agreed to a broad range of ambitious climate resilient measures."
A delegation of eight UK supply chain companies shared a wide range of their offerings in technology, finance and innovation in the RE sector. Informa Markets in India, B2B exhibitions organiser has conducted this event, which was attended by several dignitaries and industry experts from the South Indian RE sector.
Yogesh Mudras, Managing Director, Informa Markets in India said, "Telangana State inspires us in multiple ways and government's initiatives to uphold the State's position in the RE industry brings us back to organise RenewX in Hyderabad. RE growth will accelerate in the years to come under the focused administration of Central and State governments and supportive actions."
"The installed renewable power generation capacity has gained pace over the past few years, posting a CAGR of 17.33 per cent between FY 2016-20. Government of India is aiming to achieve 227 GW of RE capacity by 2022, much ahead of its target 175 GW as per the Paris Agreement," he added.
RenewX once again presented insights gained in the domestic and global renewables market through its 2 days of power packed conference with the theme 'South India Energy Conclave'. The live conference reflected a vast array of new innovations and technologies. The conference comprised of panel discussions and presentations.