Begin typing your search...
Rural tech-startup Hesa bags best startup award
It also received international recognition at Dubai Expo 2020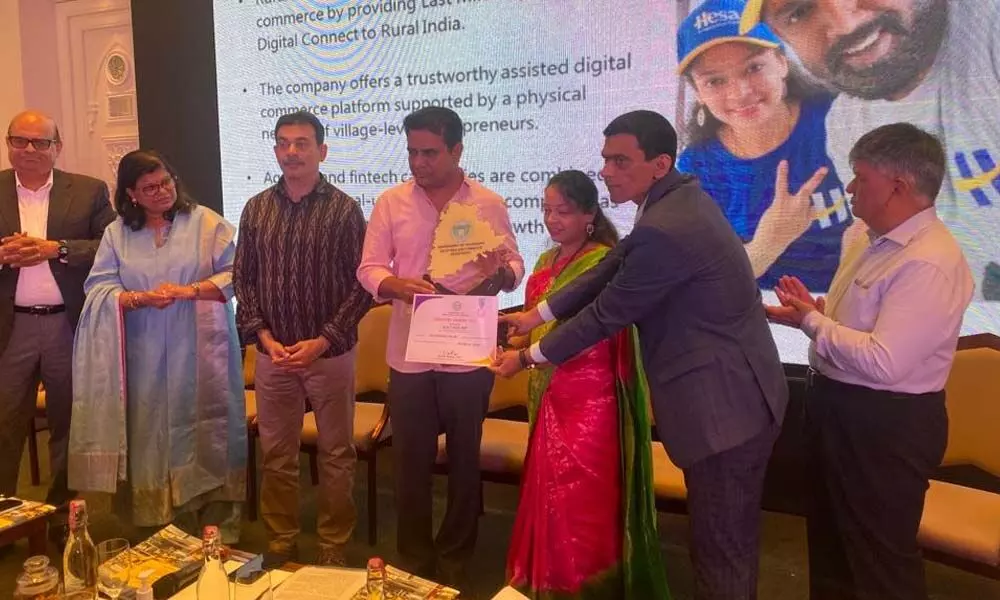 Hyderabad: City-based startup Hesa Technologies bagged Bronze award under the best startup category at Telangana Industry Awards 2021. The rural tech startup was recognised for its unique business model and impact in villages of the country. Vamsi Udayagiri, Founder and CEO of the company received the award from Urban Development and Industry Minister KT Rama Rao.
Hesa was recognised for its outstanding contribution in helping over 11 lakh rural households and creating more than 10,000 jobs in a short span of one year. The company now aims to reach 15 lakh households by 2021.
Vamsi Udayagiri said, "The award will help us accelerate our growth and bring change in the rural communities. Being recognised by the State government brings a shared responsibility to expand the reach of Hesa and create better livelihood opportunities."
Hesa was also recognised at World Expo 2020, which is currently being hosted in Dubai, United Arab Emirates, from October 2021 to March 2022. The startup successfully participated in the five-day event at the Indian Innovation Hub with other 191 country pavilions representing the Telangana state. It was acknowledged for its sustainable and unique business model contributing to uplift lives in rural India.
"Showcasing our platform at a global scale has given us the opportunity to reach the right set of investors. Various corporations and industry associations have also expressed their interest to work with Hesa as the model can bring relevance in places like Middle East and North Africa (MENA) and Latin America," said Vamsi.
Addressing the challenge of last-mile delivery and connection in rural India, Hesa is reaching the remotest villages with resources. With the phygital model (physical and digital approach), leveraging technology Hesa is helping rural India connect to the larger economy alongside an opportunity for digital development.
Established in 2020, Hesa is a unified social, digital and physical integrated technology platform empowering livelihood in rural areas, enabling access to quality products and services. Connecting businesses to rural India and enabling scalable solutions for rural households, it is a one-stop solution for all rural problems.
Enabling people with a sustainable livelihood through employment, income generation, accessibility, and connectivity Hesa plans to onboard 50,000 people as Hesaathis; micro-level rural entrepreneurs in the coming six months and help them settle with dignified work in local villages making a decent monthly income.
The startup envisions providing digital literacy to farmers and rural communities, empowering them with an escalating lifestyle. Recognising business and impact together, Hesa has laid the foundation of social enterprise working for holistic rural development.