Begin typing your search...
Elation over improved Jan IIP, could be short-lived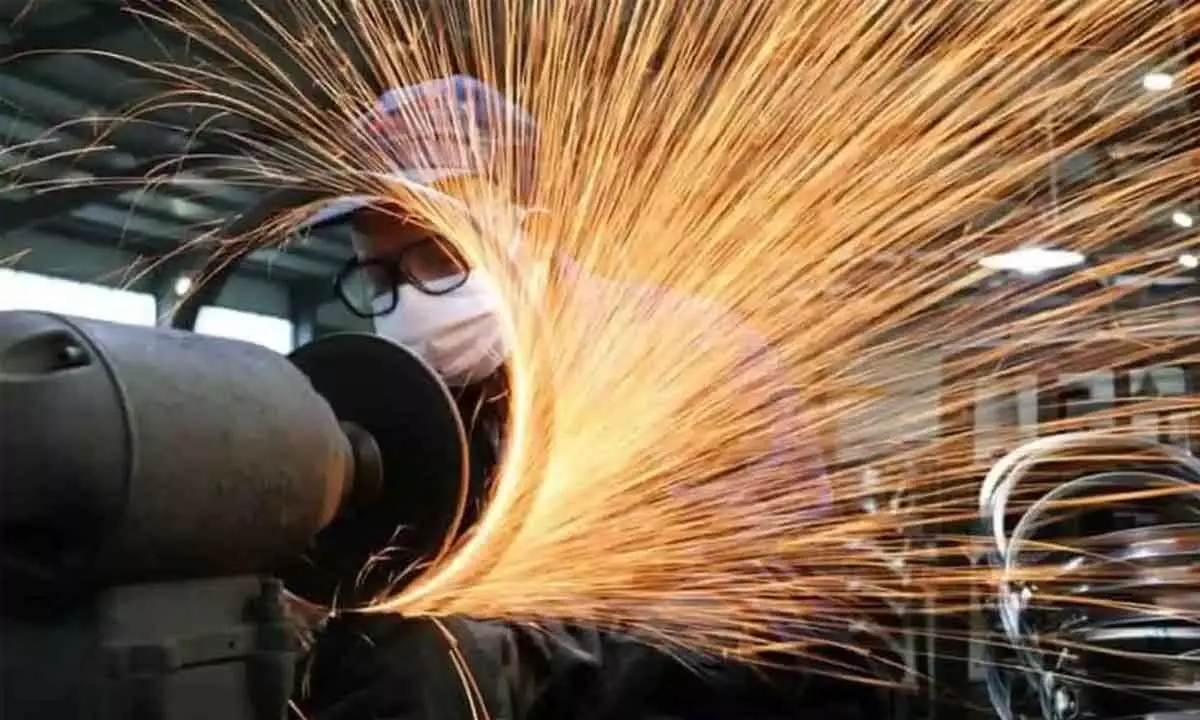 With caution being the buzzword, one should refrain from being on cloud nine seeing the Industrial Production Index (IIP) number, which has gone up in January. This positive trend is unlikely to remain going forward given that analysts opine that it could possibly slump when the IIP numbers of February are released next month. In the first 10 months of the current fiscal, industrial production clocked a growth of 5.4 per cent, down from 13.7 per cent in the corresponding period of 2021-22.
The data released by Ministry of Statistics & Programme Implementation on March 10 is on expected lines. What with the same released on February 28 showing that India's eight core sector grew by 7.8 per cent in January, up from seven per cent in December. Consumer durables output contracted for the second straight month, falling 7.5 per cent in January, way lower than the 11 per cent drop in December. The contraction in output came on top of a 4.4 per cent fall in January. Consumer non-durables' production, which had slumped 13 per cent in October, grew 6.2 per cent in January, marking the slowest growth rate in three months. The output levels fell 5.7 per cent sequentially from December levels, signalling a weakening consumption trend.
On end-use basis, intermediate goods output was virtually flat year-on-year but capital goods production jumped 11 per cent while primary goods grew by 9.6 per cent. While both segments' uptick was buoyed by low sub-two per cent growth rates a year ago, infrastructure and construction goods' output grew 8.1 per cent this January compared to a nearly six per cent rise in the previous year. Analysts expect the IIP to decline in the YoY growth to 3-5 per cent in February. The moderate IIP growth of 5.2 per cent for January was in line with the analysts' expectations (5.6 per cent), with a healthy performance of primary, capital and infra goods and consumer non-durables offsetting the marginal rise in intermediate goods and discouraging contraction in consumer durables. A portion of the continuing, albeit narrow contraction in consumer durables, stems from weak exports.
Encouragingly, the IIP growth of 5.2 per cent for January recorded an uptick both in sequential terms (+4.7 per cent in December) as well as compared to the tepid average of 2.6 per cent for Q3, and stood at the second highest level since July. Despite the subdued base related to the third wave of Covid-19, some of the available high frequency indicators recorded a weaker YoY performance in February, relative to January, such as Coal India Limited's output, rail freight traffic, ports cargo traffic, electricity generation and auto output. In contrast, vehicle registrations and finished steel consumption witnessed an improved YoY performance in February, relative to the previous month. Based on these trends, Icra expects IIP to record a dip in the YoY growth to 3-5 per cent in February.