Begin typing your search...
DRF's self-employment programme to benefit over 1,000 differently-abled persons in TS
The not-for-profit organisation has so far trained close to 28,000 differently-abled aspirants across India and placed 65% of them in formal employment under GROW - PwD initiative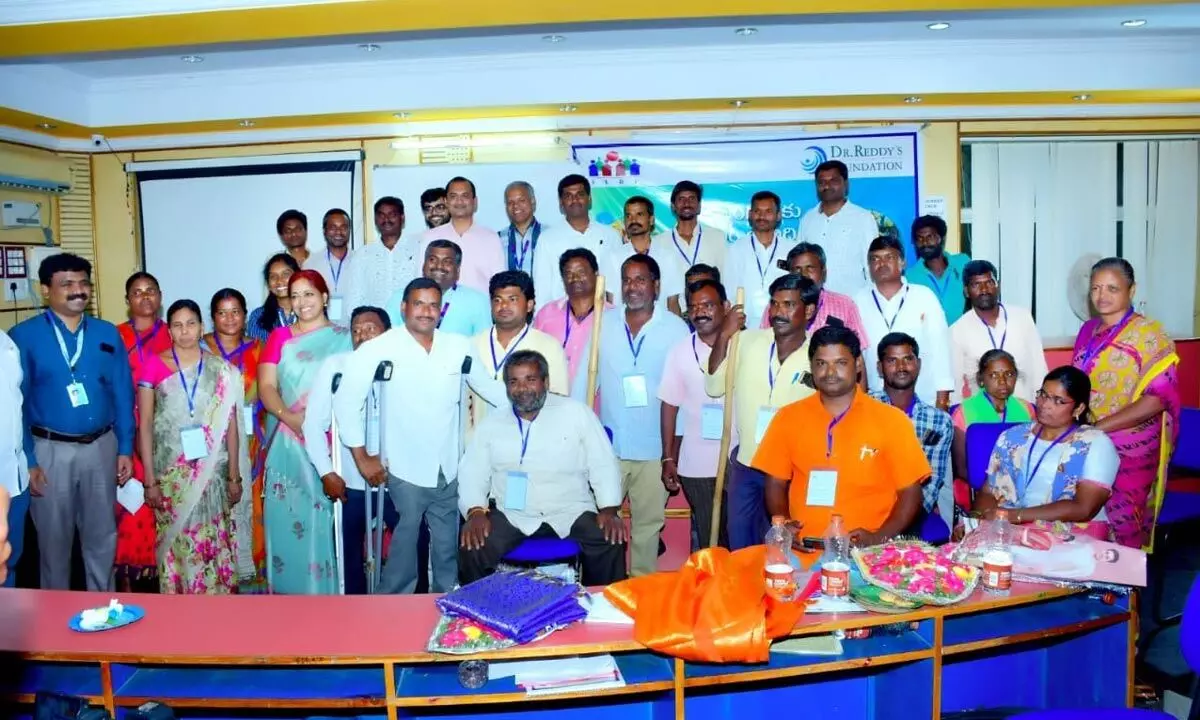 Hyderabad: Hyderabad-based Dr Reddy's Foundation (DRF) has initiated a new self-employment programme for Persons with Disability (PwD). Under this initiative, the not-for-profit organisation is planning to work with over 1,000 PwD beneficiaries from five districts - Mahbubnagar, Warangal, Karimnagar, Nalgonda and Nizamabad of Telangana state in financial year 2023-24.
"A pilot programme of this initiative has begun this financial year and selected Mahbubnagar as a pilot district based on the PwD population. In the process we have collaborated with SERP (society for elimination of rural poverty) and SBI for the support in outreach and credit facility," said B Sri Laxmi, Program Head - PwD at DRF.
"Over 50 PwDs were screened in the process and around 30 beneficiaries were supported either with seed grant or financial linkage. DRF has awarded seed grant of Rs 25,000 to each beneficiary. Overall, the DRF has given Rs 7.5 lakh to 30 beneficiaries. Apart from this, 10 beneficiaries among them have received loan support from State Bank of India (SBI), Mahbubnagar," she informed.
The businesses of these beneficiaries are mainly grocery, dairy, tailoring, fruit shops and others. They were provided training in the basic entrepreneurship skills and handholding support for six months. During this period, the DRF team monitored their business progress, maintenance of their finance, loan repayment, market linkage support and any other required support.
After the successful completion of the pilot programme for PwD at Mahbubnagar district, the DRF has scaled up the self-employment programme across the State with an objective to identify suitable and interested PwD aspirants in the age group of 18 to 45 years and provide all necessary handholding support to initiate and run viable self-employment ventures successfully and enhance the business income three-fold in three years.
"DRF has successfully completed 12 years of its skill training initiatives with PwD beneficiaries across India wherein the organisation has trained close to 28,000 aspirants and placed 65 per cent of them in formal employment. However, there is still a long way to go in reaching out to greater population of PwD. Statistically, it is reported that there around 9.9 million out of 13.4 million PwD in the country who are still left with and yet to be employed," said PN Srinivas Rao, Finance Head at DRF.
"One of the major reason for this is their lack of access to formal education in turn resulting in lack of skills and exposure. Another factor that significantly contributes to this state is that majority of people live in rural areas which according to census 2011 stands at 69 per cent. Therefore, DRF has now planned to reach out to this huge chunk of available human resources by trying out viable self-employment initiatives," he added.