Begin typing your search...
Centre speeds up NSL privatization
Interested bidders, who have minimum net worth of Rs5,000 cr, can bid for NSL independently or in consortium with others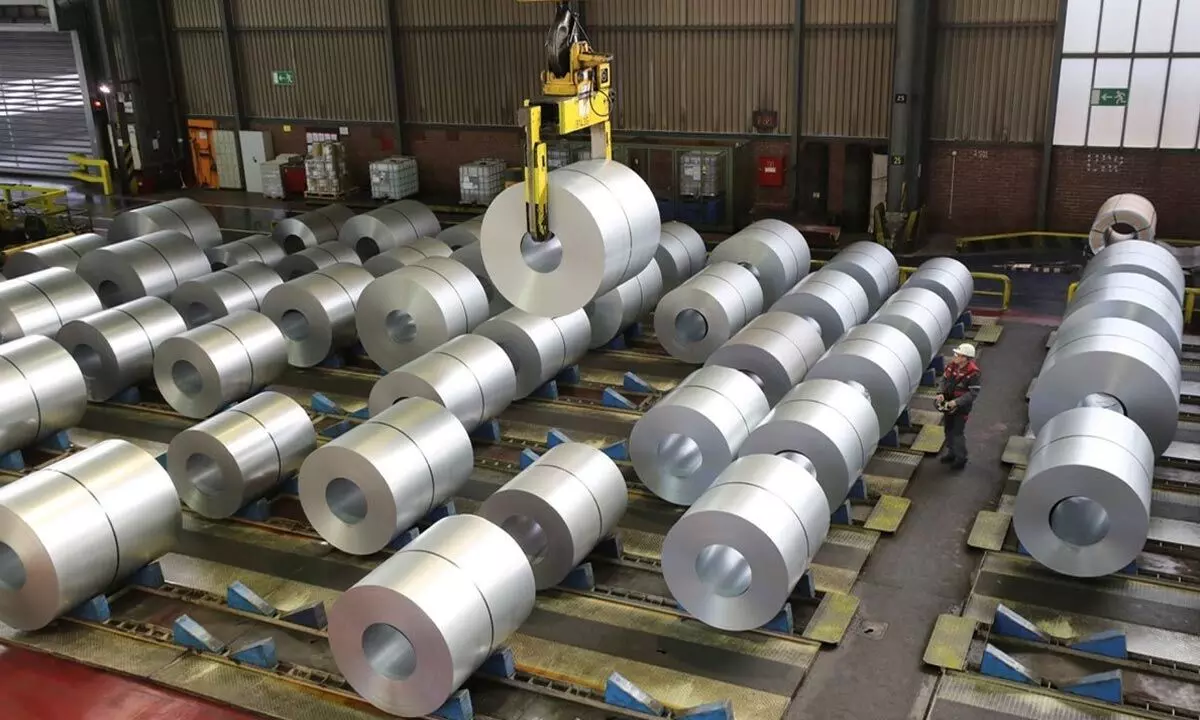 Divestment
- Dipam in Dec invited EoI to offload 50.79% in NMDC Steel Plant
- Will hand over management control to strategic buyer
- Another 10% equity will be given to NMDC
- Remaining 39.21% to be sold to public
New Delhi: It is in the next stage of the privatization of NMDC's Steel Plant (NSL) that the government will reveal its plans about the sale of the additional 10 per cent stake in NSL and the possibility of delisting.
Last month, the government, through the Department of Investment & Public Asset Management (Dipam), had invited expressions of interest (EoI) for NMDC's Steel Plant (NSL) at Nagarnar, announcing to offload 50.79 per cent stake in the company. The government intends to sell the equity and hand over management control to the strategic buyer.
Another 10 per cent equity will be given to NMDC. The remaining 39.21 per cent is planned to be sold to the public subsequently.
Further details regarding the sale of the 10 per cent equity to NMDC would be provided to the shortlisted bidders, official sources told Bizz Buzz. In fact, the government will share many more details with the shortlisted bidders, including delisting conditions (after the open offer) and post-privatization power purchase details.
NMDC, a Navratna public-sector enterprise (PSE), was incorporated in 1958. It is mainly involved in the exploration and mining of iron ore as well as of copper, rock phosphate, limestone, dolomite, gypsum and other minerals. It is setting up a 3 million tonne per annum (MTPA) NMDC Iron and Steel Plant (NISP) at Nagarnar near Jagdalpur in Chhattisgarh. NISP is likely to be commissioned by March 2023.
On October 27, 2016, the Cabinet Committee on Economic Affairs (CCEA) gave in-principle approval for strategic disinvestment of NISP. Subsequently, on October 14, 2020, the CCEA gave its 'in-principle' approval to the demerger of NISP from NMDC and strategic disinvestment of the resulting entity by selling the entire government stake.
So, NISP became NSL. Dipam has appointed SBI Capital Markets Limited as transaction advisors, J Sagar Associates as legal advisors, and Protocol Insurance Surveyors & Loss Assessors Private Limited as asset valuers.
The interested bidder (IB) can bid for NSL independently or in consortium with others, the maximum of consortium members being four. The IB should have the minimum net worth of Rs 5,000 crore or $ 673 million. The lead member should have the net worth of at least 40 per cent of the minimum net worth criterion.