Begin typing your search...
Campus hiring nosedives as IT cos turn cautious
Despite adopting 'one job for one student' policy in the placements, engineering colleges have not reached the previous year level; Off-campus placements only option for students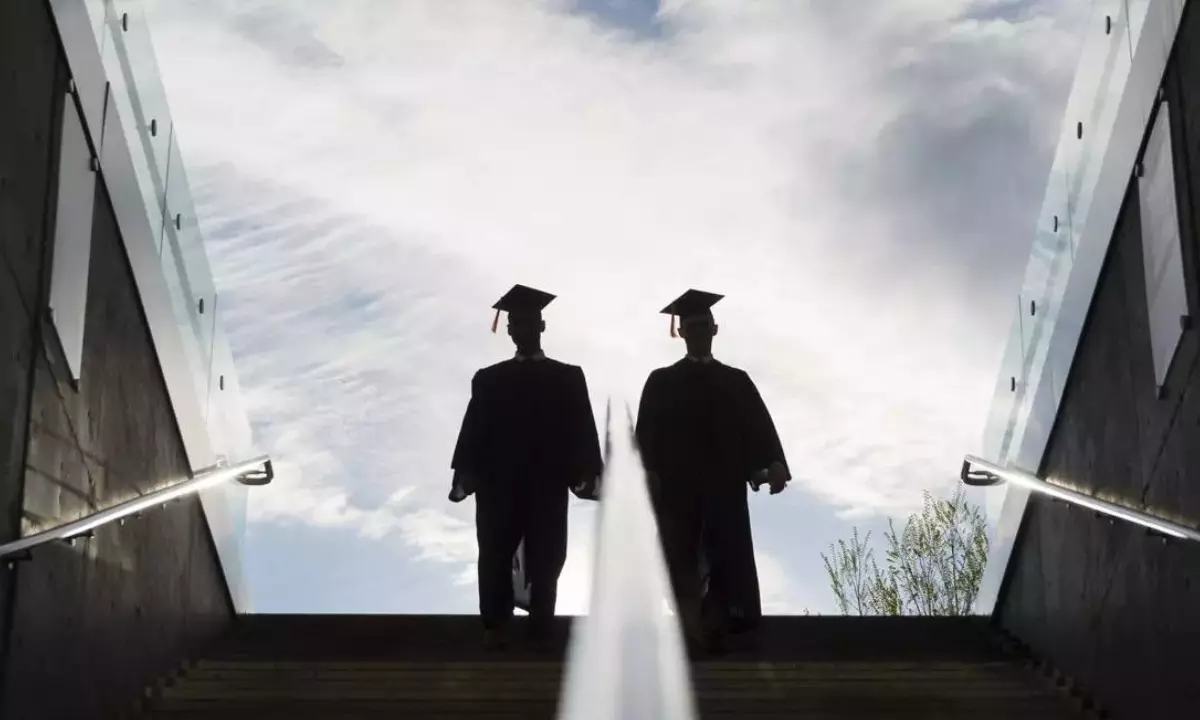 Hyderabad Revenue-strapped IT companies have started cutting down on campus recruitment as the global recession has been impacting their new deals and price negotiation. As a result, it's estimated to be 25 per cent drop in campus hiring this year and as consequence, many students are preparing for government jobs and going abroad for higher studies, people dealing with campus placements.

"Yes, the recession has impacted the campus placements. The impact is there for every company as we have to look at market situations, and we all know how things are, and how the US economy, so it has impacted overall. This year we have recruited around 15,000 students in placements though it is less compared to last year, but we keep hiring the students. We have not stopped the placements," Ashish Bhalla, Director HR (Campus Relations), HCL Tech, told Bizz Buzz.
This year, in the University College of Engineering, Osmania University, around 200 students placed whereas last year it was around 250 from 140 companies of IT and core companies. The college even after following 'one job for one student' policy in the placements has not reached the last year number.
"Yes, compared to last year, we have a shortfall of jobs, so most students are opting for higher studies. Most of the computer students are placed, but other core engineering students are not registered for placements as they try for govt jobs or go for higher studies," said Dr J Upender, Training and Placement Officer, University College of Engineering, Osmania University.
The situation seems to be somewhat okay in few top private colleges, but in most other private colleges it is not good. CBIT college in Hyderabad had 90 per cent of registered students placed. "In our college around 750 students are placed out of 900 registered," Dr N Laxminarayana Reddy, Advisor and Placement officer, CBIT, Hyderabad.
As campus hiring dried up, many students are trying for jobs or internships through LinkedIn. The recession in the US and other countries, and the indirect effect of the Russia-Ukraine war, has badly affected the IT sector. Many IT companies are going for layoffs which also affected campus hiring.
In India, lakhs of engineering students are passing out from colleges every year. Though some get recruited in campus placements, many come out of colleges without jobs. The situation is far worse now, students and people involved in campus placements say.
A student of Malla Reddy Institute of Engineering and Technology in Hyderabad said that no IT company came to his college for campus interviews, but a few non-IT companies came. As result, they were forced to go for off-campus placements.
The situation is worst in colleges located in tier-2, tier-3 cities. In KU Engineering College, Warangal, there is a drop of 75 per cent in campus hiring. In most private colleges, there are no campus placements by IT companies except one or two colleges which have good reputation.
"This year, only 50 students could get jobs whereas it was around 200 students last year. The recession and location of college definitely affected the campus placements. Most of the students are going abroad for higher studies or preparing for government jobs," said Ramana Babu, Placement officer, KU Engineering College, Warangal.
A student from Guntur Engineering College, who is looking for a job on Twitter, has said that there were no placements in the college.
However, Ashish Bhalla of HCL Tech said that his company would continue go to colleges it had partnerships with. We will also hire from outside campuses if talent matches our requirements, he added.
Campus Conundrum
Colleges in tier 2 cities in TS take big hit as hiring down 75%
200 OU Engg College students placed against 250 last year
Students looking for off-campus opportunities now