Begin typing your search...
RBI jab for vax makers, MSMEs
Individual loans will also be restructured; Benefit to 90% borrowers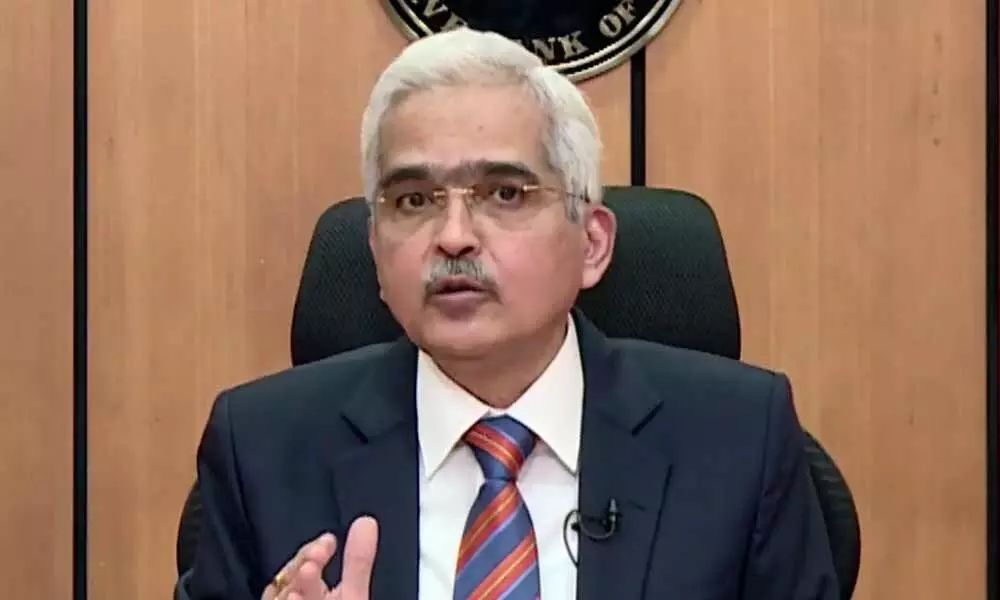 Mumbai THE RBI on Wednesday allowed certain individual and small borrowers more time to repay their debt and provided a Rs 50,000 crore special window to banks to lend to vaccine makers, hospitals and Covid-related health infrastructure as it looked to cushion the pandemic's blow to the economy. The loan recast of up to two years will be available to individuals and small and medium enterprises that did not restructure their loans in 2020 and were classified as standard accounts till March 2021, RBI Governor Shaktikanta Das said. This facility will be available to borrowers with a total exposure of Rs 25 crore.
As much as 90 per cent of the total borrowers will be covered by this restructuring, according to Indian Banks' Association. Last year, the RBI had allowed banks to restructure loans of small borrowers by extending repayment period for up to 2 years. In the present recast, banks have been allowed to restructure loans through means such as extending tenure or renegotiating interest rate.
Das said RBI will give Rs 50,000 crore of liquidity support to banks to lend to the healthcare sector, including vaccine manufacturers, importers/ suppliers of vaccines and priority medical devices, with tenors up to three years at the repo rate. This facility will be available until March 31, 2022.
He also announced that RBI will buy Rs 35,000 crore of bonds under the Government Securities Acquisition Programme (G-SAP) - India's version of quantitative easing - on May 20. Also announced was a special three-year long-term repo operation of Rs 10,000 crore for small finance banks (SFBs), and banks being allowed to maintain lower reserves for advances made to small borrowers.
Just as the economy appeared to be inching back to normalcy, India was hit by a second wave of infections in early April, prompting states and cities to restrict public movements and impose lockdowns, which have hit some businesses hard. India added 3,82,315 virus cases over the last 24 hours to reach a total of 2.06 crore, while death toll rose by a record 3,780 to 226,188, health ministry data showed.
RBI has been meeting with bankers and shadow lenders (NBFCs) in recent weeks to discuss the economic situation, possible stress to balance sheets and credit flow in the system.
While announcing the measures, RBI Governor Shaktikanta Das said, "Banks are being incentivised for quick delivery of credit under the scheme through extension of priority sector classification to such lending up to March 31, 2022. These loans will continue to be classified under priority sector till repayment or maturity, whichever is earlier."
RBI has re-opened One-Time Restructuring for individuals, MSMEs, borrowers, including individuals and MSMEs, permitted one-time restructuring till September 30. The rider being that these borrowers should have been standard as on March 31. Under restructuring 1.0, the period of moratorium can be extended upto a total of 2 years.
Commenting on it, Dr Rashmi Saluja, Executive Chairperson, Religare Enterprises say, "The central bank has shown lot of foresight by announcing flow of unhindered liquidity to the healthcare sector in order to boost production of vaccine, Covid related medicines and ramp up oxygen supplies. That this special lending window of Rs 50,000 crore has been classified under priority sector lending will ensure steady flow of loans to the healthcare sector that is at the forefront of India's valiant battle against the virus. In a bid to further encourage to lend to healthcare companies, RBI has also given incentive to banks". The decision to offer restructuring to borrowers including MSMEs with aggregate exposure of upto Rs 25 crore is also a welcome move since small entrepreneurs and individuals are the most vulnerable segments, she said.
The RBI has announced a targeted long term repo operation for small finance banks of upto Rs 10,000 crore.
The funds can be used for lending of upto Rs 10 lakh per borrower. It is a positive step for SFBs permitted to on-lend to smaller microfinance institutions of asset size upto Rs 500 crore. The stock market has also welcomed the RBI move.
"Owing to the enabling measures such as the second round of loan restructuring, purchase of government securities worth Rs 35,000 crore, permission for small finance banks to lend to Micro Finance Institutions on a priority basis, and provision of Rs 50,000 crore for the Pharma industry to fight the pandemic, the stock market displayed a welcoming green signal," said Ravi Singhal, Vice Chairman, GCL Securities.
The stocks of the pharma sector and PSUs banks rose by 1-3 per cent. As the RBI has supported the microfinance sector, mid-cap and small-cap indices were trading in green, he said.
Experts also believe that RBI's intent to provide more relief as per requirement in future has also gone well with the market.
Nish Bhatt, Founder & CEO, Millwood Kane International, an investment consulting firm, said, "The RBI has always been ahead of the curve, additional relief and liquidity measures were required post the second wave of Covid-19 cases that broke out in April. The measures announced will support the funding requirements of the healthcare, medical facilities, beef-up vaccine manufacturing for domestic inoculation. MSMEs and individual borrowers will benefit from the extension in the moratorium. The RBI's intent to take further measures if needed to provide relief, focus on the post-Covid future will send the right signal for the markets."
Key highlights
Special liquidity facility worth Rs 50,000 crore for entities, including vaccine manufacturers; hospitals; pathology labs; for ramping up Covid-related healthcare infrastructure and services

Banks being incentivised for quick delivery of credit
Covid-related stressed assets resolution framework 2.0 under which individuals, small businesses and MSMEs can restructure loans up to Rs 25 crore
Rules relaxed for availing overdraft facility for State governments up to Sep 30
To monitor the situation, deploy tools at command to support businesses impacted by Covid
Over 250 RBI personnel and service providers - away from their homes - to ensure continuity of RBI operations