Begin typing your search...
Indian Bank launches 10 startup cells to mark 117th foundation day
Under the initiative, a bouquet of tailor-made banking products and services are designed for startups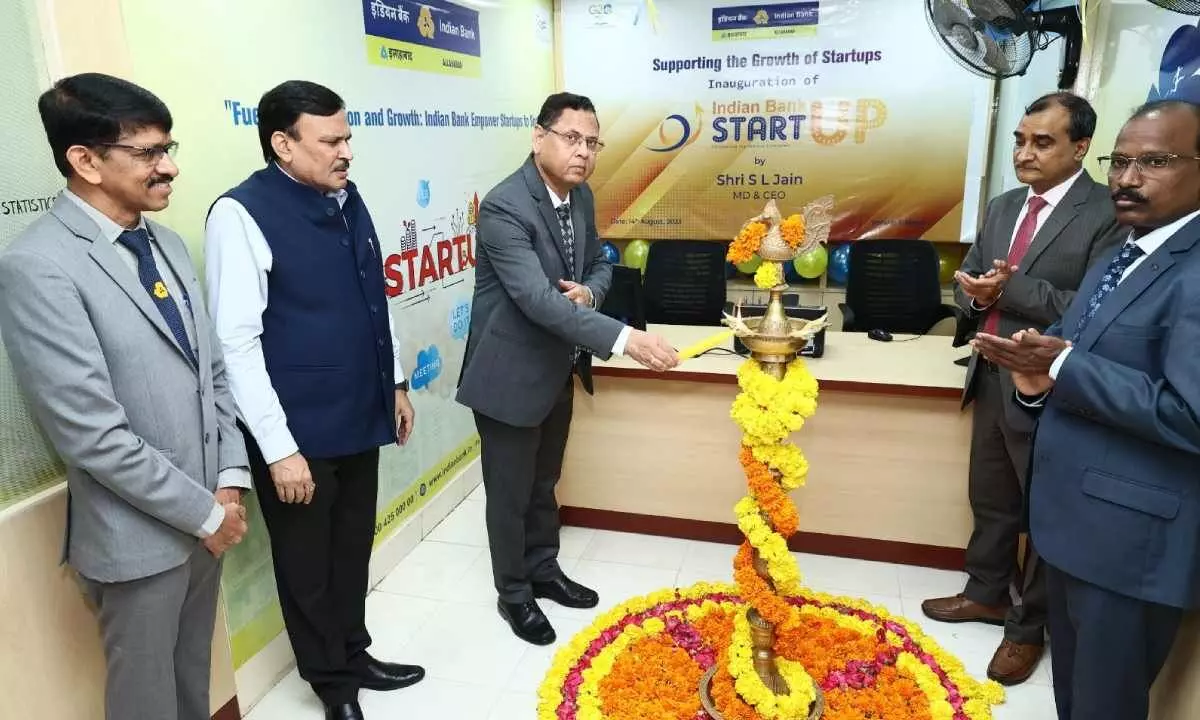 Chennai: Indian Bank, a leading Public Sector Bank, has opened 10 startup cells across different locations on the eve of 77th Independence Day and 117th foundation day.
S L Jain, MD and CEO, Indian Bank inaugurated the startup cell at Chennai Centre and virtually inaugurated start-up cell across major start up hubs of the country viz. Ahmedabad, Bengaluru, Coimbatore, Delhi, Gurgaon, Guwahati, Hyderabad, Kanpur and Mumbai.

Under the initiative, a bouquet of tailor-made banking products and services are designed for startups keeping in mind their unique and specialized banking requirements. It includes offering payment gateways, corporate credit cards and credit facilities apart from other existing products of the bank.

With the aim to bolster the start-up ecosystem and address the unique financial challenges faced by these dynamic enterprises, Indian Bank has formulated customised loan product 'IND SPRING BOARD' for meeting credit requirement (OPEX/CAPEX) of Start-ups. Indian Bank has also entered into strategic collaborations with renowned institutions viz IITs / IIMs and Incubation Cells, fostering an environment of growth and innovation.

"The launch of the startup cells is a major milestone in Indian Bank's journey to support the growth of the startup ecosystem in India," said, S L Jain, Managing Director and CEO, Indian Bank.

The Indian Bank start-up branches will have dedicated Relationship Managers, who would partner with start-ups and build lifecycle engagement with them. This will also enable us to contribute to the Government of India and State govt efforts to promote start-ups.

The event was attended by Imran Amin Siddiqi (IAS), Executive Director, Vikas Kumar, Chief General Manager (Retail Assets & MSME), Narendra Sharma, General Manager (MSME) and Field Functionaries across the country. Good number of Start-Ups also attended the Inaugural event and sanction tickets were issued to various Start-ups.

Established in 1907, Indian Bank is a premier Public Sector Bank with a dominant Pan-India presence. The government of India owns 88.06 per cent of the shareholding. It is the First Public Sector Bank to install ATM at Harbour, Madras in 1989. The Bank has a vast branch network with 6,004 branches, 5,428 ATMs and BNAs, and overseas branches in Colombo and Singapore in addition to over 225 overseas correspondent banks. The government of India had announced the Amalgamation of Allahabad Bank – a bank with 155 years of legacy – into Indian Bank in 2019. Indian Bank commenced its operation as an amalgamated entity on 1st April 2020. The integration of CBS systems of both the Banks was completed on February 14, 2021. Indian Bank has constantly thrived to adopt the latest technology and modify its techniques.
Apart from various initiatives undertaken by Indian Bank, one of the out-of-the-box initiatives was the launch of MSME Prerana – an Online Business Mentoring PAN India Programme for MSME entrepreneurs. To strengthen this initiative, Indian Bank also launched 'Ind Spring Board', financing for Start-ups and entered MOU with IIT Madras. Over the years, Indian Bank has set new benchmarks in providing efficient banking services to its different client groups and has also emerged as a frontrunner in delivering excellent customer service.